AITP's First 50 Dynamic Years Celebrated:


For 50 years AITP has been the leader of information and education for the Information Technology Professionals. 2001 marks the 50-year anniversary of the association, and we are proud to say that we are growing ever stronger,
both in terms of membership and services to our members. w3w3 Internet Talk Radio host Larry Nelson conducted interviews with various members listed on the right along with photos.
It was a great evening with plenty of fun.


AITP's 50th Anniversary Celebration at D&Bs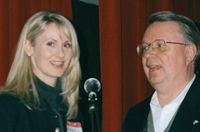 _____________________________________________
DU Campus Gathering for the Roundtable Discussion with Taiwan Representative, Shu-Yuan Ghung - 12.15.01

The Mile High Chapter of AITP was asked by the Taiwan Economic and Cultural Council to host a meeting with an official of the government Sectoral Planning Department,


Ms. Shu-Yuan Chung
Council Economic Planning & Development, Taiwan, R.O.C. Wednesday, Dec. 12, 2001.

Ms Chung, was in Denver to research IT and e-commerce issues. AITP hosted a round table iscussion at the DU Alumni Conference Center.

Opinions flew freely throughout the roundtable discussion as many joined in the lively discussion.