Biotech; Boom or Bust?

Dr Arlen Meyers - Biotech Boom 7/18/02
Biotechnology conjures up various notions and opinions. It's amazing how many people have strong opinions about biotech and yet know little to nothing about it. It's quite the buzz in the high-tech community, and yet when w3w3 asked what people know about biotech, their answers boil down to very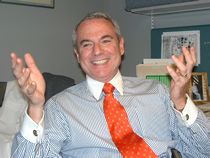 little.
Dr Arlen Meyers, our guest on the w3w3 Talk Radio knows a great deal about biotechnology, in fact he's an expert and right in the thick of it. Arlen Meyers, MD, MBA is Professor of Otolaryngology-Head and Neck Surgery at the University of Colorado Health Sciences Center and Executive Director of the Colorado Alliance for Bioengineering.
Dr Meyers is also a Commissioner on the Governor's Commission on Science and Technology and a leader of the biotechnology research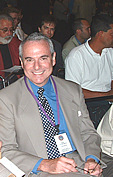 community in Colorado. Like many others, he feels Denver is positioned to be one of the biotech centers in the world, or as he says, "The biotech leader of the universe."
Dr Meyers started out with some basic definitions and cleared up some gray areas…like what is the difference between biotechnology and bioengineering? He outlined where Colorado sits in the nationwide mix and gave us an idea where the state is heading. He also talked about the several factors that can contribute to our potential for success. If you want to get involved with biotech, Dr Meyers steers you in the right direction.
Next we will tour the Fitzsimmons facility. Fitzsimmons is the largest health science redevelopment project in the country. Envisioned to be home to some 25 to 30,000 people all working in the biotechnology industry. Biotechnology offers an extremely bright future, with strong support from the industry associations like CAB, Colorado Alliance for Bioengineering.
New Shows & Interviews

Get Weekly Updates:
privacy
Arlen Meyers, MD, MBA
Professor of Otolaryngology at the University of Colo. Health & Sciences Ctr:; Exec Director of the Colorado Alliance of Bioengineering - Also: Commissioner on the Governor's Commission on Science and Technology
RELATED LINKS:
CAB -Colo Alliance for Bioengineering
Definitions
Nat. Institutes of Health
Bioengineering Consortium