Coming EVENTS w3w3® Media Network will be there

3/07/05 PM - DaVinci - Night with a Futurist
3/08/05 PM – RVC – Meet the Masters
3/09/05 AM – CEBA/P3 Business Breakfast
3/09/05 PM – BMA - Seminar at the w3w3 Network Center
3/15/05 PM – Transforming Stress at w3w3 Network Center
3/16/05 AM – Seminar - Values & Unintended Corruption
3/21/05 PM – TiE-Rockies - Michael Wehrs, Microso
Web Community Calendar - CHECK/POST Events


Check out the

Photo Albums…you could be there!
Meet the Masters:
Great Entrepreneurial Success Stories
Rockies Venture Club – Information, Support & Networking
David Moll (Webroot) & John Bardeen (Pumpkin Masters)
DETAILS


There's More Than One Challenge for Going Public
3/7/05 LISTEN - Can you imagine what it is like to transfer years of a "legacy" system over to a new system that will comply with Sarbanes-Oxley Section 404, continue to handle foreign currencies, maintain accurate easy-to-use inventory control and more? Mike Freivogel of IronWare Technologies & Sue Stewart of Myogen discuss such a project.

It's a Team Effort When it Comes to Winning Big 3/7/05
You can spot a "real" winner when he or she gives credit to the team. Larissa Herda,Chairman, CEO and president of Time Warner Telecom was just awarded the Telecom Professional of the Year Award by the Denver Telepros association…only the 5th to receive the award. Listen to her acceptance speech. 3-3-05_TelePros - Photo Album

There's Something Fishy about Free Printers 3/07/2005
Who is it that is pushing for a paperless society? It's Bill Gates, the same guy who made some interesting predictions about the Internet and personal computers. Larry Nelson points out that the promotions by printer manufactures and their offers of "free" printers are becoming pretty costly. 2-Minute Video Blog.

It's Tough Out There When You Have Lost Control 3/07/2005
Meet a Denver local who was one of the victims of a $1.4 Billion frivolous lawsuit and has survived to talk and write about it. Steve Baker, author of "Pushing Water Uphill with a Rake" talks about how you can do everything right and still fail. He also shares a four-point plan for new businesses. Listen and Read.


Phil Weiser Gets Answers from Chairman Powell
FCC Chairman, Michael Powell addresses a number of dicey issues with Phil Weiser, executive director of the Silicon Flatirons TeleCom. "Is it being done for the right reasons or for the right constituencies approval?" 2/28/2005 >>LISTEN

Streaming Video Evolution Becomes a Revolution 2/28/2005
VIDEO: Jock Mirow, co-founder of BroadbandVideo announces a revolutionary new technology that allows users to publish their own video automatically. Larry Nelson interviewed Jock. Moments later, via a FireWire connection to the computer it was uploaded, then encoded and voila, it's on the Web. Thanks to ItsActive.com.

Celestica, a Billion Dollar Company is a US Secret 2/28/2005
Larry Astor, director of U.S. Business Operations for Celestica Aerospace Technologies points out Celestica is a national unknown resource. Larry is based in Colorado and was a recent presenter at the SBIR Colorado Conference. Celestica likes to partner with small start-up SBIR funded companies..>> LISTEN

Britain Although a Smaller Economy, UK Thinks Globally
Andrew Miller, the assistant director of Small Business Services, with the Growth & Innovation Unit suggests that the UK has some big ideas as well as some big challenges helping small businesses (in UK = 249 people or less) grow. He is open to ideas. The UK version of SBIR is SBRI, with a unique twist. 2/28/2005 >> LISTEN

FCC Chairman Powell Lets it All Hang Out 2/21/2005
Leroy Williams, former OIT secretary and now department of Labor in CO, introduces FCC Chairman, Michael Powell and then Phil Weiser, executive director of the Silicon Flatirons TeleCom program, quizzes Powell. He went head on about the past & future of telecom…the good, bad and uncomfortable. LISTEN Part 2 - 2/28/05

Chuck Wessner Says the Money is There 2/21/2005 -
LISTEN Russ Farmer, executive director of SBIR Colorado is joined by Charles (Chuck) Wessner, a director at National Academy of Sciences, Brian Vogt, director of OEDIT (wearing 3 hats) and Larry Nelson. Chuck talks about what is needed for the CO tech cluster to work financially and Brian talks about strengths & needs. READ - DENVER POST 2/16 Bus
Rob Reuteman Reveals the Real Hard Facts 2/21/2005
Rob Reuteman, business editor for the Rocky Mountain News talks about the current economy and what happened leading up to it over the past number of years. He reveals the signs of the past that were ignored as well as hard facts and details of where Colorado is headed…positive, but with cautious optimism. . 2/21/2005 LISTEN


Barry Stein & Bob Rea Unveil Nano Strategy
Robert Rea and Barry Stein, both of the ANGLE Technology Group in Virginia were in Colorado to address the Nanotech Business Group at their breakfast meeting at CSU. They are very successful in NanoTech commercialization and suggest that Colorado has a potentially viable cluster and collaboration is vital. 2/21/2005 LISTEN
Denver Post & Ross Wehner Report on w3w3.com 2/14/2005
Ross Wehner, business writer for the Denver Post says, "Instead of breaking news, w3w3.com contains thousands of pictures and hundreds of interviews, which Internet surfers can listen to at a click of the mouse. It has a feel-good, Oprah-esque quality." Ross said, w3w3.com offers "Quirky views of the local who's who." READ NOW

Jon Nordmark, has Experienced Many Hockey Sticks
CEO of eBags.com, Jon Nordmark believes in building a company to last, not one to flip. Playing hockey in college Jon learned the fundamental principles of teamwork and what it takes to climb out of the pits in this Profile of a Leader interview. The early team members at eBags invested money in the company. 2/14/2005

Brad Feld Goes With His Gut, but Uses His Brain
You might be surprised to hear what was the turning point in Brad Feld's life, managing partner of Mobius VC,. He went to MIT, and at pre-orientation they were told that 50% of the students would be at the bottom half of the class. In this Profile of a Leader interview Brad offers personal advice to entrepreneurs. 2/14/2005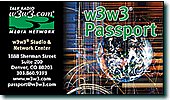 You'll Enjoy Immediate Benefits as a Passport Member The 2005 launch of the w3w3® Passport program gives its members the leading edge in meeting important people, exposing products & services to buyers and be part of a team that will help ensure economic development, stability & vitality in Colorado. Join Now. 2/14/2005


Help w3w3® by taking this 5- Second Survey!!!



Barbara Drazga Puts on the BunnySlipper Bootcamp
Serial entrepreneur, Barbara Drazga , identifies the key drivers to becoming an entrepreneur. They want freedom, self-determination and quality of life. One of the biggest difficulties Barbara points out is, "Cabin fever." She has many suggestions for entrepreneurs and offers, webinars, teleclasses & seminars. 2/14/2005
Check out the
ARCHIVES with Photos

ARCHIVES LIST - Alphabetized by Name
Research and know the people in your community -
Step one in the Art of Networking!
First-Class Associations with high-quality events.
Details Web Community Calendar CHECK / POST Events
You'll find: CIK, AeA, RMIMA, RVC, ISSA, CSIA, CAB, SBIR, TiE Rockies, AITP,
Denver TeleCom… All on the Calendar
Thank You !
Our Sponsors' Support
Makes w3w3® Possible!
CONTACT US - Larry Nelson, Larry@w3w3.com

FREE Weekly
w3w3 Newsletter
Signup Here








Doing Biz in the UK


Best of Best
in 2003 Photos Too


"The Ultimate WIN"
By Larry Nelson


Be Ready to help!


Jock Mirow
BroadbandVideo