Coming EVENTS w3w3® Media Network will be there


4/4-7/05 Day Space Symposium Broadmoor Hotel
4/08/05 Day - IEEE - Entrepreneurship and Professionalism
4/12/05 PM - RVC - Entrepreneur of the Year (Rick Patch)
4/13/05 PM - BMA - Brand Marketing
4/14/05 PM – TiE - Success Breeds Success
4/19/05 AM - CSIA - Online Marketing
4/20/05 PM - BPI - A Night with White
4/20/05 PM - CORFIDA - RFID Comes Alive
Web Community Calendar - CHECK/POST Events


Check out the

Photo Albums…you could be there!


Capitalizing on the Season Nets 100K the First Year
Starting a business as a tribute to his father with a seasonal product that gave it a 1 in 100 chance of making it, made many wonder. John Bardeen, founder of Pumpkin Masters points out that there is a risk as well as a potential tremendous reward if you can create a new product category. He still looks for a unique niche. 4/4/2005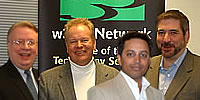 Skunk Works and the Entrepreneurial Spirit in Microsoft
Two different models of entrepreneurship are being driven within Microsoft. The "culture of fast-follower" doesn't foster the "culture of
innovation" points out
Mike Wehrs
, Dir., Biz Dev.- Windows Graphics & Gaming Technologies at Microsoft.
Art Rancis
, TiE Rockies board discuss the entrepreneurial spirit in business.. 3/281/05

Companies are being Forced to Deal with IP Protocol
The new world of telecommunications is exciting but challenging suggests
Phil Weiser
, co-author of
Digital Crossroads: America's Telecommunications Policy in the Internet Age
. The fundamental drivers are broadband-based IP connections and mobility IP connections and they are also the biggest challenges. 3/28/05
The Small Business Development Center Wins Again
The Small Business Development Center Wins Again
SBDC State Director,
Kelly Manning
of Colorado's Office of Economic Development and International Trade sheds light on the urban myth that her office is only for startups. SBDC is not only for new and old businesses, it has just launched a new program for Vets, with more to come.
Check out this survey
.3/28/2005


Colorado's Portal Authority is on the March Statewide -
Last year, Governor Bill Owens signed the Portal Authority Bill at the Technology Summit.
State Senator Ron May
and
Gregg Rippy
were present. Recently Larry Nelson cornered them at an AeA event to get the scoop on this business driven model and what it means to the MNT and all Coloradoans. 3/28/2005


Offshoring is a Hot Topic Here, There and in Russia
3/21/05


Jim Reis, head of the World Trade Center in Denver along with Dr. Deborah Palmieri, CEO of the Russian -American Chamber of Commerce square off with the skeptics about Offshoring. LISTEN

The Good, the Bad and the Indifferent Offshoring Blog
3/21/05


Proposed Senate Bill 23 prohibits the state of Colorado from doing business with any company that out sources their services. It's not exactly like the "blue vs. the red" states debate, but the energy is high. Larry Nelson , in this 2-minute video blog looks at both sides (maybe three sides) of the hot topic of offshoring. WATCH VIDEO Windows Media 9 Required Fast Safe Download
Intentional vs. Reactive is the Hidden Economic Challenge
3/21/05


Brian Vogt Director of Colorado's Office of Economic Development and International Trade is concerned. Some people are fearful in their resolve to move forward. As a result, instead of being intentional and farsighted, they will become reactive. The audience at AeA's annual "Luncheon with the Legislators" heard Brian's 5-point plan. LISTEN

Some Sat Idle, Wondering if Spyware was Really Needed
3/21/05


David Moll, CEO of Webroot Software talks about their success story and what they went through to get there. June, 2004 Webroot launched their SpyWare program and today Webroot has offices throughout Europe, has a standalone support center and handles support in five languages... taking on a worldwide challenge. LISTEN

TrenStar Tracks Their Way to Success with RFID
3/14/05


Contrary to popular belief, TrenStar is a service company not a technology company, stresses Greg Cronin, president and CEO of TrenStar. The confusion stems from the fact that TrenStar is one of the world's biggest users of RFID technology. Coors, Exxon-Mobile are among their growing customer list. There's a twist in the story.

Webroot Tracks Them with Anti-Spyware Technology
Everyone has heard about the $108,000,000 in funding that locally based Webroot received recently. What you might not have heard was how Webroot got its start. It is certainly an inspiration to entrepreneurs and to David Moll, who was recruited in 2002 to become CEO. Co-Founders Steve Thomas & Kristen Talley are quite unique. 3/14/05

Subject Line Text (or Lack of It) Drives Nelson Nuts
3/14/05
Unwanted email is bad enough. How do you like to receive emails that have nothing, nada, zero on the Subject Line? That tugs on . Larry Nelson's nerve endings, but just as annoying are people who use a 3-month old email, return it to you with the old Subject Line but a completely different topic. Here's a 2-minute rant.

Collapse of the Soviet Union Gave Way to Free Markets
In 1991 Russia had to reestablish all necessary government structures to ensure political and social stability and introduce free market economy mechanisms. Jim Reis, head of the World Trade Center in Denver along with Deborah Palmieri ask M.C. Andrey Dolgorukov, of Russia to share some little-known statistics. 3/14/05


There's More Than One Challenge for Going Public
3/7/05 LISTEN - Can you imagine what it is like to transfer years of a "legacy" system over to a new system that will comply with Sarbanes-Oxley Section 404, continue to handle foreign currencies, maintain accurate easy-to-use inventory control and more? Mike Freivogel of IronWare Technologies & Sue Stewart of Myogen discuss such a project.

It's a Team Effort When it Comes to Winning Big 3/7/05
You can spot a "real" winner when he or she gives credit to the team. LISTEN Larissa Herda,Chairman, CEO and president of Time Warner Telecom was just awarded the Telecom Professional of the Year Award by the Denver Telepros association…only the 5th to receive the award. TelePros - Photo Album

There's Something Fishy about Free Printers 3/07/2005
Who is it that is pushing for a paperless society? It's Bill Gates, the same guy who made some interesting predictions about the Internet and personal computers. Larry Nelson points out that the promotions by printer manufactures and their offers of "free" printers are becoming pretty costly. 2-Minute Video Blog.

It's Tough Out There When You Have Lost Control 3/07/2005
Meet a Denver local who was one of the victims of a $1.4 Billion frivolous lawsuit and has survived to talk and write about it. Steve Baker, author of "Pushing Water Uphill with a Rake" talks about how you can do everything right and still fail. He also shares a four-point plan for new businesses. Listen and Read.


Phil Weiser Gets Answers from Chairman Powell
FCC Chairman, Michael Powell addresses a number of dicey issues with Phil Weiser, executive director of the Silicon Flatirons TeleCom. "Is it being done for the right reasons or for the right constituencies approval?" 2/28/2005 >>LISTEN

Streaming Video Evolution Becomes a Revolution 2/28/2005
VIDEO: Jock Mirow, co-founder of BroadbandVideo announces a revolutionary new technology that allows users to publish their own video automatically. Larry Nelson interviewed Jock. Moments later, via a FireWire connection to the computer it was uploaded, then encoded and voila, it's on the Web. Thanks to ItsActive.com.

FCC Chairman Powell Lets it All Hang Out 2/21/2005
Leroy Williams, former OIT secretary and now department of Labor in CO, introduces FCC Chairman, Michael Powell and then Phil Weiser, executive director of the Silicon Flatirons TeleCom program, quizzes Powell. He went head on about the past & future of telecom…the good, bad and uncomfortable. LISTEN Part 2 - 2/28/05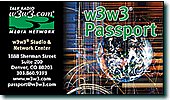 You'll Enjoy Immediate Benefits as a Passport Member The 2005 launch of the w3w3® Passport program gives its members the leading edge in meeting important people, exposing products & services to buyers and be part of a team that will help ensure economic development, stability & vitality in Colorado. Join Now. 2/14/2005


Help w3w3® by taking this 5- Second Survey!!!


Check out the
ARCHIVES with Photos

ARCHIVES LIST - Alphabetized by Name
Research and know the people in your community -
Step one in the Art of Networking!
First-Class Associations with high-quality events.
Details Web Community Calendar CHECK / POST Events
You'll find: CIK, AeA, RMIMA, RVC, ISSA, CSIA, CAB, SBIR, TiE Rockies, AITP,
Denver TeleCom… All on the Calendar
Thank You !
Our Sponsors' Support
Makes w3w3® Possible!
CONTACT US - Larry Nelson, Larry@w3w3.com





Doing Biz in the UK


Best of Best
in 2003 Photos Too


"The Ultimate WIN"
By Larry Nelson



Jock Mirow
BroadbandVideo