NWTC || Riding on the Wind || NREL/SERF || Bob Thersher ||
Admiral Truly || NREL - 25 Years In A Day....
NREL - A Colorado Treasure
Celebrating 25 Years of Research Excellence

They're saying "thank you" for the opportunity. But, when we finished this tour we were overwhelmed with the achievements and advancements they have made - Thank you? Yes, Thank you NREL and with today's threat of terrorism, we'd just like you to keep up the good work! Please.
Below is a photo essay of the tour we took. Click on the photos with a blue border for the audio portion of the tour - there is a lot to learn. Everything that happens here eventually effects your daily life in ways that are very exciting. They will save you money and maybe save your way of living - possibly your life.
We arrived at NREL where we were greeted by the Director, Admiral Richard Truly and his top people. Before beginning our tour we checked out the Visitor's Center loaded with young people and real interest. (This was really impressive - as you can see.)
New Shows & Interviews

Get Weekly Updates:
privacy

Audio Tour Photo Links

NREL
National Renewable
Energy Laboratory

Page 2: NWTC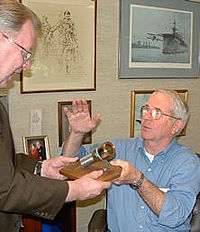 Admiral Richard Truly, Director NREL shows Larry Nelson the severed bolt from one of Truly's Challenger mission flights. More about Admiral/Director/Astronaut Truly

Would you like to go to the top?
Stay tuned...
We will tour the National Wind Technology Center
next.
You may be surprised to learn, as we were, that Wind is one of the biggest success stories in the Renewable Energy collection!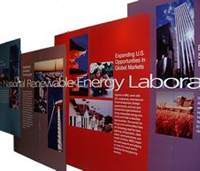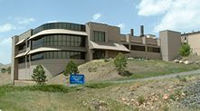 We've visited NREL 3 times now, this is
our next stop, AFUF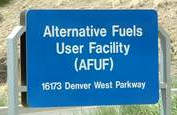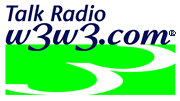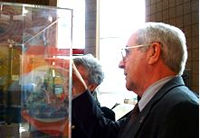 Admiral Truly, Director at NREL, explaining
one of the displays at the NREL Visitors Center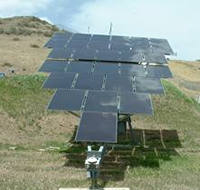 Solar Panel Tracking Device
Check out the Energy-Sipping House in Idaho Springs
Utilites Cost $100/year
Preplanning and good design made all the difference.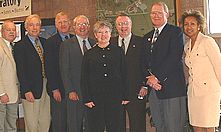 Jerry Bellows, Robert Noun, Stanley Bull,
Admiral Richard Truly, Pat and Larry Nelson,
Jack Darnell, Jessie Harris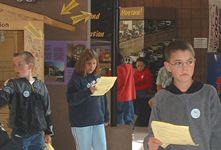 NREL Visitors Center - Students Who Are Getting It!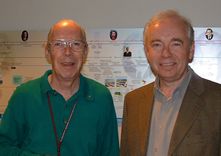 Dana Morgan, NREL Ambassador (One of NREL's first employees, today he is the historian/volunteer) Bob Noun, Director, Communications & Public Affairs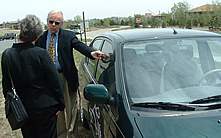 Bob explaining the hybrid electric vehicles - researched and tested here at NREL -
These Hybrids get 50 Miles/Gallon or more!