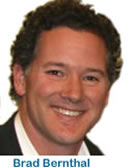 Forbes Ranks CU Boulder


1779_ 11/02/15 - "Forbes recently ranked CU Boulder as the 18th Most Entrepreneurial University in the country." We are speaking with Brad Bernthal and he says, "...a nice validation as these rankings are subjective, of course. But, we're at least in the game and in the mix among the best places to be if you are at a university and looking to be involved in the innovation scene. You know it's a crown jewel that we're nested within, that out our front door is the Front Range Startup Community. Over the past ten years we've done our best to get our students off the campus and into that community as well as bring the community to the campus. That's been powerful for us as we try to cultivate the activity and the entrepreneurial mindset in our students and faculty across the campus. This year we've initiated the Global Entrepreneurs in Residence Program (GEIR Program) and that brings entrepreneurs from other countries to Boulder… The deal is they work half time helping to build entrepreneurship on campus – so these individuals who are experienced entrepreneurs in their country of origin will be resources to help faculty, staff and students, at CU who are looking to build their own companies. This will be a magnet that brings international entrepreneurs to CU Boulder. Brad Feld is helping make this happen and that's something to watch."
RELATED LINKS: Silicon Flatirons Center || Silicon Flatirons Leadership || Boulder Startup History Crash Course || Foundry Group || KEYWORDS: Silicon Flatirons, CU-Boulder, Brad Bernthal, Brad Feld, Entrepreneurs Initiative, Forbes, rankings, international entrepreneurship
LISTEN TO: Brad Bernthal, Director Entrepreneur Initiative, SFC

Powered by Podbean.com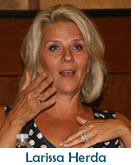 Larissa Herda and the Enron Story [Former CEO and President, tw telecom inc.]


1779_ 11/02/15 - Larissa Herda was a hands-on, door's open, ethics-is-everything, caring and responsible CEO. In part two of this series you will hear about her experience with Enron. Brad Feld and Dr. Phil Weiser brought Larissa in from a year long sabbatical to talk to you about ethics. She brings insights and advice that you shouldn't miss.
LISTEN TO: Part 2: Larissa Herda and the Enron Story

Powered by Podbean.com
Larissa Herda, Breaks Sabbatical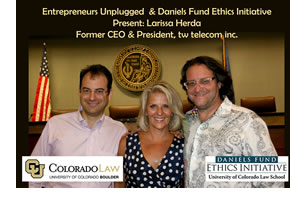 1777_ 10/19/15 - Silicon Flatirons and the University of Colorado Law School present Larissa Herda as their featured entrepreneur with moderators Brad Feld and Phil Weiser. Ms. Larissa Herda took the helm of tw telecom inc., formerly Time Warner Telecom Inc., as CEO and President, on June 19, 1998. She was elected Chairman of the tw telecom inc. Board of Directors effective June 7, 2001, and held the title of Chairman and CEO until November 2014. Ms. Herda served as the company's Senior Vice President of Sales and Marketing from March 1, 1997 until her appointment as chief executive. Under Ms. Herda's direction, tw telecom grew from $26 million in revenue in 1996 to nearly $1.6 Billion in 2013; expanded its broadband network footprint from 17 U.S. markets to 80; built a national IP backbone recognized as one of the top 10 most connected IP networks in the world; introduced comprehensive data, voice, Internet and national Ethernet products and made three acquisitions totaling over $1.2B -- a regional Internet service provider and two competitive local metro carriers. Since becoming Chairman and CEO, Ms. Herda raised more than $8.5 billion in the public and private debt markets, including a $290 million IPO. Ms. Herda completed the sale of tw telecom to Level 3 for $7.6 Billion in November 2014.
RELATED LINKS: Silicon Flatirons Center for Law, Technology, and Entrepreneurship || Larissa Herda Event || SFC Leadership || Events Calendar || KEYWORDS: Larissa Herda, Silicon Flatirons Center, tw telecom Inc., Time Warner Telecom Inc., Entrepreneurship, Broadband Network, IP Backbone
LISTEN TO: Part 1: Larissa Herda, Former CCEO/President, tw telecom inc.
Part 1
Powered by Podbean.com

A Look at Co Working with Larry @ Thrive Workplace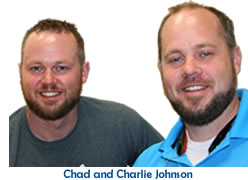 1776_ 10/19/15 - From Cherry Creek to the Ball Park location (with a very lofty sounding address - on 'Park Avenue') we put two brothers (the architect and the business guy) to create a working space for entrepreneurs of every shape and stripe. The architect keeps our eyes open for the newest tweak (Chad said, "...it's like Where in the world is Waldo") while the other brother keeps our attention on the next new member (this also fits in with WW Waldo). This all makes for a very interesting and appealing place to work. An open, welcoming atmosphere with fabulous amenities - soon a gym with yoga, massage, spinning classes.. I mean the possibilities make your head spin. Can you imagine childcare in the workplace. So young entrepreneurial folks can come into this office, drop off their child where they can easily stroll over for a reassuring visit, workout, shower, grab a cup of coffee and sit down at their desk, do some concentrated - uninterrupted thinking, network, get support, get their work done, stay in shape, happy in all their personal and business worlds. We mustn't forget the education and services components like RVC Club and the 3-to-5 Club, conference rooms. I mean literally they want you to THRIVE. But my space is limited so you'll have to listen to Larry, Charlie & Chad for more...
RELATED LINKS: Thrive Workplace || Cherry Creek Location || Ballpark Location || KEYWORDS: Thrive Workplace, Charlie Johnson, Coworking, Entrepreneurs, Small Business Owners, Secure Mailing Address, Social Media Channels
LISTEN TO: Charlie & Chad Johnson, Thrive Workplace

Powered by Podbean.com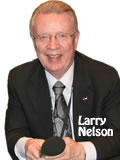 Your Ultimate Win

The Ultimate Win™ - Achieving Personal & Professional Satisfaction An in-depth strategic planning and goal setting system for achievers. Here's a win/win! You can enjoy the full benefits of this online program, including the entire audio and downloadable resource guide... totally free. All we ask in return is some honest feedback. Tens of thousands people around the world have heard the program either in a live seminar or on cassette tapes. We are launching this as a "for sale" program on the Web very soon. Any thoughts and ideas would be appreciated. If you have a friend or colleague that you think would enjoy and participate in our "beta" test, please feel free to pass along this link and invitation. There is no cost to them. All your information and input will be confidential.
Congratulations!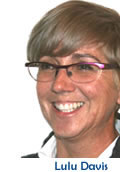 Nominating Colorado Company Winners


1779_ 11/02/15 - Get your nominations and applications in! Second-stage companies hold a unique place in our economy. Through their Leadership, Innovation, and Growth, they ignite our communities with potential beyond measure. They are Fueling the Economic Fire. Lulu Davis who is on the Colorado Companies to Watch (CCTW) programming committee shared the details about their upcoming year. The Economic Impact of the 50 Second-Stage Colorado Companies to Watch has been staggering. The winners have created $503 million in total annual revenue with an average growth of 41%...along with 2019 full-time employees growing to 2456 in 2015 with 115 offices (63 in Colorado and 52 out of state). At the heart of Colorado Companies to Watch is an awards program to honor second-stage companies for the critical role they play in our state and community economies. These companies are often flying under the radar of recognition. CCTW's collaborative model is also a powerful vehicle to energize Colorado's entrepreneurial community. Each year-long program is designed to rally around second-stage organizations throughout the state and... there's more...
RELATED LINKS: Colorado CCTW Home Page || CCTW Nominate and Apply for 2016 || CCTW || KEYWORDS: Lulu Davis, Programming Committee, Colorado Companies to Watch, CCTW Nominate and Apply for 2016, Economy, Leadership, Innovation, Growth,
LISTEN TO: Lulu Davis, Programming, CCTW

Powered by Podbean.com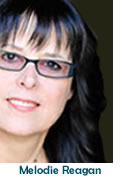 How Employers Are Looking for Talent


1779_ 11/02/15 - Melodie Reagan, President & Owner, i2i Workforce. Melodie and Larry have collaborated on a very important four part series, Finding a Job and Being Found. We're talking about your career and the 'Job Search Process' which has changed a great deal. Melodie begins this journey of managing your career and finding a job by developing context and reinforcing it with two words, Relevance and Keywords. Everything is moving so fast. The question you have to ask yourself is, 'Are you maintaining your relevance?' Before starting her business Mel worked in corporate as a marketing executive. Marketing has changed so radically in the last 15 years. It is crazy how much has gone online, how digital we've become. We're constantly adapting – product life cycles can be as short as a couple of days, depending on what your sales cycle is. But if you're not adapting and you don't know how to use all the cool tools we have today in social media, you are no longer relevant. So, it's about maintaining your relevance. The other thing – the job search process has gone online. What is a Keyword? It is a word or concept of great significance, you have to make sure you know your keywords… Today managing your career is your responsibility. Employers can no longer afford to invest in you beyond getting delivery of the base job. If you need new skills, you need to invest in you. You need to make yourself relevant, you need to manage your career. It's about fitting. What is the market looking for and what is available?
RELATED LINKS: i2i Workforce || Crazy Good Marketing || KEYWORDS: relevance, keywords, resume, talent, job search, being found, careers, process, manage your career, process, skills, social media, responsibility, employers, invest in self
LISTEN TO: Melodie Reagan, President, i2iWorkforce

Powered by Podbean.com

There is lightness and joy after brain trauma injuries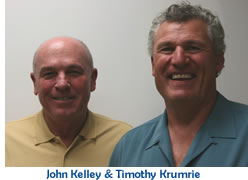 1775_ 10/19/15 - If you're a football fan, especially a Cincinnati Bengals fan, you may well recognize Tim Krumrie. After 27 years in professional football and coaching, Tim now serves as Brain Injury Territory Representative for CereScan, the leading functional brain imaging company specializing in processes that assist medical professionals in the detection and quantification of complex brain disorders, such as traumatic brain injury. Like so many sports personalities and military personnel you've heard about, Tim suffered several concussions as a professional player. Though Tim is quick to point out, this isn't a problem limited to professional sports. Look in the mirror, at your children and your spouse - traumatic brain injuries occur to so many and we're all so susceptible. Tim tells his story with a mission in mind. He's inspired because he's regained his cherished memories, and the peace and happiness that had been lost because of his untreated and undiagnosed brain traumas. Think what this can mean to our returning vets, to the young student who took a spill while perfecting his skateboard moves, the biker, the individual who slipped on the ice or was in a car accident. Listen to Tim Krumrie for more.
RELATED LINKS: CereScan || Frequently Asked Questions || CereScan Blog || TBI and Alzheimer's || Football University || News || KEYWORDS: Timothy Krumrie, Cincinnati Bengals, CereScan, John Kelley, diagnostic brain scanning/imagery, brain trauma, sports injuries, concussion
LISTEN TO: Timothy Krumrie & John Kelley, CereScan

Powered by Podbean.com
ACG Denver Annual Leadership Development Event...


1778_ 10/19/15 - Recently appointed the ACG Program Chair, Michael Deatly with Jones Lang LaSalle, gives us a quick rundown on what the programming committee is charged with. And that would be finding exciting, just really fantastic content for their monthly luncheons. We are here at the ACG Leadership Development program, an annual event that is such an amazing event. The energy buzz around this networking, recruiting and leadership development event is in itself electrifying. On this day all of the committee personnel relate their experience, purpose and mission to the membership at large, one-on-one. You can see and feel the Camaraderie that's built and get a fair understanding of what makes ACG Denver such a vibrant organization. Mike's committee is specifically responsible for tracking down speakers for the series whether it be Mr or Mrs CEO, business leaders, market companies - talking about obstacles, challenges, growth stories - really it's a resource for the community for networking and education. Larry attends the ACG Denver monthly luncheons regularly and the people and panels are fantastic. To get involved with the programming committee Mike said, "I think first and foremost, it would be wonderful to have that person to come check out events. See for themselves, touch it, taste it, see what it's all about. And I think obviously reaching out to me directly, whether it be email, cell phone, I'll certainly get back. It usually starts with involvement, getting a feel for what we do, coming to our event, seeing for yourself what we do and how we operate and how we do things.
RELATED LINKS: Jones Lang LaSalle || ACG Denver || Mergers & Acquisitions || KEYWORDS: Mentor, Leadership development, ACG Denver, mergers and acquisitions, Mike Deatly, Jones Lang LaSalle, JLL Commercial Real estate
LISTEN TO: Michael R. Deatly, Jones Lang LaSalle

Powered by Podbean.com

Archive / LIBRARY_
Associations
Beyond the Trends
Cyber Security
Entrepreneurs
Ethics
Homeland Security
In the News
Leader Profiles
Mastering Change
Renewable Energy
Resources
Software
Success Stories
Training Trends
Venture Capital
Video Blogs

w3w3®

Archives


Google, Ask, Bing and Yahoo rank Colorado's w3w3.com in the top 10 for the "Business Internet Talk Radio" show
They have millions of listings in our category. We are ranked in the top ten. The same is true for the category "Entrepreneurs Internet Talk Radio" show