Let's smile, have some fun and make some money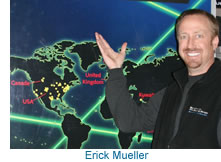 975_ 2/28/11 - "Well, this is different for us. We're sitting here in a maze with a guy who's started five different businesses over the years. We're with Erick Mueller, co-founder, VP of sales & marketing of Funovation... and in that, there's probably a bit of a hint what this is all about. Let's smile and have some fun. It is easy to understand why Funovation is one of the Colorado 50 Companies to Watch winners. Erick has founded 5 companies. 4 have done OK, 1 was a flaming failure. He believes the past doesn't matter and lives by "what have you done lately?". Based on this, he continues to work hard to create value in the world and make a difference. Larry asked, "Today, with all the things we've been through, the economic challenges, what do you think are some of the biggest challenges for entrepreneurs today? Erick replied, "One of the first challenges is, we really need to adapt. For a couple of years, my peers and I sat there saying/thinking, it's going change, it's going to get better. Then after a few years in the same environment we realized, no it's different. The business environment has changed. We really need to adapt. Meaning really research what our customers are looking for and change our operations accordingly. To pause and adapt, perhaps quicker than they have in the past. He went onto explaining more about the exciting company. "Funovation was founded to create heart pounding, addictive attractions that require brain and brawn. That's quite a mouth-full, but ultimately we create fun experiences that help people to go play and to have fun, and our first attraction is a laser maze. It's just like in the movies, like Entrapment or Mission Impossible, where Catherine Zeta-Jones or Tom Cruise navigates through the web of lasers to steal the jewel or rob the bank. Larry and Mike Hamers took a turn through the maze and Erick said he was impressed with their technique. We have over 60 locations around the world. One highlight would be right in Times Square, in New York City. So we have a Mission Impossible theme right there is NYC. We have a location in Dubai, which is our second largest maze in the world. They have a pharaoh theme, they do a tremendous amount of business there. One of our newest locations is in Nanjing, China. Roughly 25% of our income is from overseas. We're in ten countries around the world and growing." There are more smiles...
Related Links: Funovation Home || Colorado Companies to Watch Home || CCTW Event || CCTW Gala Celebration || Keywords: Erick Mueller, Funovation, Smile, Fun, Mazes, Colorado Companies to Watch, 50 Companies to Watch winners, Worldwide, Boulder, Colorado 2/28/11 bytes=7362667
LISTEN to Erick Mueller, Co-founder, VP Sales & Marketing, Funovation

Powered by Podbean.com
Putting together the plan to go to the next level


973_ 2/28/11 - Larry corralled Vic Ahmed, a serial entrepreneur who has helped companies grow along with his many entrepreneurial experiences. Vic is also Chairman and President of TiE Rockies. Recently, he got involved with, Business Genetics, a Colorado company. Vic explained, "I found it by accident than worked with the founders, Cedric Tyler and Steve Baker, helping them put together the plan to go to the next level. One rarely has the opportunity to work with a company that is the best in the world. At first I was skeptical, but doing my due diligence over a number of months, I am convinced. Even Gartner has said on a number of occasions, what they have is not only disruptive, but the best in the world. What they do is a very exciting thing and done in the very traditional world of business and process mapping. This has been around for decades. Typically you write down requirements and business processes or use some fancy software to come up with these requirements. Business Genetics says no. What they do is very business friendly. It's like what/where type of questions that any business person can answer very easily without getting confused, without technical jargon being thrown at them, which has been the case in the traditional methodology. The end result is two things, 1.) The time frame of getting this work done reduces to a fraction because of the way it works. The second is the level of accuracy of your requirements or processes goes up by an order of magnitude. If you look at IT projects as an example, over 60% fail. Research says that 80% of the reason that these fail is because requirements don't map to what they're trying to accomplish, what the user actually wants. It is not easy to conceptualize a data flow diagram and other technical diagrams that traditionally have been produced. So this changes the ball game. I think the level of accuracy is the biggest benefit." Listen to Vic's discussion for some more money saving and money-making ideas...
Related Links: Business Genetics || Plug and Play Tech Center || Blog || In the News || TiE Rockies || BG Overview || Keywords: Vic Ahmed, Business Process Mapping, Business Genetics, TiE Rockies, Entrepreneur, Due Diligence, Cedric Tyler, Steve Baker, Gartner 2/28/11 bytes=7153270 LISTEN to Vic Ahmed, Business Process Mapping

Powered by Podbean.com
What we do is oriented around information technology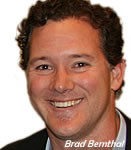 971_ 2/21/11 - "We've created a nerve center, where the technologists, entrepreneurs, capitalists, the service providers around them - they've got a home at CU. That's not just the Silicon Flatirons, there are others across campus. There's the Tech Transfer Office, the Deming Center, ATLAS Center, others who are engaged across campus. I think we've done a much better job on that. For instance at SFC we're going to have about 36 programs with 6,000 or more people coming through over the course of the year and on a relatively shoe-string budget. The second thing I think we're doing increasingly well is engaging student interest." We're speaking with Brad Bernthal, Associate Clinical Professor of Law, Technology Policy and Entrepreneurial Law. We're asking Brad about Silicon Flatirons, CU and what they're really doing here as it relates to entrepreneurs.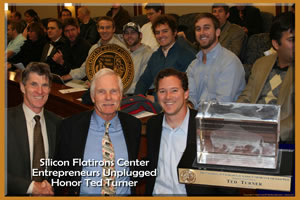 "What we do is oriented around information technology", said Brad, "and broadly, when we're at our best, something that matters around IT for the next one to three years. Not where is the ball now, but where is the ball going to be in the near future. That's where we're situated and we are at the intersection of academics, government policy and business. We've got three areas of emphasis, 1.) Telecommunications policy, 2.) IP privacy and security and 3.) Entrepreneurship Initiative". Larry asked Brad about the very popular Entrepreneurs Unplugged series. "It fits into the general goal of the Entrepreneurship Initiative (EI) at Silicon Flatirons Center (SFC), to be the API for the campus. So, the point in which the startup community in the Front Range intersects with CU Boulder, especially the geek startup community, software companies, hardware and telecom. Co hosted by Brad with Brad Feld and Jill Van Maetre who's with the ATLAS Center across campus. It's been an amazing series with national figures like Ted Turner, Sam Zell, David Bonderman and Liberty CEO, Greg Maffei."...Listen for the meat and potatoes...
Related Links: Entrepreneurs Unplugged || Silicon Flatirons Center || New Venture Challenge Photo Album || Entrepreneurs Channel || Keywords: Brad Bernthal, Silicon Flatirons Center, Entrepreneurs Unplugged, Brad Feld, Jill Van Maetre, Ted Turner, Sam Zell, David Bonderman, Liberty Media CEO, Greg Maffei > 2/21/11 bytes=7699542
Listen to: Brad Bernthal, Silicon Flatirons Center, CU at Boulder

Powered by Podbean.com
Leonard Nimoy and Star Trek come to Colorado


832_ 4/26/10 - At the 26th National Space Symposium, Larry and Pat had an opportunity to have a discussion with Leonard Nimoy of Star Trek fame. But Nimoy is so much more than that. They decided to talk about other topics that help us learn more about him and what has shaped his character over the past 79 years as well as understanding his hot buttons. We started out by reflecting on some poetry Leonard read as 'whale song' was heard in the background...that was decades ago but it opened up insights to his current interests and concerns. When asked, Is there something businesses can do to motivate children?" His reply was an ouch. "I'm not a sociologist, I'm not a businessman, I can't speak intelligently about that. I'll tell you what I am concerned about; I'm concerned about how much television kids watch that is not uplifting, or educational or inspiring in any way. It's all about celebrity, and if you're celebrity, come and tell us about your celebrity. What have you accomplished? I'm a celebrity - I'm famous for having a lot of children, so I want a TV show - It's crazy. What we have descended to in our education, it's crazy! It's really sad, I could go on about that, I'm not going to." He had a great deal to say about advice he would give to someone following his career path. "The biggest fantasy, myth about my work, about being an actor is people who think a look will get you somewhere, be at the right place and time, that kind of thing - luck plays a big role, but I never believed that, not even as a teenager...Education, it's all about education. Learn, learn, learn and devote yourself to a profession. Be professional about it." Larry asked, "Do you feel the U.S. is losing its position in terms of space?" Leonard replied, "Yes, I don't know to what degree this is true. I don't want to be an alarmist about this, but I do think we've got some work to do." We did end with a Vulcan salute. Listen for much, much more...
Related Links: Space Technology Hall of Fame® || National Space Symposium || Space Foundation || More About Nimoy || ///Space Symposium PHOTOS/// || Keywords: Leonard Nimoy, Star Trek, Spock, Vulcan, National Space Symposium, Space Foundation, Education, Douglas S. Morrow Public Outreach Award 4/26/10 Chnl: News bytes: 5458968
LISTEN to Leonard Nimoy, aka Mr. Spock

Powered by Podbean.com
Smart grids, renewables and alternative fuels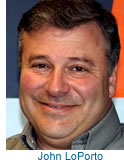 976_ 2/28/11 - Speaking of the future, the future is now, and we're going to be talking about grid based communications and energy informatics. Larry sat down with John LoPorto, President & CEO, Power Tagging Technologies (big CTP supporter) to talk about a very exciting and emerging area. With John's experience, Larry asked John, "What are the challenges facing entrepreneurs today?" John replied, "it's very difficult to get access to capital. Not impossible. We've actually been very fortunate in raising growth capital. We've raised most of it through strategic investors; we're in the midst of raising another round right now. But something I think has changed over the last number of years is we've got to be able to demonstrate a very solid, very quantifiable business plan. It's all based on economic return. No one is investing in technology for technology's sake any more. Larry asked, "Take out your crystal ball, what opportunities are coming for entrepreneurs in the next decade?" John's insight, "I think this green sector, whether we're talking about smart grids, renewables or alternative fuels, will continue to be an exciting opportunity to generate value and also accomplish something good for humanity. If I were looking forward and advising our grandchildren's generation, I think the major advances to be made are in biotechnology and genetic engineering, things of that sort." John went onto explain the Power Tagging focus. "We developed as a core technology, a technology that allows us to tag or fingerprint power, electrical energy which is something that's never been accomplished before. This really provides a framework to provide data communications directly over the high voltage power grid. This is really the most ubiquitous network on the planet that reaches into every room and every building on the face of the earth with multiple transit access. Most of the promise has been that we're going to make things more efficient and make power more useful to people, that people are going to interact (I don't know that consumers have really demonstrated an interest in interacting with the power grid - they don't want to change their behavior, they don't want to start doing their laundry early in the morning just because the power is cheaper then.)...listen now there's much more...
Related Links: Power Tagging Home || Communication Technology Professionals || Executive of the Year and Ascent Award || CTP Channel || Entrepreneurs Channel || Keywords: John LoPorto, Power Tagging Technologies, Communication Technology Professionals, Smart Grids, Renewables, Alternative Fuels, Entrepreneurs > 2/28/11 bytes=7646461 LISTEN to John LoPorto, Power Tagging Technologies

Powered by Podbean.com
Worldwide executives explore the unknown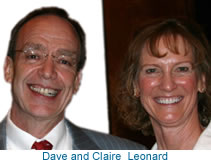 974_ 2/28/11 -What do worldwide executives do to bring balance into their lives? Join us in listening to Dave Leonard's account of his journey to Antarctica. He paints an exciting word picture. As he says, "Bring a little balance to your life, broaden your horizon and your perspective." Dave and his wife Claire decided to travel to Antarctica after the sale of Wild Blue last year. We had taken an excursion with National Geographic and Lindblad Expeditions, and we had gone to the Arctic three years ago. We were so impressed with the operation that we decided to do the other end of the globe. I guess you could say, to become bi-polar. This journey was 21 days on a ship. We left from Ushuaia, went to the Falkland Islands, then to South Georgia Island, to Elephant Island and over to Antarctica Peninsula. (same journey, in reverse, that Sir Ernest Shackleton took in 1914 - but we didn't have the same experience - that is one of the most amazing survival stories of all time.) Larry asked experiences that standout. "Well first, I was unprepared for just how staggeringly beautiful that part of the world is. It's not well known because nobody is there. Basically it's whale stations and research stations run by the U.S. and other governments on the Antarctica Peninsula which is governed by an international treaty. Second the abundance of wildlife is astounding. I mean, to be standing on the Salisbury Plain in South Georgia amidst, literally two to three million penguins. It's beyond description, words just can't do it justice. It was the adventure of a lifetime, we're very glad we did. The winds are impressive, called Katabatic winds, that come off the glaciers and blow at 100 to 150 mph. If you've never tried to stand up in a 150mph wind, I'll tell you it's a real experience." There's much more to listen to and check out the links below...
Related Links: Antarctica Cruise || National Geographic Explorer || Communications Technology Professionals || CTP Channel || Blog || Keywords: David Leonard, Claire Leonard, Antarctica, Communications Technology Professionals, CTP, 2/28/11 bytes=5425008 LISTEN to David Leonard, Global Executive, R&R in Antarctica

Powered by Podbean.com
Target market leads to a big sale and much more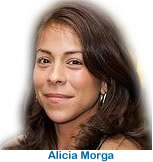 972_ 2/21/11 - She is an example of bootstrapping that few others can match. Lucy Sanders, CEO for the National Center for Women and Information Technology or NCWIT along with Larry Nelson, Director of w3w3® Media Network and Lee Kennedy, Founder, BolderSearch.com and NCWIT board member interviewed Alicia Morga, founder and past CEO of Consorte Media, sold in 2010 to Audience Science. Currently Alicia is the creator of GottaFeeling (iPhone App) and the founder of a new (in stealth) startup. Alicia is a remarkable young woman with great down-to-earth advice for other young women wanting to build a life in the information and technology space. She is an example of bootstrapping that few others can match. Her beginnings are humble and we encourage you to watch the 'Professional Bio' video on her blog - it's short (link below... About Alicia). Lucy Sanders wanted to know when Alicia got interested in technology. Alicia points out, "It was a circuitous route for sure." She didn't grow up wanting to be an entrepreneur, nor did anyone think she would be an entrepreneur. Looking back she realizes she had all the entrepreneurial traits that are usually necessary to become an entrepreneur, she was very curious and adventurous. Her first exposure was in high school with a basic programming language class. She built a baseball game and thought that was fun - 'you can build anything you want in this thing called a computer'. She did end up going to Stanford University which plunked her down right in the middle of Silicon Valley. She tells us she heard dribs and drabs about technology and entrepreneurship, but didn't connect the dots until she became a corporate lawyer after law school, also at Stanford University. Take the GottaFeeling App. Alicia had never created an app before, she didn't even own an iPhone or an iTouch. She decided this was something she didn't know anything about and said, "Why don't I just jump in and see what I can create." That's when she created GottaFeeling...listen now there's much more...
Related Links: About Alicia Morga || Consorte Media || Gotta Feeling iPhone App || NCWIT Home || NCWIT Practice || NCWIT Blog || Heroes Channel || Keywords: Alicia Morga, Consorte Media, Gotta Feeling iPhone App, Stanford, National Center for Women and Information Technology, NCWIT, Lucy Sanders, NCWIT Heroes, Lee Kennedy, Bolder Search, Entrepreneurs, Technology > 2/21/11 bytes=18453214
Listen to: Alicia Morga, founder, ConsorteMedia

Powered by Podbean.com
Boulder startup sells for $40M


970_ 2/21/11 - Mobile communications is exploding. We're here with an expert the president and founder of Radish Systems, Theresa Szczurek. While it's talked about a great deal, Larry wanted to know what does mobile communications have to do with business? Theresa replied, "Mobile communications is exploding, millions and millions of smart phones are jumping off the shelves. There were like 166 million smart phones sold in 2009. The projections from a Nielsen study show there will be more smart phones used by the end of 2011 than any other kind of cell phone. So businesses who are thinking ahead should be asking, who are my stakeholders, my customers, my distribution channel, my employees out in the field and are they using a mobile device? And they should be asking, what should we be doing to better serve the needs of those mobile callers? Radish Communications Systems, a fun roller coaster ride. We grew it and sold it in 1996 for over $40 million. It was also in the space of integrated voice data and it became the de facto standard for allowing voice and data to be shared over a plain old telephone line. We were working with small companies like Microsoft, Intel, Rockwell, AT&T." Larry asked, "What are some of the practical points businesses should be considering, having to do with mobile devices?" She replied, First of all know your market. Make sure you're serving the mobile stake holders. What we're finding is that more and more corporations are developing and implementing a mobile strategy. For example do you have a mobile website? Since more and more people are doing business via their mobile device, a mobile website and perhaps a mobile application in order to better serve the needs of your marketplace." Listen, there's much more...BTW, they are looking to hire...
Related Links: TMS World || Radish Sprouts || Software Channel || Blog || Keywords: Theresa Szczurek, TMS World, Radish Sprouts, Mobile Communications, App's, Cell Phone, Mobile Devices, Radish Communications Systems 2/21/11 bytes=7029554
Listen to:Theresa Szczurek, Co Founder, CEO, Radish Systems

Powered by Podbean.com
Achieving Your Personal and Professional Goals

933_ 11/29/10- Don't Let Another Year Go By - The Ultimate Win is Yours - Larry Nelson has taught this material in seminars in over a dozen countries, from China to Canada, from Norway to Australia, from Germany to Japan as well as throughout the USA. He shares the results of his international research about the Characteristics of an Achiever and then goes on to help you lay out your "personalized blueprint" to personal and professional success. Larry is an internationally published author, has been a consultant to many Fortune 1000 companies and is best known for his train-the-trainer programs. ...listen now a complete step-by-step program including a downloadable manual and resource guide...this is an in-depth strategic planning and goal setting system for achievers...Read More about how to Supercharge Your Business... The links below are valuable and extremely helpful to setting your course for the next year! And they're free. Related Links: Ultimate Win Resources || Training Trends || 3-Filters Technology™ || Podcasting Directory || Your Goal || Keywords: Ultimate Win, Your Goal, Training Trends, 3-Filters TechnologyTM, Setting Goals, Larry Nelson; 11/29/10 Chnl: Entrepreneurs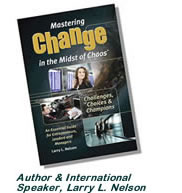 Change Is Not an Event,
It Is an Ongoing Process
as it is with Chaos
Check out the Mastering Change Blog
Get your Copy at Amazon
Supercharge Your Business!
Seminars / Keynotes
Supercharge Your Business!

Seminars / Keynotes
Go to the MC Blog





>






LIBRARY_______
Associations
Beyond the Trends
Cyber Security
Entrepreneurs
Ethics
Homeland Security
In the News
Leader Profiles
Mastering Change
Renewable Energy
Resources
Software
Success Stories
Training Trends
Venture Capital
Video Blogs

w3w3®

Archives


Google ranks Colorado's w3w3.com in the top 10 for the "Business Internet Talk Radio" show
Google has millions of listings in our category. We are ranked in the top 10. Check it at… The same is true for the category "Entrepreneurs Internet Talk Radio" show… see at…