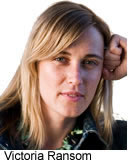 Leverage and engage the millions of users of social network sites


1055_ 8/01/11 - The National Center for Women in Technology CEO, Lucy Sanders and w3w3.com Internet Talk Radio anchor, Larry Nelson are talking with Victoria Ransom, founder & CEO of Wildfire Interactive, and serial entrepreneur (3 companies all of which are operating today) and an adventuresome spirit - she once spent over a month living with a remote Amazonian tribe. Wildfire Interactive helps organizations leverage and engage the millions of users of social network sites like Facebook and Twitter. Their web applications allow companies to easily integrate branded interactive campaigns (across all types of social media networks) like sweepstakes, contests and give-aways, utilizing the viral features of the social web to create engaging campaigns. Wildfire also provides powerful analytics so you can measure the impact of these campaigns. Victoria has been an entrepreneur since her early twenties and has developed three companies. As founder & CEO of Wildfire, Victoria led the company to profitability in just one year and has built the company to tens of thousands of customers, over 140 employees, and five offices worldwide. w3w3® Media Network is proud and honored to bring another NCWIT interview to our audience. At w3w3® Media Network, we recognized the need for education and support for our youth, particularly for young women, in math and science, engineering and technology. Our partnership with Lucy Sanders and NCWIT is highly rewarding. The women we interview are bright guiding lights for the future of our youth, generously sharing their experiences - challenges and all. They are inspiring, often humorous and motivating. This series is a real jewel and a valuable set of tools for the future of young women and everyone who has the good fortune to listen.
Related Links: Wildfire App || NCWIT Home || NCWIT Practice || NCWIT Blog || Heroes Channel || Keywords: Victoria Ransom, Wildfire Interactive, National Center for Women in Technology, Lucy Sanders, NCWIT, Facebook, Twitter, Social Media, Interactive Campaigns - 8/01/11 Bytes: 18677240
LISTEN to Victoria Ransom, CEO/Founder, WildfireApp

Powered by Podbean.com
Hire the absolute best people: It's all about people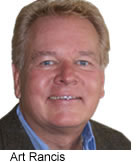 1057_ 8/01/11 - Larry sat down with Art Rancis to talk about leaders and entrepreneurs. Larry asked, "What are the biggest challenges facing entrepreneurs and leaders, today?" Art pointed out that he is a big people person - "...without people, nothing happens! Frankly the biggest challenge for those companies today is, that many of them have lost sight of hiring the absolute best people." A book that Art recommends, written by a Boulder author, David Thielen, is The 12 Simple Secrets of Microsoft Management. And Bill Gates offered number four, which is "always, always hire the very best you can find'. Larry tried flipping the coin and asked, what are the biggest opportunities today? Knowing Art you may guess it is '...hiring the very best people. It's not a cop out. You will maximize and realize a lot of success if you hire the very best people who can execute." We've all heard the stories of great products failing because of lack of execution. And yet a lot of very mediocre products that succeed because of great execution. "So, it's still people, you've got to bring them in and thrive as a company that way." Art gives advice to individuals and organizations all the time - What is that advice? Art said, "Would you be upset with me if I said, hire the very best people." ... It's a very strong belief for Art! But he adds, "Stay nimble. In today's environment you've got to move faster. That's a two edged sword. While you have lots more information available to you to be a better decision maker, but with the pressures of cell phones, texting and quickly turning around decisions - sometimes you may not think thoroughly enough." Larry couldn't agree more, referring to his book, Mastering Change in the Midst of Chaos, he points to a line he wrote, "People are the source of all problems, and people are the source of all solutions."
Related Links: Art Rancis Home || Economy Builders || Profile of Leaders || Mastering Change Blog || Keywords: Art Rancis, People, Entrepreneurs, Leaders, High Tech, Vendors, Suppliers, Partners, Microsoft, Peak Performers, NimbleBalance, Largely Cerebral, Race Car - 8/01/11 Bytes: 4496303
LISTEN to Art Rancis, International Entrepreneur

Powered by Podbean.com
Entrepreneurship, Technology, Law and Building a Winning Team
1049_ 7/18/11 - "I am glad to let you all know that my plan for a two year leave of absence-and no more than that-is coming true. Starting this July 1st, I will assume the role as Dean of the Law School, as well as taking back the reigns from Dale Hatfield as Executive Director at Silicon Flatirons," wrote Phil Weiser to his friends. "I am delighted about the prospect of rejoining the Law School and Silicon Flatirons community. I look forward to working with you as we write the next chapter of Silicon Flatirons initiatives and projects. Dale Hatfield's service to our country, our community, and Silicon Flatirons are far beyond any words I can offer. He remains a true friend, role model, and mentor. Additionally, the Silicon Flatirons leadership team-Brad Bernthal's vision and top flight execution of the Entrepreneurial Initiative, Paul Ohm's path breaking insights and thought-provoking programming as part of the Information Technology/Intellectual Property Initiative, and Anna Noschese's stellar work as the Center's Program Director-all stepped up in my absence. Our Executive and Advisory Board members surrounded our team with superb insight, direction, and support. And with my responsibilities as Dean, I will depend on them all continuing that leadership, along with Dale Hatfield's continued support and that of our newest addition as a resident Senior Fellow, Preston Padden. I am also glad to announce that, two years after Dale was handed the baton I take it back, at an event to honor Dale's service taking place on Thursday, July 7th at 7 pm at the University of Colorado Law School." Silicon Flatirons pursues three basic goals: to elevate the debate around technology policy issues; to facilitate networking, the development of "human capital" and the promotion of entrepreneurship in the Colorado technology community; and to inspire student interest in technology law and entrepreneurship." LISTEN and WATCH this very interesting and informative video series.
Related Links: About Silicon Flatirons || Ray Gifford || Brad Bernthal || Paul Ohm || Bryan Tramont || Keywords: Silicon Flatirons, Phil Weiser, Dale Hatfield, Ray Gifford, Brad Bernthal, Anna Noschese, Paul Ohm Entrepreneurs, Technology, Law, University of Colorado, Dean CU Law School, David Getches - 7/18/11
Ray Gifford, MC, Silicon Flatirons Senior Fellow and Partner, Wilkinson, Barker, Knaur, LLP - Passing Back the Baton
Helping Pass the Baton, Anna Noschese and Paul Ohm
1047_ 7/18/11

Passing the Baton, Ray Gifford and Bryan Tramont
1046_ 7/18/11.
Get your copy of Larry Nelson's popular book...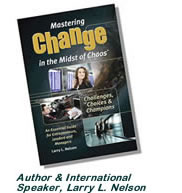 Change Is Not an Event,
It Is an Ongoing Process
as it is with Chaos
Check out the Mastering Change Blog
Get your Copy at Amazon
Supercharge Your Business!
Seminars / Keynotes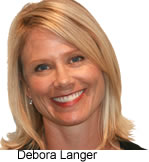 Convergence of telecommunications along with the smart grid


1054_ 8/01/11 - "Two main initiatives come to mind", said Debora Langer. "One is the convergence of telecommunications along with the smart grid. The other emerging technology that we're seeing involves getting broadband out to the rural communities with 4G and LTE solutions." Debora Langer serves on the board of CTP, the Communications Technology Professionals, for the second year now. A favorite organization for w3w3®, which we've covered for many years, going back to when it was called Denver Telecommunication Professionals. They've been through a great deal, the telecommunications industry was hit so hard a number of years ago - and this organization not only survived but in fact has really grown. Debora tells us that Colorado is really embracing the progressive technologies and CTP is working hard to keep their programs current and consistent with what is being implemented in Colorado. Larry pointed out, "When some people first heard the tech/grid relationship with telecommunications there was some confusion." Debora said, "They didn't really understand it, you're absolutely right. And, that's part of CTP's mission is to educate the community and highlight what's going on in Colorado. With the rural broadband initiative, we're going to have an event in September. What we're seeing there, we've got EagleNet that was just awarded $100 million, and we've got Open Range Communications that got $257 million... so the State of Colorado is embracing the need to get rural broadband out to communities and then all the applications and all the community services that go along with that. Healthcare, education and public safety are part of why you have a broadband network." Listen for more...
Related Links: Communications Technology Professionals || CTP Channel || Gorilla Logic || Silicon Flatirons || Rockies Venture Club || Keywords: Debora Langer, Communications Technology Professionals, CTP, Gorilla Logic, Smart Grid, 4G, LTE solutions, Convergence, Telecommunications, Broadband, Rockies Venture Club, Silicon Flatirons - 8/01/11 Bytes: 4478749
LISTEN to Debora Langer, Colorado Communication Technology Pros (CTP)

Powered by Podbean.com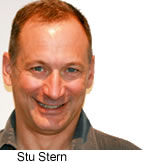 The most important differentiator is that they are free


1056_ 8/01/11 - We're here to talk about a very interesting topic that is important to all businesses, whether they're techies or not. And we're here with Stu Stern who is the CEO of Gorilla Logic and the creator of a couple of programs, FoneMonkey and FlexMonkey. You know, there are a lot of people who love 'open source' and there are people who don't know anything about open source and don't use it. Larry asked Stu, "How are open source tools different than the other things out in the market place?" Listen to this interview and you will learn about the importance of functional testing tools, and how they can not only help your engineering teams with automated testing, but can be expanded to help with a companies unit testing and continuous integration environments. This interview discusses the importance of functional testing tools and how making these tools being free and open source can benefit an entire ecosystem of developers, Development Managers and CTO's looking for ways to make their applications better for the companies they work for. Stu said, "Next week Gorilla Logic is releasing a new version of FlexMonkey. Stu explains their two tools are each for automated testing of Rich Internet Applications (RIA). FoneMonkey is for IOS applications, those are iPhone and iPad applications. And FlexMonkey is for the Adobe Flex Platform which runs any Flash player. Essentially they replace manual testers with automated testing, making the testing process much faster and more reliable." There's much more...
Related Links: Gorilla Logic || FlexMonkey || FoneMonkey || CTP Home || Directory || Keywords: Stu Stern, Gorilla Logic, FlexMonkey, FoneMonkey, Open Source, Rich Internet Applications, iPhone, iPad, CTP, Source Code - 8/01/11 Bytes: 6049021
LISTEN to Stu Stern, CEO, Gorilla Logic

Powered by Podbean.com
Winners, Entrepreneurs, Tribute, Cash Prizes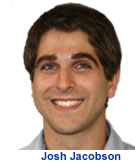 1053_ 7/25/11 - The Bard Center's 10th Annual Business Plan Competition has selected the winners. The Business Plan Competition is designed for early stage Colorado companies that have received no Angel or Venture funding and that have generated little or no revenue to date. The primary purpose of the competition is to provide these early stage ventures with an opportunity to test their ideas and receive meaningful feedback on their business plans. The finalists present their plans in front of a panel of judges and audience of business leaders and fellow entrepreneurs. This year's finalists were, First Place: Viktorian Guitars; Second Place: Microscopy Learning Systems , Third Place: RoomCycles; Finalist: Clubhouse Executive Coaches; The Ski Lift; Vanguard Medical Systems. Dave O'Brien Tribute, the Bard Center honored Dave O'Brien. Dave played many important roles in the growth and development of the Bard Center for Entrepreneurship. He supported students, alumni and faculty in many meaningful ways and had a lasting impact on every person who passed through our doors. As a tribute to Dave the Dave O'Brien Incubation Office was created in the new Business School building. Please visit Bard Center online, to help in creating this special honor. We spoke with Josh Jacobson, Sales Director and Co-Founder of Viktorian Guitars Viktorian Guitars, a Denver-based maker of composite electric guitars, received the $10,000 first prize. They are the first company to bring to market a 100 percent carbon-fiber electric guitar. Viktorian offers guitar players and musical instrument dealers a line of electric guitar models that have superior acoustics, are ultra-lightweight, nearly maintenance free, and virtually indestructible. Listen for more (no pun intended)... .
Related Links: Viktorian Musical Instrument || Boaz Elkayam Guitars || BARD Entrepreneurship Business Plan Competition || Economy Builders || Keywords: Josh Jacobson, Viktorian Musical Instrument, Boaz Elkayam Guitars, Bard Center, Business Plan Competition, Dave O'Brien, Microscopy Learning Systems, RoomCycles; Clubhouse Executive Coaches; The Ski Lift; Vanguard Medical Systems 7/25/11 bytes=4438207
LISTEN to Josh Jacobson, Co Founder, VP Sales, Viktorian Guitars

Powered by Podbean.com
Interdisciplinary Approach to Policy Research & Growth

1053_ 7/25/11 - "I did not expect that, at this point in my career, I would be taking on new responsibilities. But when Phil Weiser was called to service in Washington, D.C., I viewed the opportunity to step in as Executive Director of Silicon Flatirons as too important and too interesting to pass up. Phil has, in characteristic fashion, worked diligently with myself, Anna Noschese, Paul Ohm, Brad Bernthal, and the other members of the Executive Committee (Ray Gifford, our chair, Sue Wyman, Dick Green, and Tom Lookabaugh) to ensure a smooth and effective transition. I share his confidence and enthusiasm about the program's future, even though I know that I, like all of us, will miss his vision, energy, and leadership. Washington's gain is our loss," a quote from Dale Hatfield. Phil Weiser recently said, "I am also glad to announce that, two years after Dale accepted the baton from me, I will take it back, with an event to honor Dale's service."
Phil Weiser returns to SFC as Dean CU Law School
Respect, Appreciation and Gifts of Gratitude
Dale Hatfield - Thanks for the Memories
Related Links: About Silicon Flatirons || Phil Weiser || Dale Hatfield || Ray Gifford || Brad Bernthal || Paul Ohm || Bryan Tramont || David Getches || Keywords: Silicon Flatirons, Phil Weiser, Dale Hatfield, Ray Gifford, Brad Bernthal, Anna Noschese, Paul OhmEntrepreneurs, Technolgy, Law, University of Colorado, Dean CU Law School, David Getches - 7/25/11
Achieving Your Personal and Professional Goals

933_ 11/29/10- Don't Let Another Year Go By - The Ultimate Win is Yours - Larry Nelson has taught this material in seminars in over a dozen countries, from China to Canada, from Norway to Australia, from Germany to Japan as well as throughout the USA. He shares the results of his international research about the Characteristics of an Achiever and then goes on to help you lay out your "personalized blueprint" to personal and professional success. Larry is an internationally published author, has been a consultant to many Fortune 1000 companies and is best known for his train-the-trainer programs. ...listen now a complete step-by-step program including a downloadable manual and resource guide...this is an in-depth strategic planning and goal setting system for achievers...Read More about how to Supercharge Your Business... The links below are valuable and extremely helpful to setting your course for the next year! And they're free. Related Links: Ultimate Win Resources || Training Trends || 3-Filters Technology™ || Podcasting Directory || Your Goal || Keywords: Ultimate Win, Your Goal, Training Trends, 3-Filters TechnologyTM, Setting Goals, Larry Nelson; 11/29/10 Chnl: Entrepreneurs
Supercharge Your Business!

Seminars / Keynotes
Go to the MC Blog




>





LIBRARY_______
Associations
Beyond the Trends
Cyber Security
Entrepreneurs
Ethics
Homeland Security
In the News
Leader Profiles
Mastering Change
Renewable Energy
Resources
Software
Success Stories
Training Trends
Venture Capital
Video Blogs

w3w3®

Archives


Google, Bing and Yahoo rank Colorado's w3w3.com in the top 10 for the "Business Internet Talk Radio" show
They have millions of listings in our category. We are ranked in the top ten. The same is true for the category "Entrepreneurs Internet Talk Radio" show