FIRST Colorado a competition you won't believe

1188_ 4/2/12 - FIRST (For Inspiration and Recognition of Science and Technology) was founded in 1989 by Dean Kamen, inventor of the Segway Human Transporter. In January each team receives a 'box' of parts (electronics to metal pieces) to build their robots. This year the FIRST Robotics 2012 Colorado Regional Competition was held at the DU Magness Arena, with 68 teams competing (60 from Colorado plus one from Mexico). Each year there is a different game, always challenging, exciting and amazing. More fun than you can imagine, beginning with the amazingly crazy MC, to inspiring stories from past participants, to the tension filled competition, even the audience gets into the act. You will laugh, and you will cry as you are pulled into this odyssey. FIRST was founded in 1989 by Dean Kamen, inventor of the Segway Human Transporter. We met Dean Kamen in 2002 when Richard Pankoski and CSIA brought him to Denver. FIRST was founded on partnerships with businesses, educational institutions and government. Many Fortune 500 companies provide funding, in-kind donations and volunteers to support the program. The key to FIRST's success is the work of thousands of volunteer mentors, professional engineers, teachers, and other adults working with youth across the country. In addition to the volunteer team mentors, FIRST competitions and other events were organized and staffed by over 5000 event and committee volunteers. FIRST programs are growing rapidly in the United States and Canada, and demand is accelerating in other countries. Watch the short video with six teams competing and click on the event photo link to see all the photos.
Related Links: FIRST Colorado || FIRST at a Glance || FIRST Leadership || Photo Albums (2) FIRST Colorado Robotics || Podcasting Directory || Keywords: FIRST Robotics, FIRST Colorado, Dean Kamen, Robots, Competition, Inspiration, Recognition, Science, Technology, DU Magness Arena - Watch Video - Colorado FIRST Regional Competition 2012

Community Leadership, Educational Leadership, Entrepreneurial Leadership

1190_ 4/2/12 - We are talking with Brandy Bertram, Executive Director of YouthBiz. YouthBiz is an after school program that is on a mission to increase the economic and social prosperity of our community through our focus on youth leadership. Our after school programs focus on one of three areas, 1-Community Leadership, 2-Educational Leadership and 3-Entrepreneurial Leadership. Brand said, "It is so much fun. Our young people are really the leaders, directors and the drivers of the work that we do. They come to us from all areas of the community - representing 40 different schools - they make their way to us for two hours every single day during the school year as well as summer programming." The progress is evident in the changes they see in the community to make it a safer, more vibrant, more energetic place to be. YouthBiz is celebrating their 20th anniversary. Started in 1992 by a community leader, Brian Barhaugh, who is still engaged in the community. He started it with a group of youths in response to the 'summer of violence' in 5 Points. We lost so many young people. They decided there must be something they could do together to show their community the value of their young people, not the liability. That works remains relevant and needed today. Larry asked, "What are some of the innovations and changes YouthBiz is going through right now?" Brandy replied, "For many years we've stood on our foundations, which will not change, which include peer based leadership - young people teaching young people. We incentivize and pay financial wages to our young people. We understand they are up against the gun when it comes to what they're going to do with their after school time. Economic strife is a very real concern in their community. We combat that by paying them wages for their time and by getting them involved in actual hands-on work. We are realizing our mission by helping those young people, not just learn the skills...Listen for much more...
Related Links: YouthBiz || CIMCO || Community Reach Channel || Social Entrepreneurs || Keywords: Brandy Bertram, YouthBiz, Youth, Community Leadership, Educational Leadership, Entrepreneurial Leadership, CIMCO, Social Entrepreneurs - bytes=5449250
LISTEN TO: Brandy Bertram, Exec Director, YouthBiz

Powered by Podbean.com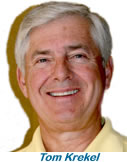 Execution, the difference between success and disappointment


1179_ 3/19/12 - It is interesting when speaking to many successful business leaders, we find a lot of grads from the 'school of hard knocks'. We are speaking with
Tom Krekel, CEO of Full Sail Strategies. He says he learned the hard way, he started his first business back in 1983, which they grew and developed. Over the last 30 years he has run and developed business that ranged in size from the startup that he had to companies that had a couple hundred employees. He wishes he had had access to the kind of resources out there that he now brings to companies through the Mastering the Rockefeller Habits seminar and workshops, they will be conducting in Denver on April 24th. Larry asked, "with the economy we've been through the last few years, with the challenges we've been through, what are the biggest challenges coming up this year?" Tom replied, "It's interesting, we talk about what's happened with the recession, new technology impacting businesses. If you go back to the early 90's, Fortune Magazine does a cover article, "Why do CEO's fail?" They looked at strategy, access to resources - cash? No, it was really all around execution. In their study, what they found was the ability to get people rowing in the same direction, at the same time, whatever you want to call execution, that really was the prime area and that's still true today. You see people who start businesses, thankfully because most of our new jobs come from small business startups. But regardless of the business type, they soon learn to grow they have to change from being a functional specialist to becoming a leader of other people. That's not an easy transition. What I try to do is have them focus on a couple of disciplines. Establish priorities, and btw Tom says he's gone into companies, "...and they pull out their 12 priorities - Tell you what, any more than five, those aren't priorities, that's a checklist." 1.) No more than five priorities and one has to be the top. 2.) You've got to have some metrics so you can see what's happening on a contemporaneous basis. Not things that look backward, but things that will help you predict the future. And 3.) You've got to put in communication rhythm to keep that pace going, make sure everyone is aligned around what the goals are. And you drill it right down to every member of the team." Listen for more great ideas...
Related Links: Full Sail Strategies || Mastering the Rockefeller Habits Workshop || Gazelles || Entrepreneur Channel || Podcast Directory || Keywords: Tom Krekel, Full Sail Strategies, Entrepreneurs, Mastering the Rockefeller Habits Workshop, Gazelles, Leaders, CEOs, Fortune Magazine, Metrics, Predict the Future - bytes=4775500
LISTEN TO: Tom Krekel, CEO, Full Sail Strategies

Powered by Podbean.com
Helping existing businesses grow and expand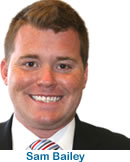 1180_ 3/19/12 - We're talking to a very popular guy, he works for the Governor's Office of Economic Development and International Trade as a relationship manager. That means he primarily works in business retention and expansion, helping existing businesses grow and expand their businesses, but also working to keep businesses here in the State of Colorado. In addition to this, Sam Bailey is also the program director for Colorado Companies to Watch. Sam says they're really the sales team for the State of Colorado, selling Colorado, promoting and really making this a great place not just to live and play, but also to conduct business. Larry asked, "Sam you run into and see all different kinds of businesses not only with CCTW, but obviously with OEDIT. With all the things we've been through in the last couple of years, can you give us a handle on the challenges businesses might be facing this coming year?" Sam pointed out, "One of the big issues that we're seeing is access to capital. Companies want to grow, but they are really looking for that backing to help them grow, grants, small business loans, venture capital. Banks are still at that point where they're still evaluating the risks, are not lending as much as they used to. So companies are really struggling to find that liquidity or access to capital to help expand, make capital investments in their company, acquire new equipment - So that's one issue that we've seen. Another issue is workforce, and that's throughout the state. Issue that there is a skills mismatch. We've got jobs here in the state, but having a trained, skilled workforce to fill those jobs is hard. So we're working with local institutions, higher education, community colleges, other industry associations to identify how can we be better at training our workers here in the state of Colorado so they can fill those positions with workers here in the state. Sam described the focus of Colorado Companies to Watch. "We're focused on second stage companies. In Colorado these are privately held, headquartered in Colorado, have between six to 99 employees, and have revenues between $750k to $50M. These are full startup companies, so they're really set to take off. The reason we focus on these companies is they make up roughly 8% of Colorado's economy, yet they account for almost 35% of all the jobs created." There's more...
Related Links: Colorado Companies to Watch || Colorado Companies to Watch Channel || PodCast Directory || Gala Event || Colorado OEDIT || Keywords: Sam Bailey, Colorado Companies to Watch, Office of Economic Development and International Trade, Edward Lowe Foundation, COCTW, Nominate, Second Stage Companies - bytes=5377779
LISTEN TO: Sam Bailey, Program Director, Colorado Companies To Watch

Powered by Podbean.com
Get your copy of Larry Nelson's popular book...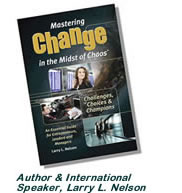 Change Is Not an Event,
It Is an Ongoing Process
as it is with Chaos
Check out the Mastering Change Blog
Get your Copy at Amazon
Supercharge Your Business!
Seminars / Keynotes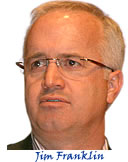 Raising $21.6 million round of funding


1187_ 4/2/12 - Introducing the opening keynote speaker for the RVC Angel Capital Summit was Scott Yates, CEO of Blogmutt. The Angel Capital Summit is a three day event designed to connect investors with entrepreneurs while providing valuable workshops, speakers and networking events. Scott said, "It is because of Jim Franklin that I can stand here as the CEO of my third company to introduce Jim Franklin." Scott explained, "Jim knew that what defined me was not my most recent setback, but that I was a fellow traveler on this path called serial entrepreneur ism. He knew I'd bounce back because he'd bounced back."
As an insight, Scott tells us a story about Jim, beginning with the fact that Jim is an ultra-long distance runner. Last August, Jim had successfully completed a 100 mile foot race in Leadville the highest incorporated city in North America. In a rocky place with not much air to speak of, Jim ran for 100 miles. On the Monday following that race, Jim went to work, laying the ground work for a company he'd just taken over to close a $21.6 million round of funding. Tuesday night was the last night for the Founder Institute for 2011. And, on this night the first speaker was Jon Nordmark. Jon doesn't get to come out as often as he once did, and he went a bit long. About two hours. Then another speaker, and then it was Jim's turn. Jim stood in front of this group -- in flip-flops because his feet were battered -- and said, "You know those signs on I-70 coming back from the mountains, the ones that say 'Truckers, you are not home yet!'? Well, that's us, we still have a lot of ground to cover." And cover it he did. I still don't know how the guy could stand, let alone talk, let alone deliver some of the most important content imaginable to people hungry to understand the path that they were on. Delivering in spite of obstacles...
Jim Franklin has a long history with RVC. He moved to Colorado in 1992, with no job, a good education, no money, in debt, and one contact who saw that Jim was young and hungry and ambitious - and he said, "You need to go to the Rockies Venture Club". So Jim put on his suit and tie and went down to Rockies Venture Club, it was September of 1992... Listen to Jim in his own words.
Related Links: Rockies Venture Club || Angel Capital Summit || SendGrid || Blogmutt || Venture Capital || Entrepreneur Channel || Podcast Directory || Photos, Angel Capital Summit || Keywords: Jim Franklin, Scott Yates, Peter Adams, Kirk Ryder, Rockies Venture Club, Angel Capital Summit, Venture Capital, Angel Investors, Entrepreneurs, Boot camp, Investment Advisor, Colorado's Entrepreneurial Ecosystem, Pitch Academy - bytes=15065655
LISTEN TO: Scott Yates & Jim Franklin, Angel Capital Summit

Powered by Podbean.com
CEO Environment, Leadership in a Turbulent Economy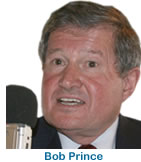 1189_ 4/2/12 - The Corporate Growth Conference in has been very exciting. Here we are talking with Bob Prince who just got off stage from the "CEO Roundtable - Leadership in a Turbulent Economy". We asked Bob for an overview of what his company does. Last February Bob came to Hyperion as it's new CEO and spent the last year changing the company, changing the direction, new leadership throughout the company. And, so today we changed the name to Gen4 Energy. What the company does, we're bring commercial, out of the Los Alamos Laboratory, a new type, more safe, nuclear power plant than has existed. It's really little, about the size of a Mini Cooper. It's a sealed unit and lasts for ten years for 24/7 power. We take it out sealed, we hook it up and you operate it for ten years. Ten years later, we'll come and get it and give you a new one. Larry said, "One of the things you referred to in your experiences along the line were the values established by your people." Bob said, "I think good companies just make money. Great companies make money and do a lot more. I think everybody wants to work for a great company. How do you do that, I think setting up a set of values and then adhering to them and driving them down into your procedures, your methods of operation, your performance appraisals and living those values makes the difference. We developed them over time and there came to be six values. The first was safety (handling radioactive material - they needed to),. The second one was people. You've got to believe in people and the key is what does that mean, how do you implement that and how do you drive that into your business? And how do you show that you value people, because they'll see right through it - if it's just a plaque to put on the wall, they will see that. 3.) Integrity is the next. Bob thinks that is the number one characteristic of a company or a leader.... Next is quality. You do it right because it's right and you want to be the best quality. If you're handling nuclear waste..."listen for more...
Related Links: Gen4 Energy || ACG Denver || M&A || Rocky Mountain Corporate Growth Conference || Event Photos - Corporate Growth Conference 2012 || Keywords: Bob Prince, Gen4 Energy, Hyperion Power Module, ACG, Denver, Leading Resilient Growth, Association for Corporate Growth, Los Alamos Laboratory, - bytes=6225400
LISTEN TO: Bob Prince, President/CEO, Gen4 Energy

Powered by Podbean.com
History Week - 2010, Is this still true today?
***Current Business Event Photos***
Lucy Sanders makes it her business to get women into technology! Lucy is the CEO and Founder of the National Center for Women and Technology. With a huge gap in our talent pool, we are facing a national crisis... and women can help save us... The Trend is Changing, statistics show that better than 50% of new entrepreneurs are female. NCWIT regularly introduces us to fabulous, successful women and technologies -
Listen to her interview with Krista Marks, a Colorado Hero!...

Amazing story: Boulder to Disney


871_ 8/2/10- Lucy Sanders, Founder and CEO of the National Center for Women in Technology describes Krista Marks as, "A rare blend of technical accomplishment and social passion and entrepreneurial spirit. You cannot spend more than five seconds with Krista without getting all kinds of great information and energy and passion!" Krista is the co-founder of Kerpoof Studios which was acquired by Disney in 2008 and Krista is now the general manager of Disney Online Kerpoof Studios (and still based in Boulder). Lucy asked, "How did you get interested in technology?" Her interesting reply, "My entry into technology was not so smooth. When I went to college, I didn't even know about technology or pursuing a career in technology which for me, was electrical engineering. [But obviously there are a number of careers in technology.] For me, in high school, I gravitated to mathematics, science and problem solving, these were the areas I liked. Fortunately when I got to orientation for college, I sat next to a student who said they were going to major in electrical engineering. I didn't know what that is. "What is that?" And she said, 'I know that if you really like math and physics, it's the best major to have. I said, "Oh my god, those are my two favorite things. "So I fell into it. This is why NCWIT and the things you're doing, Lucy, is so critical, so important. I would like every student to be aware of the available opportunities when they're choosing a career. I did end up there and loved technology. In fact, from that point on I really wanted to be involved in designing technology. I spent the first eleven years designing custom electronics, and got to work around the world." In the first of many future integrations of Kerpoof technology, Disney.com has launched new features on its popular Characters portal (www.Disney.com/Characters). Now, when guests visit pages for characters such as Mickey and Friends, they will be able to create their very own customized pictures using an intuitive graphical interface. There's more...
Related Links: NCWIT Home || NCWIT Practice || NCWIT Blog || Heroes Channel || ATLAS || Kerpoof Studio || Disney.com/Create || Entrepreneurs Unplugged || Entrepreneurs Unplugged with Krista Marks, Event Photos || Keywords:Krista Marks, Kerpoof, Disney, Silicon Flatirons, ATLAS, ITP, Lucinda Sanders, NCWIT, Small Business Innovation Research, Grant, Entrepreneurs Unplugged > 3/8/10 Bytes:45382115 Chnl: Entrepreneurs LISTEN to Krista Marks, Entrepreneurs Unplugged

Powered by Podbean.com
Happy 80th Anniversary Boulder BPW!
Established in 1931, Boulder Business and Professional Women is a local membership organization. Their mission is to build full participation, equity, and economic self-sufficiency for working women. "Together we are powerful: professionally, politically, and personally."


803_ 3/8/10 - Networking in these economic times

The first piece of advice Bonni Doherty offers in these challenging times you want to be focused first, on your health, believe it or not. When you go out to present to a company, presenting yourself, company or service, you want to look and feel your best. If you exercise, mediate, do yoga, eat right you're going to naturally feel more relaxed and shine. Bonni Doherty is the 2009 BPW Young Careerist Winner. Bonni's been involved in health care for 15 years now and within in BPW and the promotion of legislative issues as it relates to women, she focuses on the promotion of positive healthcare for women and the education around that. Larry interviewed Bonni and Nancy Chin Wagner who is the president of BPW. Nancy explained, "Boulder Business & Professional Women BPW, is an extraordinary group of people. What we do is promote participation, equity and economic self-sufficiency for working women. We have programs that are educational and informative that builds leadership and self-confidence. We're part of a national organization that was established in 1919." Bonnie went onto say, "Another thing, focus on what you want. If you go off on a tangent or anything like that people recognize that, you have to focus on what you want. As an entrepreneur you want to keep your overhead low. Especially today there are so many resources in the community that you can access. Networking groups where they can meet people that probably have an opportunity to be hired for a specific job - even if it's short term. In these economic times, we feel that you need to be working and doing something, it's really hard out there for everyone." Nancy was happy to announce two programs coming up, Celebration of Women, 3/18/10 and the Young Careerists Program, 4/15/10. Listen for more...
Related Links: Boulder Business and Professional Women || Celebration of Women || Blog || Economy Builders || Keywords: Nancy Chin Wagner, Bonni Doherty, Boulder Business & Professional Women, BPW, Celebration of Women, Young Careerists Program > 3/8/10 Bytes: 7454200 Chnl: News LISTEN to Boulder Business & Professional Women

Powered by Podbean.com
Achieving Your Personal and Professional Goals
933_ Don't Let Another Year Go By - The Ultimate Win is Yours
- Larry
Nelson has taught this material in seminars in over a dozen countries, from China to Canada, from Norway to Australia, from Germany to Japan as well as throughout the USA. He shares the results of his international research about the Characteristics of an Achiever and then goes on to help you lay out your "personalized blueprint" to personal and professional success. Larry is an internationally published author, has been a consultant to many Fortune 1000 companies and is best known for his train-the-trainer programs. ...listen now a complete step-by-step program including a downloadable manual and resource guide...this is an in-depth strategic planning and goal setting system for achievers...Read More about how to Supercharge Your Business... The links below are valuable and extremely helpful to setting your course for the next year! And they're free.
Related Links: Ultimate Win Resources || Training Trends || 3-Filters Technology™ || Podcasting Directory || Your Goal || Keywords: Ultimate Win, Your Goal, Training Trends, 3-Filters TechnologyTM, Setting Goals, Larry Nelson; 11/29/10 Chnl: Entrepreneurs
w3w3.com can help you...
Support the Community - Grow Your Business &
Increase Your Profits! CHECK OUT this link

LIBRARY_______
Associations
Beyond the Trends
Cyber Security
Entrepreneurs
Ethics
Homeland Security
In the News
Leader Profiles
Mastering Change
Renewable Energy
Resources
Software
Success Stories
Training Trends
Venture Capital
Video Blogs

w3w3®

Archives


Google, Ask, Bing and Yahoo rank Colorado's w3w3.com in the top 10 for the "Business Internet Talk Radio" show
They have millions of listings in our category. We are ranked in the top ten. The same is true for the category "Entrepreneurs Internet Talk Radio" show