Kathleen Pelley, Children's Author and Philanthropist


1206_ 5/7/12 - Kathleen Pelley's passion for stories stemmed from listening to them. She was born in Glasgow, Scotland a country famous for its heather dappled mountains
and a treasure chest of stories. Her gentle Irish father also loved to feed Kathleen his own tales of fairies, leprechauns, and banshees. As an elementary teacher, Kathleen loved teaching language and history and drama. "In my classroom I always made plenty of time for reading stories aloud to my students, no matter what age they were." After moving to the States in 1990 with her husband, Chris, an American, and their two daughters, Kathleen was extremely homesick. "Writing helped to soothe the hurt in my heart, and soon I was sending off my stories to publishers." Kathleen's first book was "The Giant King", set in Scotland, is about kindness and how you can tame a fierce giant with kindness. But the most important thing about the book is that it is published by a no-profit publisher, the Child Welfare League of America. This publishers doesn't make any money for itself - all the proceeds they make goes to help vulnerable children who've been abused or neglected, suffered family disruption, or a range of other factors that jeopardize their safety, permanence, or well-being, throughout America. Recently CWLA decided to make a CD of the book, narrated by Kathleen, which has won an award from the National Association of Parenting Publications. And Kathleen, as she's always done, uses the little bit of profit she makes from this book to help a children's home in Zimbabwe. "My family and I have been involved with Makumbi Children's Home in Zimbabwe, Africa—a home for AIDS orphans, where one of Kathleen's brothers has worked for the past 25 years." Kathleen's most recent book, just came out, "The Sandal Artist" and is illustrated by Colorado artist, Lois Rosio-Sprague. You can meet Kathleen in person at the Tattered Cover in May 12, 2012, at the Highlands Ranch location and for people who don't know, we will be celebrating Children's Book Week and that afternoon with illustrator Lois Rosio-Sprague Kathleen will officially launch her latest book, The 'Sandal Artist'.
Related Links: Kathleen T. Pelley || Podcasting Directory || CIMCO || Social Entrepreneurs || The Sandal Artist Book || Keywords: Kathleen Pelley, Author, Glasgow, Scotland, The Giant King, Child Welfare League of America, The Sandal Artist, Lois Rosio-Sprague, Children's Book Week, Makumbi Children's Home, Zimbabwe, Africa, Tattered Cover - bytes=4941430
LISTEN TO: Kathleen Pelley, Children's Author

Powered by Podbean.com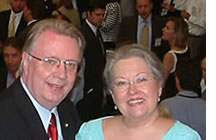 Photo Archives reveal more than Déjà vu
1208_ 5/7/12 - Do you remember the CTEK eBall? Were you at any of the big events held by the Internet Chamber of Commerce (ICC) ? Have you been a part of the super growth of the Association of Corporate Growth, Denver (ACG Denver) ? In addition to the recorded interviews and calendar listings there are 1000s of business photos archived on w3w3.com. You can do an internal search to find a company, association, or... Here are a few links by year for business event photos...
Year 2003 || Year 2005 || Year 2008 || Year 2010 || Current ||
Related Links: Find It History || Event Photo Directory || Podcasting Directory || Best of the Best 2003 || Keywords: Photos, ICC, CTEK, RVC, DTP, CSIA, CTA, DaVinci, RMIMA, AITP, Start-Up-Guru, ACG, Defrag, Glue, Advance Colorado >
They do everything to support the entrepreneur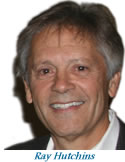 1204_ 4/30/12 - While he's right here and focused on Colorado, Ray Hutchins works all over the world. One of his global connections is through TiE Rockies which is associated with TiE Global. TiE Global has 57 Chapters throughout the world. We have a very vibrant and fast growing chapter right here in Denver, one of the smallest in the TiE Global network, but it is recognized as one of the most dynamic, fastest growing and most influential chapters. Asked about TiE and its makeup, Ray tells us that TiE stands for the Indus entrepreneur. Eighteen years ago a group of wealthy Indian technology guys put together the organization. The original mission was to build strong relationships between India and the United States. Something they were quite instrumental and successful at. The mission shifted over the years and today is supporting the entrepreneur. So we do everything we can to support the entrepreneur and to create jobs and to grow businesses. That's the primary mission. In order to do that TiE has two levels of membership. One level is the Charter Member and then the other is the general member. Charter members are successful business people usually older and more experienced who have achieved success of one kind or another (various criteria associated with that) and they basically fund the organization. TiE is growing very fast and enjoys a great reputation in the Denver Metro area. Ray said, it's kind of a club of successful men and women having some success and then wanting to help others and wanting to help the State grow. "That's the basic mission and if you're on board with that, then we welcome you. And, we work very hard to form relationships between these people. With us you've got to put an oar in the water and you've got to make a difference. You've got to be part of the organization and help push it forward. That's not only good for us, but it's good for you, that's how you get your pay-back." The last event w3w3 attended was fabulous. That was an event where John Kelley a board member, highly respected businessman from the Denver metro area, past CEO of McData, he is currently raising money for a new company CereScan that is changing the way brain injury and disease is diagnosed and treated around the world. He's raising money for that deal, he's a charter member, a highly respected member of our group and we came together as an organization to support him and help him raise money, and it was a very successful event.
Related Links: Denver SEO Services || Denver Cyber Security || TiE Rockies || TiE Charter Membership || TiE Rockies Charter Event Photos || Podcasting Directory || Keywords: Ray Hutchins, TiE Rockies, Denver SEO Services, Denver Cyber Security, Search Engines, Google, Gaming Search Engines, Domain Name, SEO Strategy - bytes=4978210
LISTEN to Ray Hutchins, TiE Rockies

Powered by Podbean.com
365_
Leadership, Management, Production: Friends or Foes?


Most people go through life not ever really understanding their strengths and what they can capitalize on. On the other hand, they don't always understand their personal challenges that often sabotage their potential success. It's all about people. People cause all problems and people solve all problems. Before we try to understand and harness the world, we need to start with ourselves. Here's a program that will help you "Unravel the People Puzzle - It's Powerful • Proven • People-Oriented." All people are part of this equation. 'Quality is the enemy of innovation, innovation is the enemy of quality, and people get in the way of both'. A great organization needs to focus on all three (quality, innovation, people), all the time and a great manager must make decisions based on all three. The 3-Filters Technology offers a way for dealing with these conflicting needs. At a recent Information Technology Leadership Series, Larry Nelson, using 3-Filters Technology specifics addressed these key topics...What you need to know before your next promotion... What you wish you had known before your last promotion...What you need to know to grow your company to the next level.
LISTEN to Larry Nelson, Author International Speaker
Related Links: Supercharge Your Business || Unraveling the People Puzzle || Training Trends || Great Graphics || | Keywords: Leaders, Managers, Producers, People Puzzle, 3-Filters, Training Trends, Institute for Change Research, Resources, Understanding People > Channel: Training > 08/27/07

Get your copy of Larry Nelson's popular book...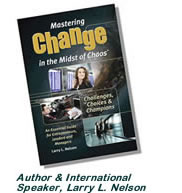 Change Is Not an Event,
It Is an Ongoing Process
as it is with Chaos
Check out the Mastering Change Blog
Get your Copy at Amazon
Supercharge Your Business!
Seminars / Keynotes
w3w3.com can help you...
Support the Community - Grow Your Business &
Increase Your Profits! CHECK OUT this link
Genevieve Thiers, Big Time Solutions for working moms


1205_ 5/7/12 - From opera singer to big time solutions for working moms. She needed to make some money but didn't want to wait tables. Studying the business
model for Match.com, she met her husband who became her number one mentor...Lucy Sanders, the CEO for the National Center for Women and Information Technology or NCWIT, and Larry Nelson, from w3w3.com interviewed Genevieve Thiers, the founder of Sitter City. Gen was sitting in her college dorm room, senior year, when she saw this 9 month pregnant mother climbing up 200 steps, posting flyers for babysitters. Gen thought to herself that she could create a solution to this problem. Why doesn't someone just take all the caregivers in the city, or the nation for that matter, and put them all in one place where you could easily find them. But more importantly, quickly screen them. So that's what Sittercity.com became, America's first and largest network to connect parents with caregivers nationwide. And there are millions of caregivers in five divisions, child care, pet care, senior care, home care and tutoring. She has founded several companies in the Chicago area. Her first company, Sittercity.com, is America's first company to take care giving services online, and now has millions of users nationwide, and serves clients like the U.S. Department of Defense, Avon, MasterCard, Monster WW and many others. Her latest company, Contact Karma, is in beta and aims through the use of social recommendation engines to help consumers find the perfect vendor match. Gen's advice to young entrepreneurs just getting started.... "There are no problems, just sticky situations looking for resolutions. Problems can't exist for you if you're an entrepreneur. I mean insurmountable ones; you have to see them as opportunities to solve something. You can't see holes, you have to keep rolling over them and stay focused on your vision." ...There's much more, listen now...
Related Links: Sitter City || NCWIT Home || NCWIT Practice || NCWIT Blog || Heroes Channel || Keywords: Genevieve Thiers, Karma, SitterCity, Lucy Sanders, National Center for Women and Information Technology, NCWIT, w3w3® Media Network, Entrepreneurs, Technology, Care Givers, Chicago - bytes=18520505
LISTEN TO: Genevieve Thiers, Contact Karma & SitterCity

Powered by Podbean.com
Ray Hutchins, Cyber Security is in a Dismal State


1207_ 5/7/12 - What is the state of IT Security today? Well Ray Hutchins, founder, Denver Cyber Security, tells us about a recent article in the Wall Street Journal,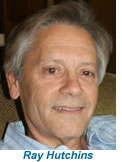 March 28th, 2012. Detailing a report issued by the Assistant Director to the FBI, that said in the United States of America, there was not one unclassified network that was secure. Not one unclassified network in the US was secure! That is the state of IT security - it's a dismal state. The basic reason for this is that when the Internet was designed by DARPA, they were not thinking about security, so it was not engineered into the process. And today it is just woefully insecure. Currently as we speak, DARPA is designing a secure network and starting up, it will be for the use of the Pentagon and security agencies, federal and state governments. But, for the rest of us, we have to cope with an unsecured internet for many more years. Ray said, "At Denver Cyber Security, our job is to help companies secure their networks. It is expensive and difficult to fully 100% secure a network - very difficult. And, if you have an opponent, somebody out there, absolutely targeting you, if they have sophisticated means at their disposal, it would be very difficult for you to stop them. Not impossible, if you're in a determined defensive posture. But if you're the average Joe out there, it's a tough play. " Ray tells us the best steps include taking care of the 'low hanging fruit', working to handle the easy and fast to solve. Most of the attacks going out on the Internet come from automated tools, bots looking for soft spots, looking to attack vulnerable computers - looking for social security numbers and credit card numbers and other sensitive information - that's what they're looking to pluck. That kind of thing can be defended against, sometimes for no or little cost, if you use your common sense. The next challenge we wanted to ask Ray about was the glut of spam that we all encounter with email each day. Ray tells us the biggest single thing is that you never, never, never click on a link in an email - NEVER! Listen to this interview for more information and remember to follow the simple steps recommended by Ray Hutchins. A cyber security attack is painful - a very real violation that can take years to deal with - and likely never be resolved to your satisfaction...
Related Links: Denver SEO Services || Denver Cyber Security || TiE Rockies || TiE Charter Membership || TiE Rockies Charter Event Photos || Podcasting Directory || Keywords: Ray Hutchins, IT Security, DARPA, TiE Rockies, Denver SEO Services, Denver Cyber Security, Social Security Numbers, Credit Card Numbers, Cyber Security Attack - bytes=5841296
LISTEN TO: Ray Hutchins, Denver Cyber Security

Powered by Podbean.com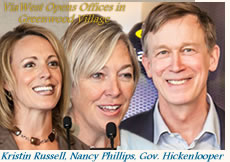 Critical to serving the small - mid sized business segment


1203_ 4/30/12 - Quite a milestone in the company's history! Here at the ViaWest new offices in Greenwood Village, with Governor Hickenlooper and his Secretary of Technology and CIO of the State, Kristin Russell, coming down to mark the special occasion and help with the ribbon cutting. Nancy Philips, COO and Cofounder, said, "We were very honored to have them join us in celebration of what is obviously a great milestone for ViaWest." As we've all witnessed, ViaWest has been growing - right out of the spaces they had downtown [in various locations]. Nancy said, the Greenwood Village offices have given them the opportunity to consolidate their staff, kind of bring them together. ViaWest started business back in 1999 and w3w3 attended the ViaWest Grand opening downtown Denver. Today ViaWest is at 22 data centers, in 5 states / 6 major markets, so they've been busy since that ribbon cutting we attended June 5th, 2002. Nancy said it a testament to being in a great industry and they give a lot of credit to the employees they've attracted who've really helped grow this organization to where it is today. As a matter of fact, they are now recognized as the largest privately held company in the collocation and cloud services space. Nancy and Roy are very proud of their long tenured staff, very like-minded in terms of the vision for the organization, people that are really committed to the community and the customers that they serve. But they've also been bringing on a lot of new talent from all over the country. Back in November of 2011, at the DefragCon, w3w3 introduced you, the listeners, to Jason Carolan, ViaWest's new CTO who is leading a lot of the cloud initiatives. ViaWest carries a continuum of technology whether it is pure collocation requirements all the way to fully out sourced managed capabilities which is critical to serving the small - mid sized business segment they focus on. Nancy said, "We are very in tune with our customer base and therefore they become the best basis for where we should be developing our technology and product sets. With such an expansion around IT, web presence, the capabilities for flexibility and expansion within not weeks or months, but minutes, the cloud serves the purpose..." Larry asked about the new product offers from ViaWest. Nancy explained, "As we've moved into the virtualized space we're seeing storage and data replication as critical components in terms of what companies are looking for - greater availability, looking for ways to protect their data and being sure it is always available. That's been driven by...There's much more, listen now...
Related Links: ViaWest Home || Cloud with Confidence Webinar 5/1/2012 1:00-2:00 pm || NCWIT Home || Photos Ribbon Cutting || Software Channel || Keywords: Nancy Phillips, Via West, Cloud, Hosting, Governor Hickenlooper, Kristin Russell, Jason Carolan, NetApp, VMware, VW Talk Cloud, National Center for Women and Information Technology, NCWIT, Technology - bytes=12414598
LISTEN to Nancy Phillips, COO, ViaWest

Powered by Podbean.com
534_ Change Is Not an Event, It Is an Ongoing Process

(the Same is true with Chaos) 4/30/2012


Mastering change is one of Pat and Larry Nelson's favorite topics. There's a good reason. They have lived in and owned businesses in five foreign countries stretching from Norway to Australia. They are truly serial entrepreneurs as they have started more than a dozen companies. Some were extremely successful and others learning experiences. One thing that was true in every situation were the rushing changes. At times they were victims and others they were victors. Larry has conducted seminars for numerous companies both large and small, public and private sectors, in dozen countries, on the subject of 'Mastering Change in the Midst of Chaos'. In this recorded discussion Larry and Pat discuss the 'Six Truths About Change'. The topic includes; Resistance, Involvement, Making Losers, Vision, Benefits, and Follow up. Like the Nelsons say, "Master Change Before It Masters You." Listen now...
Related Links: Beyond the Trends || 3-Filters || Training Trends || Free Newsletter || Mastering Change || Mastering Change - Amazon || Keywords: Mastering Change, Chaos, Pat and Larry Nelson, Involvement, Vision, Benefits, Follow up > Bytes: 8472349 LISTEN 8/4/08

Powered by Podbean.com
Achieving Your Personal and Professional Goals
933_ Don't Let Another Year Go By - The Ultimate Win is Yours
- Larry
Nelson has taught this material in seminars in over a dozen countries, from China to Canada, from Norway to Australia, from Germany to Japan as well as throughout the USA. He shares the results of his international research about the Characteristics of an Achiever and then goes on to help you lay out your "personalized blueprint" to personal and professional success. Larry is an internationally published author, has been a consultant to many Fortune 1000 companies and is best known for his train-the-trainer programs. ...listen now a complete step-by-step program including a downloadable manual and resource guide...this is an in-depth strategic planning and goal setting system for achievers...Read More about how to Supercharge Your Business... The links below are valuable and extremely helpful to setting your course for the next year! And they're free.
Related Links: Ultimate Win Resources || Training Trends || 3-Filters Technology™ || Podcasting Directory || Your Goal || Keywords: Ultimate Win, Your Goal, Training Trends, 3-Filters TechnologyTM, Setting Goals, Larry Nelson; 11/29/10 Chnl: Entrepreneurs

LIBRARY_______
Associations
Beyond the Trends
Cyber Security
Entrepreneurs
Ethics
Homeland Security
In the News
Leader Profiles
Mastering Change
Renewable Energy
Resources
Software
Success Stories
Training Trends
Venture Capital
Video Blogs

w3w3®

Archives


Google, Ask, Bing and Yahoo rank Colorado's w3w3.com in the top 10 for the "Business Internet Talk Radio" show
They have millions of listings in our category. We are ranked in the top ten. The same is true for the category "Entrepreneurs Internet Talk Radio" show