Answers to the biggest challenges businesses face today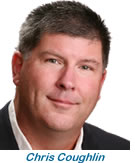 1222_ 6/11/12 - Chris Coughlin started his first business when he was seven years old--it ended when a policeman stopped him and informed him that taking mail from mailboxes to hand deliver to doorsteps in the hope of a tip was a federal crime. Lawn mowing and snow shoveling businesses soon followed. We asked Chris what he felt were the biggest challenges businesses face today. Chris tells us he believes there are two - "One is the uncertainty out of Washington D.C. I don't care how they solve it, everyone knows they have to put more money in and we have to cut spending. But the uncertainty and the growing debt makes someone like me more risk averse." He bought a farm last year - something solid, protection against inflation. Chris said, "I could have hired someone for that investment, but I just felt I needed a little insurance policy, an asset that was always going to be there." The second, "We're in a relatively flat economy. For small businesses, margins are under assault. You know in a growing economy there's more revenue for everybody - that's not the way it is today. So maintaining your margins and growing your revenue are very difficult in a flat economy environment. We discussed "What the greatest opportunities are for business in this environment, and then Larry asked, "Advice to an entrepreneur just starting out?" "Years ago Charles Schwab was asked that question. His answer was, "Take the two biggest things you wish to accomplish and everyday wake up to do every possible thing on those two things before you do one other thing." Chris said, in other words if you have two huge opportunities, don't get distracted by minutia. Do everything possible on the two biggest things, and you'll see your business turn and thrive. Chris gave us a bunch of good advice in this short interview. Check out the Revenue North BizCon, June 27th in Denver.
Related Links: Revenue North Biz Conference || Blue Ocean Strategy written by W. Chan Kim and Renée Mauborgne || Football Coaching Clinics || Training Trends || In the News || Keywords: Chris Coughlin, Revenue North, Conference, Blue Ocean Strategy, W. Chan Kim, Renée Mauborgne, Glazier Clinic, Apple, iTunes, Denver, Colorado, Training, Football Coaching Clinics, Entrepreneurs, bytes=4044489
LISTEN TO:Chris Coughlin, President, Revenue North

Powered by Podbean.com
Mission is to solve the world's contact information problem


1224_ 6/11/12 - Here at GlueCon, we've corralled another TechStars alum - class of 2011. Full Contact's mission is to solve the world's contact information problem. Ben Deda, Vice President, Business Development at Full Contact said, "We all have this pain point of having these partial contacts in your phone, address books and all your different applications. It's never complete, accurate or up to date." Ben said they saw that pain point and wanted to create a solution. "I think if we'd realized how big of a problem it was at the start, we might not have taken that on. But, you know, we just got into it..." Larry asked, "What do you see on the horizon?" Ben replied, "Full Contact actually started out as an API. It's an API that has the ability to take a partial contact and turn it into a full contact. So you send us just an email address and we'll bring back a profile picture, first name, last name a full social profile and any other publicly available information we can find. One thing that came out of that was so many of their customers were requesting Full Contact to push updates when they found them. So Full Contact actually developed a 'cloud address book'. It has the ability to take all these contacts from all these different places put it into one place. We cleanse it, normalize it, de-duplicate and merge all the contacts into a consolidated contact. Then they do an enhancement portion on it - even offer validation, verification on emails and phone numbers and allow you to sync all that information back to all the different places they came from. We're offering that as an API but also as a Web App. that's going to a private beta and then a public beta the of June or July. Listeners interested in that public beta, Ben said they will have a page up at FullContact.com where you can sign up and get on the public beta list for the cloud address book.
Related Links: Full Contact || TechStars || Glue 2012 || Defrag and Blur || Software Channel || PodCasting Directory || Photos GlueCon 2012 || Keywords: Ben Deda, Full Contact, TechStars, Gluecon, API, Cloud Address Book, Web App, Public Beta, bytes=2918925
LISTEN TO: Ben Deda, VP Business Development, Full Contact

Powered by Podbean.com

Eric Norlin, it's moving away from the CIO/CTO level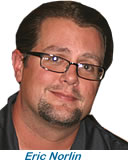 1220_ 6/4/12 - Finally we actually corralled Eric Norlin, the founder of GlueCon as well as Defrag and Blur - who is, as you can imagine, a study in constant motion - plus he understands all of this techno babble. First we asked Eric for an overview of Glue. "So, Glue is a conference focused on developers (hence the techno babble). Thematically it is organized around the ideas of Cloud Computing, mobile development, big data and API's" Glue's future? Eric sees a lot more growth. The strange phenomenon when you're talking about cloud computing, mobile development, big data or API's, is that you run into the idea that this department level developer inside the enterprise is where the power is migrating to. It's moving away from the CIO/CTO level and going downstream. The research is needed to build applications or to move legacy applications on to mobile platforms or to analyze huge amounts of data. But this no longer requires seven figure budgets that need approval and nine month time frames. It's something a person or a two member team can do with ten grand, a proto type and bust it out in three days. There is this trend of the renaissance enterprise developer, something akin to what we saw when Borland and Visual Studio ruled the day, and it involved lots of development vs. suites. Eric said it feels like we are entering a phase similar to that. Now you might be wondering what is Defrag and how do the conferences compare - so we asked Eric. "It's an idea driven conference where we're trying to put 20 of the smartest people we can find on stage to talk about interesting ideas related to technology. That doesn't mean they're CEOs of big companies, they may be working on something interesting that would make us want to put them on stage. Defrag is capped at 325 people, it's a very intimate and exclusive audience, tends to be more a C-level type person.
Related Links: Glue 2012 || Defrag and Blur || Software Channel || Blog || GlueCon Event Photos || Keywords: Eric Norlin, GlueCon, Defrag, Blur, Cloud Computing, Mobile Development, Big Data, API's, CIO, CTO, Techno Babble, Renaissance Enterprise Developer, bytes=4051176
LISTEN TO: Eric Norlin, Founder, GlueCon

Powered by Podbean.com
Nicole Glaros says we have over 150 companies in our portfolio


1218_ 6/4/12 - We've run into an 'old friend', she's not old but a long time friend and familiar to nearly everyone in Boulder and Denver. We're talking with Nicole Glaros, the Managing Director of Boulder TechStars. Nicole says as the managing director she has the wonderful opportunity of working with 10-12 teams a year, giving them a little bit of seed capital and a whole bunch of mentorship to take them to the next level. Of course, w3w3® has met and interviewed a number of TechStar alumnus here at GlueCon. TechStar teams are here from Boulder, but also TechStars Cloud, which is their first thematic program. Larry recalled interviewing David Cohen just a few months before TechStar One. He asked Nicole what has changed over the years? "Oh Wow!" said Nicole. "We started off in Boulder, the first program was in 2007. Since then we've launched four more programs, Boston, Seattle, New York and now TechStar-Cloud which is based in San Antonio. We also have a book and there was a TV show last year. We've got our web series and it has been going great!" Larry asked what she thought we might see in the future with TechStars. Nicole said, "We are committed to helping entrepreneurs get to the next level of growth and being a value add for investors as well. Continuing to focus on that any number of things can happen." Nicole has been with TechStars since almost the beginning. She was there when it was just one office in Boulder and, she said, "It's been really fun to see the program grow and mature. Now we have over 150 companies in our portfolio now. So we've just created a massive network of entrepreneurs across the country and the world as well - it's been a lot of fun!" Nicole said...listen for more...
Related Links: GlueCon Event Photos || TechStars || Glue 2012 || Defrag and Blur || Software Channel || Keywords: Nicole Glaros, TechStars, Portfolio, Boulder, Boston, Seattle, New York, TechStar-Cloud, Glue Conference, Entrepreneurs, bytes=3632799
LISTEN to Nicole Glaros, Managing Director, Boulder TechStars

Powered by Podbean.com
Get your copy of Larry Nelson's popular book...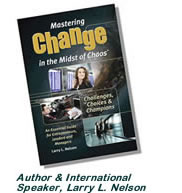 Change Is Not an Event,
It Is an Ongoing Process
as it is with Chaos
Check out the Mastering Change Blog
Get your Copy at Amazon
Supercharge Your Business!
Seminars / Keynotes
Achieving Your Personal and Professional Goals
933_ Don't Let Another Year Go By - The Ultimate Win is Yours
- Larry
Nelson has taught this material in seminars in over a dozen countries, from China to Canada, from Norway to Australia, from Germany to Japan as well as throughout the USA. He shares the results of his international research about the Characteristics of an Achiever and then goes on to help you lay out your "personalized blueprint" to personal and professional success. Larry is an internationally published author, has been a consultant to many Fortune 1000 companies and is best known for his train-the-trainer programs. ...listen now a complete step-by-step program including a downloadable manual and resource guide...this is an in-depth strategic planning and goal setting system for achievers...Read More about how to Supercharge Your Business... The links below are valuable and extremely helpful to setting your course for the next year! And they're free.
Related Links: Ultimate Win Resources || Training Trends || 3-Filters Technology™ || Podcasting Directory || Your Goal || Keywords: Ultimate Win, Your Goal, Training Trends, 3-Filters TechnologyTM, Setting Goals, Larry Nelson; 11/29/10 Chnl: Entrepreneurs
Jason Mendelson, VC Investments, Glue and Community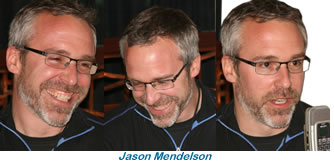 1221_ 6/11/12 - Sometimes, a person can really surprise you. We're talking with the very serious, local business mogul, JD, part-time professor, volunteer, and very busy telephone personality, Jason Mendelson, founder of the Foundry Group here in Boulder, Colorado. You will have to listen to this interview to understand that opening and it will be worth your time. We're at the Glue conference and Jason said, "You know it's just such a great conference. It's all these companies that the average person is never going to know exists - but if they didn't exist their entire Internet world would fall apart. It's just amazing looking at all these things; they're making other people's lives easier. In fact, most of these companies are making developer's lives easier. There are companies like Cloudabilty, for instance. Today you've got a developer with a dozen spread sheets just trying to manage their web architecture across the cloud. So one service does it all. You can see everything, how much your paying, what the loads are, and from one dashboard, see everything that's going on in your company. Or other companies, one of our new investments, a company called SendGrid, a very gluey company in our world. Jason puts a lot of time into volunteering with CU and other organizations; we asked what he was looking at today. "Well from a volunteer standpoint he is still very much into the Silicon Flatirons and what they're doing at the University of Colorado. Our buddies Phil Weiser, Brad Bernthal and Paul Ohm who has now taken a temporary position with the FTC - 'privacy god', these guys are just unbelievable. It's not just what they're doing for the students, but what they're doing for the community. Jason and his partner Brad Feld are coming out with a second edition of their book, Venture Deals which will be geared toward students. Starting even earlier in the process to help students have a view into what entrepreneurism and venture capital looks like. Then on the other hand, TechStars, that is one of the hubs of our community here and rapidly spreading across the nation. Spending time with these young, awesome entrepreneurs and really trying to help them accelerate their business. Don't miss Jason Mendelson and partner Ryan McIntyre at the Fox Theatre, August 25th, for their Album Release Party
Related Links: Foundry Group || Mendelson's Musings || TechStars || Glue 2012 || Defrag and Blur || Photos GlueCon 2012 || Software Channel || || Keywords: Jason Mendelson, Foundry Group, Venture Capital, GlueCon, Brad Feld, Ryan McIntyre, Cloudabilty, SendGrid, Picasso, Photobucket, Facebook, Cloud, bytes=4498393
LISTEN TO: Jason Mendelson, Managing Director, Foundry Group

Powered by Podbean.com
Allows you to build your own private version of a cloud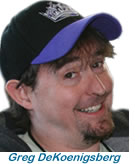 1223_ 6/11/12 - We hope you're getting a good bit of a sense of the Glue Conference. We are learning and seeing so much - exciting new API's and mobile apps and trying to Glue it all together. Here we're talking with Greg DeKoenigsberg who is the VP of Community at Eucalyptus Systems. We asked Greg to tell us about his organization. Eucalyptus Systems is based out of Santa Barbara, California and they do private cloud. What that means is, if you're familiar with the Amazon Web Services Cloud, which is pretty much the biggest cloud out there. Eucalyptus provides software that allows you to build your own private version of a cloud that looks very similar to Amazon AWS. Talk about exciting and this is open source software. You can go to Eucalyptus.com and download it for yourself. It takes a minimum of two systems at the very most basic configuration and then you can just add systems and it manages all of the virtual machines just as if you were managing an Amazon cloud. The promise of the cloud is that it allows you to self-administer your own boxes. Greg has a favorite story called the Sys Admin's Lament. In large organizations the sys admin traditionally has lots of power. Whenever someone inside a large organization needed a new computer, they would always go to the sys admin and say, 'hey, I need a box or two.' Being a sys admin is a hard job... managing all these assets and requests, they developed processes. There came a point where Amazon Web Services came to be a big deal - where the frustrated developer inside the organization, who just needed a resource for a skunk works project. It became easier for that developer to take out their credit card and put it down and pay Amazon $50 a month for their own system and then they didn't need to deal with the IT folks. Once this became really popular...
Related Links: Eucalyptus || Glue 2012 || Defrag and Blur || Photos GlueCon 2012 || Software Channel || Blog || Keywords: Greg De Koenigsberg, Eucalyptus, GlueCon, Cloud Computing, Amazon, Web Services Cloud, Sys Admin's Lament, IT Folks, > bytes=3882739
LISTEN TO: Greg DeKoenigsberg, VP Community, Eucalyptus Systems

Powered by Podbean.com
Doug Jackson, Martin Faith, Summer Solstice Celebration


1217_ 6/4/12 - Planning to celebrating the Summer Solstice this year? You're invited to join Dr. Douglas Jackson, President/CEO, Project C.U.R.E. and Martin Faith, President, Scottish Group Companies at their very special event, Summer Solstice, Glass, Grapes and Gruyere. You will have the opportunity to make an impact in the world, have some great fun and pick up a rare piece of antique Scottish Stained Glass. When asked what advice Martin Faith would offer to entrepreneurs and business leaders, he said simply, "I would like to think people would run their businesses with a conscience and not just be in business to make money. To provide, obviously, valuable services to their clients but also to give something back to the community. When you do that you get it back ten times over - what comes around, goes around." Here is a man who walks his talk. In Scotland, for many years Martin collected these beautiful antique stained glass windows, it was his passion. When he came to the U.S. he brought his collection with him and sold a lot of them to pay for his immigration to this country. He's kept some beautiful pieces for himself. For several years he wondered what he should do with the rest. After he met Doug Jackson he knew what to do. Martin decided he would sell the collection and give the money to Project C.U.R.E. and the Summer Solstice, Glass, Grapes and Gruyere event was born.

Doug said, "You know the neat thing about the solstice, it's the one day in the year where we get the most sun and what better way to celebrate the sun than coming through beautiful pieces of stained glass. It's exciting and we're hoping to raise enough to ship a container (we're talking about a semi truck trailer - or similar weight) and that is going to be worth about $400,000.00, because of Martin's effort. That's remarkable!"
Denver is the world headquarters for Project C.U.R.E. founded by Dr. James W. Jackson, (Founder Emeritus) in 1987, after visiting a small clinic in Rio de Janeiro. There, he saw patients turned away due to the lack of basic medical supplies and equipment. He made a promise that he would help provide relief to those people. Within 30 days of returning to his home in Evergreen, Colorado, Dr. Jackson had collected over $100,000 worth of medical equipment and supplies. He personally paid to have these shipped to that clinic. PROJECT C.U.R.E. builds sustainable healthcare infrastructure by providing the medical supplies and equipment that medical personnel need to deliver healthcare to their communities. Since its inception, PROJECT C.U.R.E. has delivered medical relief to needy people in more than 120 countries. PROJECT C.U.R.E. works with recipient partner organizations by donating the medical supplies and equipment they need to provide healthcare to the people in the local community. Meet these extraordinary men Thursday, June 21, for an evening of stained glass education, demonstration and donation with all the profits from the sale of this century old stained glass window collection going to help PROJECT C.U.R.E. deliver a 40-ft container of desperately needed medical supplies to an ill-equipped clinic or hospital in a developing country.
Related Links: Project C.U.R.E. || Scottish Group Companies || Celebrate Summer Solstice || CIMCO || Community Reach || Social Entrepreneurs || Keywords: Dr. Douglas Jackson, Martin Faith, Dr. James Jackson, Project C.U.R.E., Scottish Group Companies, Summer Solstice, Glass, Grapes and Gruyere, Stained Glass, Desperately Needed Medical Supplies, bytes=7394432
LISTEN to Martin Faith, Scottish Group Companies and Doug Jackson, Project C.U.R.E.

Powered by Podbean.com
Jason Carolan, organizations are grappling with big data challenges


1219_ 6/4/12 - One of the things we've noticed is that Roy Dimoff and Nancy Phillips, co-founders of ViaWest are constantly announcing new things coming up. Jason Carolan is CTO for ViaWest and we've worked with ViaWest for a number of years. We asked Jason if he had something new to announce, and of course he did. "Sure, just this last week we launched our new storage offering - storage as a service offering. It's an extension to our 'connected storage platform'. We have it both here in Colorado and in Utah. So for customers grappling with the 'big data challenge', and we all know that data is growing faster than ever before. We've got the right platform for that." We wondered if this had an impact on the Cloud services. Jason told us, "Absolutely! It's one of the reasons we have GlueCon with API's and how all these systems talk together and integrate together - it's about the resources. i.e. Cloud, getting to that data, processing it, real time analytics, doing something with it to change your business. So we see Cloud and storage and data being very much linked together." Larry asked Jason what was coming down the road that he could talk about? Disaster Recovery (DR) Services is something they are launching later this year, so DR is between our Colorado and Utah facilities. Really lowering the cost of entry into that platform." Jason said the time is over for customers to go build a bunch of additional hardware at another data center where they pay full price for it and it just sits there idle most of the time. We asked for Jason's advice to businesses today. He said, "Constantly look what's out there because it a very dynamic landscape. If you're not looking at SaaS, you should be. If you've got your own exchange servers, how do you move that to the cloud? There's just a great portfolio of offerings that are out there to really lower your costs and probably to make your employees much more productive at the same time.
Related Links: ViaWest || Glue 2012 || GlueCon Event Photos || Defrag and Blur || Software Channel || PodCasting Directory || Keywords: Jason Carolan, ViaWest, Glue Conference, Hosting, Disaster Recovery Services, API's, Colorado, Utah, Connected Storage Platform, SaaS, Cloud, bytes=3132502
LISTEN to Jason Carolan, CTO, ViaWest - Glue 2012

Powered by Podbean.com
w3w3.com can help you...
Support the Community - Grow Your Business &
Increase Your Profits! CHECK OUT this link

LIBRARY_______
Associations
Beyond the Trends
Cyber Security
Entrepreneurs
Ethics
Homeland Security
In the News
Leader Profiles
Mastering Change
Renewable Energy
Resources
Software
Success Stories
Training Trends
Venture Capital
Video Blogs

w3w3®

Archives


Google, Ask, Bing and Yahoo rank Colorado's w3w3.com in the top 10 for the "Business Internet Talk Radio" show
They have millions of listings in our category. We are ranked in the top ten. The same is true for the category "Entrepreneurs Internet Talk Radio" show