Seeing a need that wasn't necessarily being addressed


1254_ 8/6/12 - Have you ever volunteered to buy a group present or to pay for a group trip? The stress begins when you have to go back around and collect money from family and friends? Brandy Alexander-Wimberly, CEO and Founder of Buyvite has created an online community that facilitates and simplifies this type of group purchase. Buyvite just went live in May after a year in development. Brandy said they've just closed an angel round and they are really excited about the future of social commerce and group payments in particular. It's kind of a Kickstarter or a crowd funder - but for the retailer and that's the essence of their platform. Brandy tells us she has her eyes on social commerce, responsive design and the future of mobile advertising. For Brandy, she likes to envision better ways of doing things and then trying to make the idea into a reality. Listen for more ideas about the future...
Related Links: Buyvite Group Pay || NCWIT Home || NCWIT Practice || NCWIT Blog || Heroes Channel || Keywords: Buyvite, NCWIT, Brandy Alexander-Wimberly, Group Purchases, Traditional Radio, TV, bytes=13576048
LISTEN TO:Brandy Alexander-Wimberly, CEO and Founder of Buyvite

Powered by Podbean.com
Social Entrepreneurism and Microfinancing Goes Global


1256_ 8/6/12 [Orig Pub 2008] - KIVA is a non-profit organization with a mission to connect people through lending to alleviate poverty. Leveraging the internet and a worldwide network of microfinance institutions, Kiva lets individuals lend as little as $25 to help create opportunity around the world. Lucy Sanders interviewed Jessica Jackley Flannery, co-founder of Kiva with her husband Matt. KIVA is the first peer-to-peer micro loan website, demonstrates how the Internet can facilitate meaningful, positive connections between lenders and entrepreneurs in the developing world and even help us all become micro-financiers. Jessica has spoken widely on microfinance and social entrepreneurship, and has seen microfinance at work in a variety of communities in more than 30 countries. Jessica has built the KIVA budget from a small startup amount to $45 million. "In 2007, for every $1 Kiva receives in donations, we raised another $10 online in loans for the poor." Jessica shares some incredible success stories. Listen for more...
Related Links: KIVA || ASHOKA || NCWIT Home || NCWIT Practice || NCWIT Blog || Heroes Channel || Keywords: Jessica Flannery, Kiva, NCWIT, Ashoka Fellow, Microfinance, Social Entrepreneurship > Bytes: 24043836 >
LISTEN TO Jessica Flannery, Kiva

Powered by Podbean.com
From Apple to US West to Freshwater Technologies


1254_ 8/6/12 [Orig. 7/2007] - Always striving for the best while capitalizing on diversity, Donna Auguste captured the entrepreneurial spirit which took her to the 'winners circle' many times and then to financial freedom. Donna was the first African-American woman to enter the Ph.D. program in computer science at Carnegie Mellon University, a field dominated by white men. Lucy Sanders, CEO and Founder of the National Center for Women & Information Technology (NCWIT) talked to Donna about her amazing story about starting Freshwater Technologies in 1996 and selling it for $147 million in cash. Lucy explores with Donna where her passion is taking her today. Less than a year ago, she launched Leave a Little Room, a philanthropic organization dedicated to global outreach. You'll understand why Donna is an NCWIT Hero. Listen to this exciting story...
Related Links: NCWIT Home || NCWIT Practice || NCWIT Blog || Heroes Channel || Keywords: Donna Auguste, Leave a Little Room Foundation, 247 Skills, Lucy Sanders, Women in IT, National Center for Women & Information Technology NCWIT Heroes > bytes=8995452
LISTEN TO: Donna Auguste, Leave a Little Room

Powered by Podbean.com
Mantra for Venture Capitalists Today + Mobius VC Tips
1251_ 7/30/12 [Orig. Pub: 5/3/2004] -

Brad Feld, managing director of Mobius Venture Capital identifies what VC's are looking at today…including exit strategies, hot markets, checklist of the VC's mantra, what Mobius VC is focused on today as well as essentials for the first-time entrepreneur who is building a new company.
Related Links: Brad Feld & Foundry Group's Team || Brad's Books || FeldThoughts || Venture Capital Channel || Blog || Keywords: Brad Feld, Foundry Group, Boulder CO, venture capital, technology, TechStars Startup America, University of Colorado, CU
LISTEN to Brad Feld, 5/3/2004, managing director, Mobius Venture Capital

Rwanda Radio 10 Years After Genocide + Challenges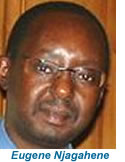 1253_ 7/30/12 [Orig. Pub: 5/3/2004] -
Eugene Nyagahene, founder and CEO of Radio 10, Rwanda's first private radio station since the genocide of 1994. When the 1,000,000 plus people were brutally murdered in a 100-day period, the radio station in Rwanda was used as a tool to help the killing. For Nyagahene, the station represents a new beginning for Rwandan radio, which had been controlled by the government for a decade.
Related Links: Radio 10, Rwanda's first private broadcasting endeavor since the genocide of 1994 || Rwanda's first private TV station (Tele 10) to start broadcasting in July || H.E. President Paul Kagame Event Photos || Keywords: Rwanda, Radio Free..., Paul Kagame, University of Denver, DU, Marc Holtzman
LISTEN TO: Eugene Nyagahene, founder and CEO of Rwanda's first radio station since 1994


---
Get your copy of Larry Nelson's popular book...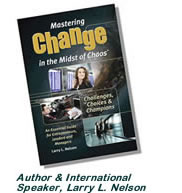 Change Is Not an Event,
It Is an Ongoing Process
as it is with Chaos
Check out the Mastering Change Blog
Get your Copy at Amazon
Supercharge Your Business!
Seminars / Keynotes
w3w3® Media Network Celebrates
National Center for Women & Information Technology!
Lucy Sanders makes it her business to get females into technology!
1254_ 8/6/12 - The mission of the National Center for Women & Information Technology is to ensure that women are fully represented in the influential world of information technology and computing. Statistics show that better than 50% of new entrepreneurs are female. Many business people are surprised to hear that there is a growing number (contrary to popular belief) of women getting into and making a very productive and rewarding career in Information Technology (IT). As a result, many women of varying ages and interests are taking the entrepreneurial plunge. In walks Lucy Sanders, CEO and Founder of the National Center for Women & Information Technology (NCWIT), headquartered at CU Boulder. "We'll never know what we're missing without more women participating in information technology. We can't measure absence." - Lucy Sanders, NCWIT CEO and Co-founder Lucy has interviewed over 70 successful female entrepreneurs.
Recently Lucy and Larry interviewed Brandy Alexander-Wimberly [LINK], Founder and CEO of BuyVite. The idea for Buyvite sprang from her existing technical and marketing background, but also came from seeing a need that wasn't necessarily being addressed in the most user friendly way. Brandy just raised some angle funding.
Alicia Morga [LINK], founder and past CEO of Consorte Media, sold in 2010 to Audience Science. Alicia is the creator of GottaFeeling (iPhone App) and the founder of a new (in stealth) startup. Alicia is a remarkable young woman with great down-to-earth advice for other young women wanting to build a life in the information and technology space.
Founded by Donna Auguste [LINK], Leave a Little Room Foundation (LLR) was created to facilitate the sharing of gifts. Since LLR's inception in early 2000, the Foundation has worked side-by-side with communities, organizations and churches to provide school books for under-funded schools in the United States, to build houses for families in Mexico.
Social entrepreneur, Jessica Jackley Flannery [LINK] is a co-founder of Kiva with her husband Matt. Kiva is the first peer-to-peer micro loan website, demonstrates how the Internet can facilitate meaningful, positive connections between lenders and entrepreneurs in the developing world and even help us all become micro-financiers.

Target market leads to a big sale and much more


1255_ 8/6/12 [Orig Pub 2008] - Alicia Morga is an example of bootstrapping that few others can match. Her first exposure to IT was in high school with a basic programming language class. She built a baseball game and thought that was fun - 'you can build anything you want in this thing called a computer'. She did end up going to Stanford University which plunked her down right in the middle of Silicon Valley. She tells us she heard dribs and drabs about technology and entrepreneurship, but didn't connect the dots until she became a corporate lawyer after law school, also at Stanford University. Take the GottaFeeling App. Alicia had never created an app before, she didn't even own an iPhone or an iTouch. She decided this was something she didn't know anything about and said, "Why don't I just jump in and see what I can create." That's when she created GottaFeeling ...listen now there's much more...
Related Links: About Alicia Morga || Consorte Media || Gotta Feeling iPhone App || NCWIT Home || NCWIT Practice || NCWIT Blog || Heroes Channel || Keywords: Alicia Morga, Consorte Media, Gotta Feeling, iPhone App, Stanford, National Center for Women and Information Technology, NCWIT, Lucy Sanders, NCWIT Heroes, Entrepreneurs, Technology, bytes=18453214
LISTEN TO:Alicia Morga

Powered by Podbean.com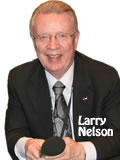 What a difference eight years can make…we are taking you back to 2004. We all know that the Internet and Web have changed a great deal in this past decade. When we launched w3w3.com in Jan 1999, we used to 'brag' about the fact people could listen to our material using a 28K modem. Businesses and leaders of business have changed a great deal too. The recording of Vinton Cerf, one of the fathers of the Internet, was at a press conference. His focus hasn't changed but his career has. In Larry's book, 'Mastering Change in the midst of Chaos, Larry writes about some interesting comparisons between Alexander Graham Bell and Vinton Cerf.
Brad Feld is one of the most well-known Venture Capitalists as well as an author and one of the founders of the famous Tech Stars. When Larry and Pat first met Brad, he was a leader in Softbank Venture Capital. Today he is the founder and managing director of the Boulder based Foundry Group.
Art Rancis is a well-connected business leader, entrepreneur and is an international business consultant that really helps companies grow. Art is one of the featured dancers in the Boulder 'Dancing with the Starts' event on 10/18/12.
In April 2004 Pat and Larry attended an event hosted by DU, honoring H.E. President of Rwanda, Paul Kagame. There were hundreds of people in attendance with many heavy hitters. They also attended a private event at the Phipps Mansion where we interviewed Eugene Nyagahene, founder and CEO of Rwanda's first radio station since 1994 and the genocide that the world turned its head away from.
Listen to these interviews as that will give you a different perspective of the past and the future. Check out the links too as they will give you an update of what these leaders are doing today. You will find these and many more interviews from 2004 LINK HERE
The Beginning of the Internet + Challenges & Dreams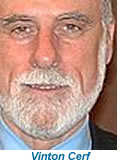 1250_ 7/30/12 [Orig. Pub: 5/3/2004] -
Vinton Cerf, widely known as one of the "Fathers of the Internet" was the keynote speaker for the annual CITI CIO Award program. Cerf is a techie with a personality…and a whole bunch of spot-on information. At a press Q&A, he addressed the future challenges and greatest hopes for the Internet.
Related Links: ICANN Organization || Vinton Cerf - Wikipedia || Software Channel || Keywords: Vinton Cerf, Google evangelist, Internet,
LISTEN to Vinton Cerf V.P. and chief Internet evangelist for Google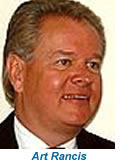 Building a Business & Lessons Learned
1252_ 7/30/12 [Orig. Pub: 5/3/2004] - Art Rancis, CEO of Amedex is experienced in understanding the key components of building a successful business. Art identifies the 3 lessons learned as an entrepreneur…Keep focused…Stay focused but get ready to spin off…Structure the company properly. Experience, Sony Electronics,
Related Links: Art Rancis: 25+ Years of Executive Experience || Art Rancis LinkedIn || Keywords: Art Rancis, International Business Consultant, Boulder based, Dancing with the stars, University of Colorado, Deming Center, University of Colorado, Leeds School of Business, Member. National Academy of Television Arts & Sciences, Emmy Committee
LISTEN TO: Art Rancis, 2004, CEO, Amedex


---
w3w3.com can help you...
Support the Community - Grow Your Business &
Increase Your Profits! CHECK OUT this link
---
Achieving Your Personal and Professional Goals
933_ Don't Let Another Year Go By - The Ultimate Win is Yours
- Larry
Nelson has taught this material in seminars in over a dozen countries, from China to Canada, from Norway to Australia, from Germany to Japan as well as throughout the USA. He shares the results of his international research about the Characteristics of an Achiever and then goes on to help you lay out your "personalized blueprint" to personal and professional success. Larry is an internationally published author, has been a consultant to many Fortune 1000 companies and is best known for his train-the-trainer programs. ...listen now a complete step-by-step program including a downloadable manual and resource guide...this is an in-depth strategic planning and goal setting system for achievers...Read More about how to Supercharge Your Business... The links below are valuable and extremely helpful to setting your course for the next year! And they're free.
Related Links: Ultimate Win Resources || Training Trends || 3-Filters Technology™ || Podcasting Directory || Your Goal || Keywords: Ultimate Win, Your Goal, Training Trends, 3-Filters TechnologyTM, Setting Goals, Larry Nelson; 11/29/10 Chnl: Entrepreneurs

LIBRARY_______
Associations
Beyond the Trends
Cyber Security
Entrepreneurs
Ethics
Homeland Security
In the News
Leader Profiles
Mastering Change
Renewable Energy
Resources
Software
Success Stories
Training Trends
Venture Capital
Video Blogs

w3w3®

Archives


Google, Ask, Bing and Yahoo rank Colorado's w3w3.com in the top 10 for the "Business Internet Talk Radio" show
They have millions of listings in our category. We are ranked in the top ten. The same is true for the category "Entrepreneurs Internet Talk Radio" show