Communication Technology Pros - Ascent Awards 2013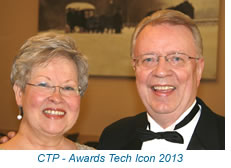 1462_ 11/11/13 - The Annual Ascent Awards celebrate Colorado entrepreneurial technology companies, recognizing excellence in a variety of categories. The event was presented by CTP and TiE® Rockies and the Innovation Pavilion where the event was held. "Larry and Pat are ever-present and constant supporters of Colorado tech companies," says Debora Langer, CTP president. "The board wanted a way to express how much Larry and Pat have meant to us over the past 15 years—and the Tech Icon Award was born in an immediate and unanimous decision. We are thrilled to be making the inaugural award to Larry and Pat, who are Colorado's true tech icons. The Nelson's have supported technology companies and companies in diverse industries since co-founding w3w3®Media Network in 1999. The w3w3 all-business radio show website consists of blogs, podcasts, articles, recorded and archived audio and video interviews, business photos and a business calendar of events. Additionally, Larry conducts in-house seminars and offers keynote addresses on various business topics, including 'Mastering Change in the Midst of Chaos,' also the title of his latest book. Congratulations to The Ascent 2013 Award WINNERS: Most innovative – Audioair; Hottest company – ReadyTalk; Fastest growing – One World Labs; Most employee growth – Zayo Group; Best use of social media – Simple Signal; Most innovative technology - FORTRUST; Most charitable company – Global Communications Group; Coolest new product – iTriage; Best XaaS offering – Ajubeo; Best reinvention of a company – Convercent; Biggest impact on Colorado – Level 3; Best startup – C 10; Best working environment/coolest culture – Apoorva; Most dogs in the office – Wayin; Most bicycles in the office – LinkSmart; Company with the best patio in town – SendGrid; Best free food – Google; Coolest new technology – PlayerLync; Most ski-days – Vail Resorts; Coolest Logo - Radish Systems; w3w3® Media Network - 2013 CTP Tech Icon Award
RELATED LINKS: Communications Technology Professionals || Ascent Awards || TiE Rockies || Innovation Pavilion || KEYWORDS: Ascent Awards, Tech Icon Award, Winners, Communication Technology Professionals, Debora Langer, Gary Gaessler, TiE Rockies, Innovation Pavilion, DTP
11-07-2013 Annual Ascent Awards 2013


CTP and TiE Rockies Annual Ascent Awards 2013; at the Innovation Pavilion - A celebration of entrepreneurial technology companies and their achievements! Meet Larry and Pat Nelson of w3w3 Media, and join CTP in recognizing their work with the new Ascent Technology Icon Award!
11-05-2013 ACG Denver Dan Burns, Accuvant Slideshow:

1461_ 11/11/13 - Brad Feld and Jerry Colonna ...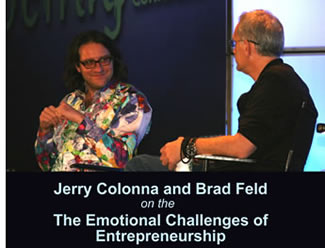 ...shared a candid and open discussion of the emotional challenges of entrepreneurship at Defrag 2013. In a remarkable demonstration of openness and bravery, Brad continues to share his own journey with depression over the last year. Both through his personal blog, and again with a live audience at Defrag 2013, Brad openly shares the pain of depression, the importance of support provided by his wife Amy and close friends, and in doing so, attempts to break the barriers and silence surrounding mental illness.
LISTEN TO: The Emotional Challenges of Entrepreneurship Part 1 of 3

Powered by Podbean.com

(part 2 of 3, 1360_ 11/11/13 -


The stigma and practice of social silence surrounding mental health issues prevents many from accessing or even seeking help for what science has long recognized as a common ailment. Depression affects approximately one in every three people, and yet we continue to struggle in our efforts to penetrate the wall behind which many of society's brightest minds suffered in silence. Abraham Lincoln, Winston Churchill, Albert Einstein

and astronaut Edwin 'Buz' Aldrin all suffered from clinical depression masked by the carefully chosen monikers of melancholy or the blues.

LISTEN TO: The Emotional Challenges of Entrepreneurship Part 2 of 3

Powered by Podbean.com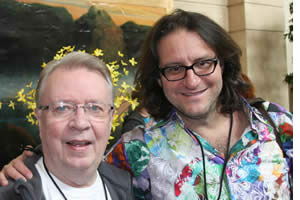 Everyone of us experiences
short periods of sadness, loneliness or depression; each of these normal emotions in the course of one's life that arise from troubling times, challenges, loss or the hurtful actions of others. True clinical depression, however, often results in a pervading and deep sense of depression that permeates all aspects of life, which often become overwhelming, and cause the sufferer to experience an inability to cope with or carry out regular activities of daily living, and negatively impact the individual's ability to participate in quality, active life events. Depressive symptoms vary significantly from one individual to the next, but common and recognizable symptoms may include a generalized sense of hopelessness, loss of interest in activities previously found pleasurable, and a generalized sense of sadness and loss that overshadows everything. Join Brad in his efforts to achieve the seemingly impossible and ever important struggle to break the shroud of silence surrounding depression. Listen to all three segments of Brad Feld and Jerry Colonna's open and frank discussion of the emotional challenges of entrepreneurism.
RELATED LINKS: Foundry Group Blog || Foundry Group || Jerry Colonna || Entrepreneurial Depression || Defrag || KEYWORDS: Brad Feld, Jerry Colonna, Defrag, Entrepreneurs, Depression, Foundry Group, VC, Venture Capitalists, Emotional Challenges of Entrepreneurship
LISTEN TO: The Emotional Challenges of Entrepreneurship Part 3 of 3

Powered by Podbean.com
Defrag Conference 2013
WHAT IS DEFRAG? Defrag started in 2007 as a forum for exploring information overload and building implicit tools for the web. In years 2-4, Defrag's focus shifted to things like enterprise collaboration, social media and big data. As Defrag entered its 5th year, it firmly established itself as one of the premiere thought leader discussions about "what's coming next" in technology, where Defrag's time horizon is usually looking out 18-24 months. Defrag is now where the influencers gather.

---
FREE Shipping & Special Price $10
Mastering Change in the Midst of Chaos™1307_ 11/12/12 -


Here's what you'll learn in this 200 page book!
- Apply the Principles of A-to-Z Planning to
Build a Winning Team
- Tap into Your Team's Mental DNA to
Increase Performance
- Understand Your Sector's
History, Trends & Ground Swell

Regardless of the economy, application of these 3 initiatives will help you achieve your goals, meet your bottom-line metrics and accomplish incredible results. These 3 initiatives are Powerful, Proven and People-Oriented. Larry predicts there will be more significant changes in 2013 than in the last 10 years combined…across all sectors. Read More at Mastering Change .

Order now… It's yours for $10.00 and we'll pay the shipping in the US… (last chance - free shipping)
---

LIBRARY_______
Associations
Beyond the Trends
Cyber Security
Entrepreneurs
Ethics
Homeland Security
In the News
Leader Profiles
Mastering Change
Renewable Energy
Resources
Software
Success Stories
Training Trends
Venture Capital
Video Blogs

w3w3®

Archives


Google, Ask, Bing and Yahoo rank Colorado's w3w3.com in the top 10 for the "Business Internet Talk Radio" show
They have millions of listings in our category. We are ranked in the top ten. The same is true for the category "Entrepreneurs Internet Talk Radio" show