Applications for large, mid-size enterprises and startups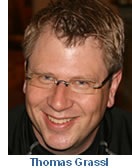 1558_ 6/2/14 - We caught up with Thomas Grassl, VP Developer Relations for SAP, for an update at the Glue Conference 2014. Thomas said, "SAP is big in the enterprise business, customers like Coke Cola, Nike, Porsche, BMW, they are all run on SAP system, the finance, the logistics, all the stuff. That's basically where we started out as a company and you can imagine these business processes run on technology. What SAP is also offering is a lot of these technologies from data bases, from process logic, from analytics, mobile, also as pure technology for developers, partners, startups to use. That's a great opportunity - we build our applications for large and mid-size enterprises, but we also give this technology for use by these vendors and so on to build their startups, their cloud company, etc." SAP started in 1972, so they are over 40 years old having started building applications for main frames and standardized these applications on the main frames. Then they did 'client server' in the 90s one of the next technology revolutions. Now they are building their entire business around the cloud, offering it to their customers. SAP's products focus on Enterprise Resource Planning (ERP). The company's main product is SAP ERP. The current version is SAP ERP 6.0 and is part of the SAP Business Suite. Its previous name was R/3. The "R" of SAP R/3 stood for real-time. The number 3 related to the 3-tier architecture: database, application server and client (SAPgui). R/2, which ran on a Mainframe architecture, was the predecessor of R/3. Before R/2 came System RF, later dubbed R/1...
RELATED LINKS: SAP || GlueCon 2014 || Podcast Directory || Entrepreneurs Channel || KEYWORDS: Thomas Grassl, SAP, Glue Conference, Cloud, Customer Relationship Management, Product Lifecycle Management, Supply Chain Management, Supplier Relationship Management, bytes=5475999
LISTEN TO: Thomas Grassl, VP, Developer Relations, SAP

Powered by Podbean.com
Flexible hybrid cloud platformE


1560_ 6/2/14 - Here at the Glue Conference 2014, we're talking with Kyle Kelley, with Rackspace a Flexible hybrid cloud platform. Kyle explained. You need choice, especially when it comes to where you run your databases, applications, and websites. That's why we provide tools for creating the right fit for your specific needs—whether hosted in your data center or ours, whether multi-tenant or dedicated, whether virtual or bare metal. By combining environments, you can run each workload where you get the most value, performance, and reliability. Other cloud vendors focus on developing proprietary technologies that lock in your data and apps. That's why we really shook up the industry when we gave our cloud code to the world. OpenStack® is now the fastest-growing cloud platform on earth, with over 12,000 contributors in 130 countries. Our cloud is powered by OpenStack and optimized for open technologies, so you can stay in control of your data—and innovate and scale faster than you can in a proprietary cloud. From the unmatched expertise that gets you going to the technology that advances your business daily, we deliver it like no one else. Whether you need help architecting, managing, or troubleshooting your environment, call us. Our teams of professionals—including Database Administrators, Red Hat® Certified Engineers, and Microsoft® Certified Professionals—want to put their expertise to work for you, to help accelerate your success.
RELATED LINKS: Rackspace || GlueCon 2014 || Podcast Directory || Economy Builders || KEYWORDS: Kyle Kelley, Rackspace, Glue Conference, Cloud Infrastructure, Open technologies, Data Centers, Cloud Vendors, OpenStack, Certified Engineers, Certified Professionals, bytes=3079003
LISTEN TO: Kyle Kelley, Rackspace

Powered by Podbean.com
Important trends in technology share one thing in common
1554_ 5/27/14 - What is Gluecon? Cloud, DevOps, Mobile, APIs, Big Data — all of the converging, important trends in technology today share one thing in common: developers. Developers are the vanguard. Developers are building in the cloud, building mobile applications, utilizing and building APIs ...check out the photos of this 2-day event...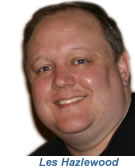 Everyone needs user management, login, secure API, secure passwords


1556_ 5/27/14 - After the morning keynote address at the Glue Conference, we sat down with one of the featured speakers, Les Hazlewood, co-founder /CTO of Stormpath. Impressed by his talk, Larry asked Les to give our audience an overview of his company. "Stormpath is an identity management service. We offload management user integration as a backend for people building applications." Stormpath works with all sizes of companies from startups to very large companies. Everyone needs user management, login, secure API, secure passwords and Stormpath does that for anyone that has a public website. Les told us that he and his co-founder spent at least six months in market research before they actually started building the technology. Their thesis being that security is difficult and as more and more companies go to the modern cloud, security breaks more and more often. Larry said, "While security is such a continuous and growing problem are there other challenges facing business today?" The modern cloud movement is difficult for a lot of companies to adopt and understand, 'How do I make the change from my on-premise physical infrastructure to a kind of virtual cloud infrastructure'. That's difficult for a large company to wrap their heads around. Also it's incredibly difficult to staff high tech companies, to find people with enough skill sets, training and experience to join and be successful. In the tech space, keeping abreast of new technologies is always difficult. There are always new things, new innovations. You have to spend a descent amount of time on a regular basis investigating new technologies to see where they fit and how they could benefit you. The companies that can be more nimble - adopting things faster typically can outlast the companies that can't.
RELATED LINKS: Stormpath || GlueCon 2014 || Podcast Directory || Entrepreneurs Channel || KEYWORDS: Les Hazlewood, Stormpath, Glue Conference, Cloud Infrastructure, Security, Skill Sets, Training, Experience, Nimble, Modern Cloud Movement, bytes=4117214
LISTEN TO: Les Hazlewood, CoFounder, Stormpath

Powered by Podbean.com

---
Special Price $10 - In stock now!
Mastering Change in the Midst of Chaos™ 1307_ 11/12/13 -


Here's what you'll learn in this 200 page book!
- Apply the Principles of A-to-Z Planning to
Build a Winning Team
- Tap into Your Team's Mental DNA to
Increase Performance
- Understand Your Sector's
History, Trends & Ground Swell

Regardless of the economy, application of these 3 initiatives will help you achieve your goals, meet your bottom-line metrics and accomplish incredible results. These 3 initiatives are Powerful, Proven and People-Oriented. Larry predicts there will be more significant changes in 2013 than in the last 10 years combined…across all sectors. Read More at Mastering Change .

Order now… It's yours for $10.00 and we'll pay the shipping in the US… (last chance - free shipping)
Uncover cyber-attacks, detect and prevent breaches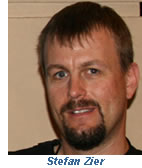 1557_ 6/2/14 - We are speaking with Stefan Zier, Chief Architect at Sumo Logic at the Glue Conference. Stefan began by telling us a bit about his company, "Sumo Logic...provides a log management analytic service in the cloud and people use this product for three different use cases, generally." Sumo Logic immediately transforms Big Data logs into new sources of operations, security and compliance intelligence. Starting with log data, the single-largest enterprise data set, Sumo Logic Log Management and Analytics Service helps customers achieve unprecedented operational efficiencies, a stronger security posture and more streamlined compliance with regulatory mandates by providing real-time actionable insights from raw machine data. Sumo Logic enables IT operations teams to perform rapid root cause analysis of critical IT infrastructure; Dev Ops teams to quickly analyze and troubleshoot production application issues; and IT Security teams to uncover security incidents buried in terabytes of log data. Founded in 2010 by experts in log management, scalable systems, Big Data and security, Sumo Logic is backed by Accel Partners, Greylock Partners, and Sutter Hill Ventures and headquartered in Redwood City, California. In February, Sumo Logic launched enterprise security analytics to detect and investigate cyber attacks Sumo Logic, the next generation machine data intelligence company, today announced Sumo Logic Enterprise Security Analytics to rapidly uncover cyber-attacks, detect and prevent breaches and reduce the costs of maintaining compliance. You can register to try Sumo Logic's revolutionary log management service for free, Click here to register to try Sumo Logic's revolutionary log management service for free.
RELATED LINKS: Sumo Logic || Register for free || GlueCon 2014 || Mastering Change || Software Channel || KEYWORDS: Stefan Zier, Sumo Logic, Glue Conference, Machine Data Intelligence, Big Data Logs, Security, Compliance Intelligence, Accel Partners, Greylock Partners, Sutter Hill Ventures, Redwood City, California, bytes=4408114
LISTEN TO: Stefan Zier, Chief Architect,Sumo logic

Powered by Podbean.com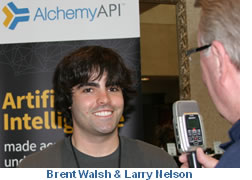 Analyzing unstructured data including text, images and video


1559_ 6/2/14 - We stopped at the booth and spoke with Brent Walsh, sales rep for AlchemyAPI a Denver firm at the Glue Conference. AlchemyAPI specializes in analyzing unstructured data which can include text, images and video. Brent says they offer this technology for an API so it's basically artificial intelligence as a service. When you choose to use this software you can focus on what makes your business unique, and use this API to do the heavy lifting when it comes to analyzing text and images. Brent explained that there is a massive amount of unstructured data - in fact, 80% of the data that exists is unstructured so there is a great opportunity and I guess it is also a problem. But the opportunity is to take that data and make sense of it. What we are doing is teaching developers at these companies to take advantage of this unstructured data and extract knowledge from it to make important business decisions. AlchemyAPI is helping pioneer a computers' ability to understand human language and vision. Our web services for real-time text analysis and computer vision give you the intelligence needed to transform vast amounts of unstructured data into actions that drive your business. Now you can easily perform sentiment analysis, keyword extraction, entity extraction, image tagging and much more on the massive volumes of web pages, documents, tweets and photos produced every second. Listen for more…
RELATED LINKS: AlchemyAPI || GlueCon 2014 || Software Chnl || KEYWORDS: Brent Walsh, Alchemy API, GlueCon 2014, Unstructured Data, Text, Images, Video, Sentiment Analysis, Keyword Extraction, Entity Extraction, Image Tagging, bytes=3128323
LISTEN TO: Brent Walsh, AlchemyAPI

Powered by Podbean.com
Extraordinary entrepreneurs and what they did to win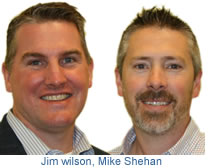 1553_ 5/27/14 - We're sitting down with Jim Wilson, Partner, Assurance Services, Ernst & Young and his special guest, Mike Shehan, Co-Founder, CEO, spotXchange, to get an inside peak at the premiere entrepreneurial event of the year, here in the EY Mountain Desert Program (covering Colorado, Arizona and New Mexico) for the EY Entrepreneur of the Year Awards Gala coming up on June 26th. Jim has been with Ernst & Young for 18 years now and w3w® worked with him over the past several years covering this fabulous event. Mike Shehan along with Steve Swoboda, co-founders of spotXchange are past winners of the award and this year Mike is judging the event. With over ninety nominations this year, there has been an enormous amount of work and effort put into the judging. We asked Mike to tell us about his experience and he told us the excitement began with being nominated and just hasn't stopped. Mike told us he wanted to give back and becoming a judge offered the opportunity to do just that. Such a surprise, the rewards, and inspiration that came out of the process was awesome and gratifying. Seeing these other entrepreneurs, their passion and the work they've done building their companies was amazing and gave Mike more inspiration to go on. Larry asked Jim what he's seen over these many years - and his answer was interesting and eye-opening... These entrepreneurs are working so hard, with such passion and at such a fast pace...For more information please call the EY expert, Courtney Storey at 720.931.4411, if there's an answer she will have it.
RELATED LINKS: EY Entrepreneur of the Year Program || spotXchange || Economy Builders || Mastering Change || KEYWORDS: Jim Wilson, Ernst & Young, Mike Shehan, spotXchange, EY Entrepreneur of the Year Program, EY Mountain Desert Program, Colorado, Arizona, New Mexico, bytes=7147000
LISTEN TO: Jim Wilson, Partner, Assurance Services, Ernst & Young and Mike Shehan, Co-Founder, CEO, spotXchange

Powered by Podbean.com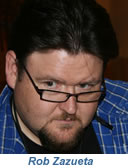 API management solves the three biggest problems faced today


1555_ 5/27/14 - It is very obvious, if you employ developers they need to be at this conference designed specifically for them. Not being very technically inclined we can tell you that the conference is very interesting at the surface. But what we've noticed most is the engagement of the people attending... those developers. They're excited, animated, smiling and 'glued' to their conversations with other developers who are either exhibitors, speakers or attendees. Following the morning keynote sessions on day two, Larry's managed to corner Robert Zazueta aka Rob Z director of Platform Strategy, at Mashery, An Intel Company. (Mashery was purchased by Intel about a year ago!) One of our first encounters with Mashery came at the 2011 Defrag Conference when we spoke with Ian Brown the Director of Demand Generation (aka, Marketing). Now, 3 years later, here at GlueCon 2014, we sat down with Rob and we asked for a better understanding of APIs (In computer programming, an application programming interface API) and its management. Rob said, "This is one of those esoteric areas that unless you're really involved in APIs, you might not understand what API management is all about. What it boils down to is API management solves the three biggest problems faced by anybody who has to manage an API, i.e. security, scalability and support." Traditionally, the value in a well designed API is found in the ability to easily share your data and functionality. An API driven architecture makes it easier to add new functionality to evolve with your company's needs. As the business landscape changes, you'll be able to keep up and adjust your offerings to the expanding demands of the market...there's more...
RELATED LINKS: Mashery || GlueCon 2014 || Applying APIs || Software Chnl || KEYWORDS: Rob Zazueta, Rob Z, Mashery, Intel, GlueCon 2014, API, Demand Generation, Security, Scalability, Support, Developers, Computer Programming, Application Programming, bytes=5385302
LISTEN TO: Rob Zazueta (Rob Z), Dir Platform Strategy, Mashery

Powered by Podbean.com
---
Achieving Your Personal and Professional Goals

1486_ 1/13/14 - Don't Let Another Year Go By - The Ultimate Win is Yours! Larry Nelson has taught this material in seminars in over a dozen countries, from China to Canada, from Norway to Australia, from Germany to Japan as well as throughout the US. He shares the results of his international research about the Characteristics of an Achiever and then goes on to help you lay out your "personalized blueprint" for personal and professional success. Larry is an internationally published author, has been a consultant to many Fortune 1000 companies and is best known for his train-the-trainer programs and w3w3.com Talk Radio. Larry and Pat developed these materials 20 years ago and put them up on the web in July 2007. The 'Ultimate Win' link below takes you to a page that allows you to download and print the entire Resource Guide and listen to all the Audio Sections for FREE. This is our thanks to you…have a great year!
RELATED LINKS: Ultimate Win || 3-Filters || Your Goal || Training Trends || Mastering Change || KEYWORDS: Ultimate Win, High-Tech, Goals, Training Trends, Business, Interviews, Photo Chronicles, Pat Nelson, Larry Nelson > Learn More
LEARN MORE: Larry Nelson, Exec. Director, Institute for Change Research

LIBRARY_______
Associations
Beyond the Trends
Cyber Security
Entrepreneurs
Ethics
Homeland Security
In the News
Leader Profiles
Mastering Change
Renewable Energy
Resources
Software
Success Stories
Training Trends
Venture Capital
Video Blogs

w3w3®

Archives


Google, Ask, Bing and Yahoo rank Colorado's w3w3.com in the top 10 for the "Business Internet Talk Radio" show
They have millions of listings in our category. We are ranked in the top ten. The same is true for the category "Entrepreneurs Internet Talk Radio" show