2014 Coming EVENTS w3w3® Media Network - Schedule & Plan
All New Photos - Check Them Out


JUL/AUG

7/30 W Aft

CTA APEX Award Nominations Webinar

8/1 F

Space Foundation, Anousheh Ansari, 1st Female Pvt Space Explorer


8/5 T Nn

ACG Denver David Liniger, Chairman & Co-Founder, RE/MAX

8/5-9

Space Foundation, Rocketry Program, CO Springs


8/7 Th PM

CTA Wine Tasting, Governor's Residence

8/12-16

Space Foundation, Rocketry Program, Summer of Discovery


8/15 PM

CTA APEX Nominations Deadline

8/15-17 F-S

Breckenridge Startup Weekend

8/20 W AM

ACG Corporate Executive Breakfast - Annual Best Practices

8/21 Th PM

FEI Making Money as a Socially Responsible Business

8/25 M PM

SFC Entrepreneurs Unplugged Kim Jordan, New Belgium Brewing

w3w3.com is here to help You... Support the Community -
Grow Your Business and Increase Your Profits
Become a w3w3 sponsor: Information
Disruptive Strategies for Building Your Business [873_ 7/26/10]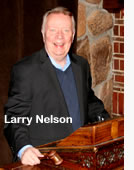 1590_ 7/28/14 - Discover 3 new ways of Thinking, Planning and Executing... Learn about the Process – 1) Radical planning: The Audit - what it will tell you. Cross the sea of change with a successful, proven process...2) The People Factor – What's the answer to the people puzzle? How do you tap your team's mental DNA. Allow your people to be the solution?...
3) The Trends – There is a ground swell in your market space. Can you identify it? Capitalize on it and avoid the traps and pitfalls.
"Growth is impossible without change. As Larry points out, the most effective way to manage change is to create it. Mastering Change allows for new natural alignment and unprecedented growth and success." Curt Coffman, Co-Author, 'First Break all the Rules'.
What do these organizations have in common? AT&T, Ball Aerospace, Children's Hospital, Dean Foods, First National Bank, GE, IBM, IRS, Johnson Controls, Lawrence Livermore National Labs, Microsoft, Mobil Oil Japan, 3M, NCAR, Sanyo Australia, Toledo Edison, US Forest Service, US Dept. of Transportation, United Way, University of Wisconsin, University of Colorado… Answer: They and many others have tapped into Larry Nelson's programs.
Guy Kawasaki, author of 'Reality Check' and co-founder of Alltop.com, www.garage.com said, "Larry's plain talk approach for managing teams is refreshing and practical. His advice will help teams deal with change challenges in unknown economic times because it's not filled with hype and jargon. Mastering Change is a great resource for entrepreneurs and managers."
Try Something Disruptive to Supercharge Your Business.
RELATED LINKS: Mastering Change in the Midst of Chaos || MC Blog || MC Seminars || Podcast Directory || KEYWORDS: Mastering Change, Larry Nelson, Entrepreneurs, Managers, Leaders, Curt Coffman, Guy Kawasaki
Larry Nelson, author, Mastering Change in the Midst of Chaos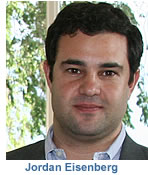 Line of fast-acting powdered medications


1592_ 7/28/14 - Back at the Mountain Desert Region EY Entrepreneur of the Year Finalists Reception held at the Governor's Mansion in Denver, Colorado, we are speaking with Jordan Eisenberg, founder and CEO of UrgentRx. Early on, Eisenberg learned that he was much better suited for creating a new kind of ladder than climbing the corporate one. He, is an entrepreneur to the core. Jordan gave up the 'climb the corporate ladder' mindset more than a decade ago while seeking out opportunities to create and build companies where he could personally make a difference. We asked about advice Jordan's received and/or offered to another entrepreneur. "I've given and received a lot. One that really resonates, It's really only about 10% the idea, and about 90% execution. I meet so many people focused on getting the perfect business plan. Just focus on the execution. I think that's the best advice you can give. It's more about doing than thinking." UrgentRx is a Colorado Companies to Watch 2014 winner! Listen for more...
RELATED LINKS: UrgentRx || EY Finalist Reception Slideshow || EY Entrepreneur of the Year Program || EY 2014 Finalists || Economy Builders || Blog || KEYWORDS: Jordan Eisenberg, UrgentRx, Medical Device, Fast-Acting Powdered Medications, Ernst & Young Denver, Governor's Mansion, Entrepreneur of the Year, Finalists Reception, bytes=3197704
LISTEN TO: Jordan Eisenberg, Founder/CEO, UrgentRx

Powered by Podbean.com
Changing Telecommunications Environment
1586_ 7/21/14 - This special, interdisciplinary course provided students with an opportunity to join international managers and policymakers from around the world in an intensive seminar focused on the challenges of managing in a telecommunications environment in an era of technological change. Larry Nelson was the opening keynote speaker with a popular topic, "Mastering Change" and Dale Hatfield, Adjunct Professor in the Future Disciplinary Telecom Program, headed up the entire project with his team. There were 25 USTTI participants (from 13 different countries) along with 5-10 CU students.
RELATED LINKS: Program Info || Mastering Change || KEYWORDS: Telecommunications, Managing Effectively, Changing Environment, Interdisciplinary Course, USTTI, Mastering Change, Dale Hatfield, University of Colorado, Ruscha Bellefleur Cohen, Larry Nelson,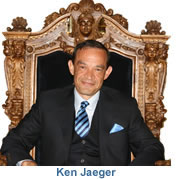 This team designs, develops and operates senior living homes


1588_ 7/21/14 - You can find MorningStar in six different states, Arizona, Colorado, Montana, Idaho, Nevada, New Mexico; where Ken Jaeger and his team design, develop and operate senior living homes. They offer assisted living, memory care, independent living and even homes for active adults for those who want a calm and maintenance free lifestyle. People come in and overnight they have a hundred new friends. As an entrepreneur and EY Finalist Ken said, "This is just a wonderful opportunity to come and share our experiences with entrepreneurs from all walks of life. And it's just wonderful to meet other people and learn their stories." We asked Ken for advice that he would want to share with a person just starting on their entrepreneurial path. "I would say to a person just starting out, see your vision, know what that vision is and write it down. Never give up. You always want to chase that vision. Just as important is to know what your mission is and stay true to your mission..." Listen for more...
RELATED LINKS: MorningStar Senior Living || EY Finalist Reception Slideshow || EY Entrepreneur of the Year Program || EY 2014 Finalists || Economy Builders || Blog || KEYWORDS: Ken Jaeger, MorningStar Senior Living, Ernst & Young Denver, Governor's Mansion, Entrepreneur of the Year, Finalists Reception, bytes=4288159
LISTEN TO: Ken Jaeger, Founder/CEO, MorningStar Senior Living - EY Finalist 2014

Powered by Podbean.com

---
Special Price $10 - In stock now!
Mastering Change in the Midst of Chaos™ 1307_ 11/12/13 -


Here's what you'll learn in this 200 page book!
- Apply the Principles of A-to-Z Planning to
Build a Winning Team
- Tap into Your Team's Mental DNA to
Increase Performance
- Understand Your Sector's
History, Trends & Ground Swell

Regardless of the economy, application of these 3 initiatives will help you achieve your goals, meet your bottom-line metrics and accomplish incredible results. These 3 initiatives are Powerful, Proven and People-Oriented. Larry predicts there will be more significant changes in 2013 than in the last 10 years combined…across all sectors. Read More at Mastering Change .

Order now… It's yours for $10.00 and we'll pay the shipping in the US… (last chance - free shipping)
Brad Feld and David Cohen: Do More Faster


1589_ 7/28/14 - 903_10/4/10- Larry sat down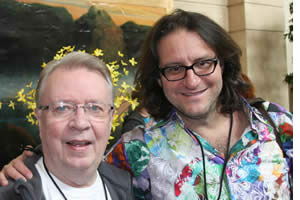 with Brad Feld, managing partner of Foundry Group to talk about an exciting announcement. Larry began the interview with, "You know there are a lot of powerful words out there, and three of them are Do, More, Faster, do you have any comments to make on them?" With a chuckle, Brad said, "Good setup! Do More Faster is the title of a book that David Cohen, the founder of TechStars, and Brad Feld have written." By strange coincidence, this is Monday, October 4th, the publication date! The origin of the book was a phrase thrown around TechStars, Do more faster. If you're not familiar with TechStars, it is a mentor driven accelerator, started in Boulder four years ago. It's a 90 day program, usually 10 companies, usually 25 to 30 entrepreneurs go through the program, full time, extremely immersive. They have about 50 mentors, experienced entrepreneurs that work with them along with those of us in the program. They get a small amount of seed financing at the front end of the program. About a year ago David and Brad sat down and talked about a way they could codify some of the things that they've learned. They settled pretty quickly on having the mentors and entrepreneurs involved in helping create the book. "We looked around and there aren't many books written by entrepreneurs, especially first time entrepreneurs about the experiences they've had creating companies. We then organized the chapters around usually one line phrases like 'do more faster' that have come out of the last four years of running TechStars that David and I sat down and put together with some other people. Then we had a bunch of people write first drafts about which we spent a lot of time on and then David and I organized the book and put some connective tissue between the essays. So very experiential, lots of details from the founders, from the entrepreneur's perspective, from the mentor's perspective, about specific things that all entrepreneurs could use, but especially first-time entrepreneurs or perspective entrepreneurs. We were on the verge of self publishing and we got introduced to some folks at Wiley and they took that book on. They were incredibly helpful."...There's more...
RELATED LINKS: Foundry Group || Brad's Blog || Venture Capital Channel || Amazon || Tech Stars || Mastering Change || Do More Faster Book Home || KEYWORDS: Brad Feld, Author, Do More Faster, David Cohen, Tech Stars, Do More Faster, Book, Entrepreneurs, Wiley, bytes: 7984590
LISTEN TO: Brad Feld, Author, Do More Faster

Powered by Podbean.com
Going from four employees to four hundred


1591_ 7/28/14 - A devout people person, he started life out as an accountant but felt like it wasn't a good fit, although he was CFO for Pillsbury Foods and that's where he was introduced to the world of international business. We'd like to introduce you to Gerald (Gerry) Van Eeckhout, Ernst & Young Hall of Fame Entrepreneur. His passion is people, "For me it's all about people", said Gerry. The last company he founded, "I started with four employees here in Denver, and by the time I retired we had 400 employees in ten countries and we were listed on NASDAQ, being very successful. So, I love the cultures, the integration of a variety of things. I just like new and challenging things. I can't play the same golf course twice." Of course, with that attitude, he failed retirement... Gerry's career spanned 50 years. More recently, he's been the CEO of a couple of companies for 20 years in Denver and then retired ten years ago. Now he's busy on corporate boards, in Minneapolis with a medical technology business, one in Las Vegas in the medical electronic information business, and one in Beijing in the wireless internet media business. ...there's more...
RELATED LINKS: Gerald Van Eeckhout, Ernst & Young Hall of Fame || EY Finalist Reception - Slideshow EY Entrepreneur of the Year Program || EY 2014 Finalists || Economy Builders || Mastering Change || KEYWORDS: Gerald Van Eeckhout, Evergreen Enterprises, Passion for People, Ernst & Young Denver, Governor's Mansion, Entrepreneur of the Year, Finalists Reception, EY Hall of Fame, Minneapolis, Beijing, Las Vegas, bytes=5485194
LISTEN TO: Gerald D. Van Eeckhout, Chairman, Evergreen Enterprises, LLC, EY Entrepreneur Hall of Fame

Powered by Podbean.com
Manages four companies including a family foundation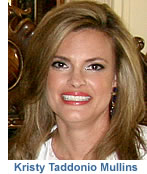 1585_ 7/21/14 - This is a great entrepreneur's story. Starting with fourth generation owner/president and EY Entrepreneur of the Year Finalist/Winner 2014, Kristy Taddonio Mullins of Mile Hi Foods. In 1901 Kristy's great grandfather Michael Taddonio arrived in the U.S from Italy and worked as a peddler in Denver selling fruits and vegetables door-to-door. His sons took over operating from their father's garage as Taddonio Brother's produce business. In 1956 the first McDonalds opened in Denver and mile Hi Fruit & Vegetable's was awarded the potato contract. As McDonald's grew so did Mile Hi Fruit & Vegetable. In 1968 grandson Tony Taddonio (Kristy's father) joined the firm and became the sole owner of the company, today known as Mile Hi Foods. In 1973 Tony and his wife Pam created TMT Trucking, a contract carrier with a 48 state authority for interstate transportation. By 1985 they had added a bakery to produce all of the buns used by McDonald's in the Rocky Mountain Region and now supply baked goods for Red Robin, Wingers, Good Times, King Soopers, Wendy's and Famous Dave's. In 1998 Kristy and her sister Toni join their parents in the business continuing the expansion. Listen for more....
RELATED LINKS: Mile Hi Foods || EY Entrepreneur of the Year Program || EY 2014 Finalists || Economy Builders || Mastering Change || 2013 Economy Builders || KEYWORDS: Kristy Taddonio Mullins, Mile Hi Foods, Entrepreneur, Ernst & Young Denver, Governor's Mansion, Entrepreneur of the Year, Finalists Reception, bytes=3273354
LISTEN TO: Kristy Taddonio Mullins, Owner/President, Mile Hi Foods

Powered by Podbean.com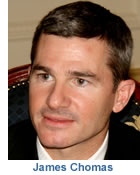 Relatively new paradigm that's been around for ten years


1587_ 7/21/14 - Based in Westminster, Colo., Surefire Medical, Inc., was founded in 2009 to develop innovative infusion systems for the interventional radiology and interventional oncology markets. EY Entrepreneur Finalist, James Chomas, Founder and CEO, said, "We're developing infusion systems that can go into a patient, very locally, and deliver therapy directly to a tumor. What you think of chemotherapy today is the therapy goes throughout the whole body, the patient loses their hair, as well as other side effects - and sometimes the tumor doesn't even get really very much therapy!" Surefire's infusion systems are designed to precisely deliver embolic agents through a unique micro catheter with an expandable tip that collapses in forward flow and dynamically expands to the vessel wall in reverse flow in order to increase targeted delivery, minimize reflux and reduce damage to healthy tissue. Surefire Medical's vision is to improve patients' lives by delivering a new standard of excellence for Interventional Radiology. The physicians that perform this are called 'Interventional Radiologists' but this is a new way of treating cancer, through a medical device technique, getting right into the disease...there's more...
RELATED LINKS: Surefire Medical, Inc. || EY Finalist Reception - Slideshow EY Entrepreneur of the Year Program || EY 2014 Finalists || Economy Builders || Mastering Change || KEYWORDS: Jim Chomas, Surefire Medical, Infusion Systems, Microcatheter, Interventional Radiologists, Ernst & Young Denver, Governor's Mansion, Entrepreneur of the Year, Finalists Reception, bytes=3570105
LISTEN TO: James Chomas, Founder/CEO, Surefire Medical, Inc.

Powered by Podbean.com
---
Achieving Your Personal and Professional Goals

1486_ 1/13/14 - Don't Let Another Year Go By - The Ultimate Win is Yours! Larry Nelson has taught this material in seminars in over a dozen countries, from China to Canada, from Norway to Australia, from Germany to Japan as well as throughout the US. He shares the results of his international research about the Characteristics of an Achiever and then goes on to help you lay out your "personalized blueprint" for personal and professional success. Larry is an internationally published author, has been a consultant to many Fortune 1000 companies and is best known for his train-the-trainer programs and w3w3.com Talk Radio. Larry and Pat developed these materials 20 years ago and put them up on the web in July 2007. The 'Ultimate Win' link below takes you to a page that allows you to download and print the entire Resource Guide and listen to all the Audio Sections for FREE. This is our thanks to you…have a great year!
RELATED LINKS: Ultimate Win || 3-Filters || Your Goal || Training Trends || Mastering Change || KEYWORDS: Ultimate Win, High-Tech, Goals, Training Trends, Business, Interviews, Photo Chronicles, Pat Nelson, Larry Nelson > Learn More
LEARN MORE: Larry Nelson, Exec. Director, Institute for Change Research

LIBRARY_______
Associations
Beyond the Trends
Cyber Security
Entrepreneurs
Ethics
Homeland Security
In the News
Leader Profiles
Mastering Change
Renewable Energy
Resources
Software
Success Stories
Training Trends
Venture Capital
Video Blogs

w3w3®

Archives


Google, Ask, Bing and Yahoo rank Colorado's w3w3.com in the top 10 for the "Business Internet Talk Radio" show
They have millions of listings in our category. We are ranked in the top ten. The same is true for the category "Entrepreneurs Internet Talk Radio" show