NREL - 25 Years In A Day....
Renewable Energy Research Marching
into the Future
Written by Kate Hamers


On July 15th, 2002, Admiral Richard Truly, current Director of the National Renewable Energy Laboratory began our day with the following remarks.
"NREL opened its doors in 1977. Some of the other things going on in 1977 were:

Jimmy Carter was President of the United States

Star Wars hit the theaters for the first time * Elvis Presley died at Graceland

Paul MacCready developed the Gossamer Condor, the first successful human powered flight

The DOE was formed late in the year

The Space Shuttle Enterprise made its first test flight off a Boeing 747. I know because I was there and it gave me the opportunity to tell the Chairman of the Boeing Aircraft Company that I had flown on the 747 three times, but never once inside.

"The future is infinitely more important than the past." Admiral Truly was delighted to announce that three technologies developed at NREL received R&D 100 Awards as judged by R&D Magazine to be 3 of the 100 most significant inventions of the year. One is for a new material that will protect and extend the life of key components in geothermal power plants; the 2nd for an incredibly thin ceramic fiber that effectively filters bacteria and viruses and can be woven into composite materials; and the 3rd for a solar power system that allows light to pass through it while producing electricity.
"Today, unlike that first day in 1977, we have some of the greatest facilities of any of the National Labs. We have more on the drawing board and dollars in the budget to build them. Today's NREL is an organization of over 1,100 people, we cost $200 million a year, and we are stable and growing, we have been for the last several years. Over the years we have become leaders both on the supply side, renewable energy and the demand side, energy efficiency of the clean energy equation." Admiral Truly thanked MRI, Battelle and Bechtel, NREL's managing partners, NREL's colleagues at the Department of Energy and SERI Pioneers for their roles in NREL's history, NREL friends in the House and Senate and BP for its generosity and help in solar power research."
We were started on our journey back to the future. We reflect on the birth of SERI, critical events and some of its heroes. 25 Years in a Day seemed a pretty good theme to help us thumb through a fascinating past while envisioning its role in the next 25 years to make clean, secure, affordable energy a reality.
Many of the people who served as midwives to the long difficult birth of the Solar Energy Research Institute, mandated by Congress in 1974, were impaneled this day to tell the story of the Solar Energy Research Institute's (SERI) coming into being July 5, 1977. These attendants were the scientists, engineers, and administrators, the men and women of the first 25 years. They evolved SERI to the point of being elevated to 'National Laboratory' status and renamed The National Renewable Energy Laboratory, by our 41st President, George Bush.
Side Bar
Senator Wayne Allard founded the Senate Renewable Energy and Energy Efficiency Caucus to over 34 members this year and it continues to grow. A caucus has also been established in the House of Representatives with over 215 members. -Andy Merrit, State Director for Senator Wayne Allard
Difficult Days Gone By
On this jubilant 25th Anniversary is it fitting to note NREL's difficult past as well as its brilliant history of accomplishments and awards? Our stellar panel and its electrified audience filled with SERI Pioneers and those who call themselves 'SERI Graduates' whose jobs were cut in the early '80s seemed to think it was. The telling sounds like a David and Goliath tale fueled by the 1973 oil embargo and hammered out in the uncomfortable crucible of government politics vs. techno-idealists crusading to save the world for their children and future generations. The rapt audience affirms the telling. They are witnessing their past as if on trial.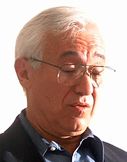 SIDE BAR
"MRI felt a sense of loss, says now President and CEO of Midwest Research Institute (MRI), James 'Spig' Spigarelli. "We sent our best and brightest to start the lab. But the overall feeling was excitement because we knew the mission and it fit well with us." More Spig Quotes: "The role of management is to create the environment and provide the resources that foster research excellence. That's why we are here. The culture that values excellence rewards it. From a personal standpoint in talking to the staff it seems that the original excitement not only survived but has actually been amplified."
The Panelists Look Back
Robert San Martin, Corporate Vice President & Chief Science Officer Midwest Research Institute, John McKelvey, President & CEO, Menninger Foundation, John Kersten, Acting Manager Golden Field Office and James Spigarelli, President & CEO MRI paneled a discussion about the beginnings of NREL. It's their story.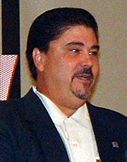 Bob San Martin points out the very beginning is 1971, when the National Science Foundation submitted a foundational report to Congress on the potential use of solar energy in the United States authored by Lloyd Herwig, and later studies by the National Academy helped bring things forward.
By October 24, 1974, Congress passed The Solar Energy Research Development & Demonstration Act, calling for "the establishment of a Solar Energy Research Institute to perform such research and development and related functions as determined by the administrator of Energy Research & Development Administration (ERDA) deemed to be necessary and appropriate. Eighteen months later (3/12/76) the ERDA Request for Proposals went out.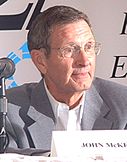 Get the Ball, Get the Ball, Get the Ball!
John McKelvey, then President and CEO of Midwest Research Institute (MRI) made the decision to go after SERI "...because we thought it would get us some national attention and it would be good experience for us.
Each state that wanted SERI had to have a partnership with a contractor. So we went down to Arizona to try to convince them to be our partner. Arizona turned MRI down for Battelle. Missouri put together a consortium of states and wanted us to write the proposal. The problem with them was the site they chose, Weldon Springs outside St. Louis was radioactively contaminated. Happily, nothing came of these inquiries
Fortunately Colorado called. McKelvey met with Gov. Lamm who had promised SERI to Colorado Springs. We went down there to find the site didn't qualify. They lacked a Ph.D.-granting university and they didn't have enough flights out of their airport. If we'd gone with the proposed site, we would've been non- responsive and would have been thrown out of the procurement right at the beginning!
McKelvey recalls Gov. Lamm's political genius in telling him, "McKelvey, you go down to Colorado Springs and tell them they can't bid." "So, I did. I was young then." The local press brutalized McKelvey. He said, "It was my first exposure to really being attacked by the media. I couldn't say anything right. It was a real disagreeable experience-not a very good start."
We looked at a number of sites, including one in downtown Denver. But right next to Denver with its airport, hotels and universities was Golden and specifically the Denver West Office Complex which we could use for our interim offices and South Table Mountain. This is the sight we chose. The next thing was to get a director to bid. All the word out of Washington was Paul Rappaport in whom everybody was interested. We asked and he agreed to be the first SERI director."
When the call came from ERDA saying that MRI had won the contract, McKelvey said he was utterly stunned. "It was a major upset in the history of procurements." Out of 20 proposals by major institutions around the country they chose this small and struggling research institute. "I went to Washington to sign the contract" McKelvey chortles, "and meet with Bob Fri, the ERDA Administrator. I told him we were very surprised and appreciated the work and Bob said, 'I was surprised too. I once applied for a job at MRI and you turned me down! And, now I find, I have to sign off on this procurement… but I was very objective."
Jokingly McKelvey says Colorado promised him $15,000.00 to write the proposal (as compared to the $100,000.00 paid to Battelle by Arizona). They actually paid the first half but then on hearing of the great coup, John repeated, "since you won the contract, we're not going to pay you the rest." John McKelvey has many stories each funnier and more informative than the last.
Side Bar: McKelvey tells a cautionary tale of victory, dinners and politicians. "The next event we had was a major ceremony in Golden that September, sponsored by Congressional Rep., Tim Wirth. I hope Tim's not here. At the dinner Tim got up on stage with the mayor and the Jefferson County Commissioners and said, 'Well I'm really proud that I brought SERI to Golden!' I thought to myself, I didn't know Tim was involved in this. He introduced me as 'Maclevie' and said 'MRI has been involved with this and will be going to be working with Martin Marietta who I talked to and they've agreed to manage the lab.' Afterward Tim told me he wasn't familiar with MRI, so he asked Martin Marietta to handle the management of the lab. He
gave me a name to get in contact with up there which I …didn't do."
The Cost of Politics
"Our first contract was $4.7 million. On one of those first days, I was walking out of Hank Marvin's office and he said, 'You need to subcontract two major procurements to Louisiana State and the University of Mississippi for a bio mass project. That'll take your budget down some. But, you have to do it right away.' Then we found out that there were to be four satellite SERIs. These were set up to address some political 'issues'. The satellites went to Minnesota and Massachusetts for Senators Humphrey and Kennedy who supported solar energy legislation, Georgia was for President Carter and California was just because it's big. It took DOE a long time to sort out those satellite operations. They did cause a lot of the problems. And I guess it was a harbinger of what was to come."
Unlikely Heroes
Dr. Robert San Martin, Corporate VP and Chief Science Officer at MRI spoke of his long involvement with SERI during his 20-year career with the DOE. "My worst time was during the Reagan Administration. We had to live within budget. I personally had to preside over a 70% cut in personnel at the DOE in Washington and two thirds of the SERI staff. I had to give testimony, many, many times to Congress to justify what was being done when I didn't want to." On hearing San Martin's words of painful regret, the self-named SERI Graduates (whose appellation seems to be an act of forgiveness) give a collective sigh.
"I must say, I consider my most valuable contribution to be the rebuilding of the solar programs. The DOE Solar Program actually supported 27 other labs: The Department of Defense, the EPA labs including the NASA Solar Labs doing major work and others. It is little known that I had to quietly make the politically very unpopular decision, to shrink this huge burden of 27 labs to 3 labs over a two and a-half-year period, with SERI as the lead to create a solid core.

"NREL is genuinely a unique lab and it is much more beyond that. John Kersten has allowed the wide degree of experimentation that is going on today. The methods, how programs are implemented and how they evolve are truly unprecedented in the family of DOE laboratories. It is fabulous when we can experiment and learn. The financial and tracking systems that exist now are better than anything, anywhere."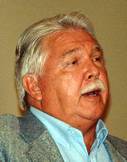 Through the Eye of a Needle
John Kersten, Acting Manager of the DOE Golden Field Office is probably the most unlikely hero. He is known for his inspired but down to earth views on finance and management, as well as his vision for what NREL could become with fiscal discipline.
"The early SERI years were not pretty from a program management and research dollars spent and technical outcome. It was not known as a first class research organization. There were many wonderful people who did a lot of good things that enhanced SERI eventually. But in the first couple of years, research and development was not SERI's forte.
"I remember lots of management systems were kept on the backs of envelopes. A headquarters program manager would call wanting to know a number and somebody would give some number off the back of an envelope to the project manager. Then the official accounting report would come out, light years apart from what we had! We got into a lot of trouble. It took 2 and half years to clear that up. We became very strict about having only one source and one system of information so mistakes like that could not be made again.
Kersten says, "In the beginning we were pretty rigid with milestone reports and quarterly program reviews. I thought it would take a couple of years to instill a disciplined financial management approach to managing research. It took a little longer.
"Thinking back to what Bob San Martin said about budget cuts and layoffs; I was part of the group who reviewed every field task proposal SERI was working on. We made recommendations as to whether a proposal would go to the end of the fiscal year or would it be terminated. Did it meet the criteria to keep going? The result of that was our budget dropped down to $42 million dollars in 1983. Staffing in January 1982, was 1,026, in January 1983 staffing went down to 583 and the world ended. We lost a lot of good people.
"Do we think our methodology was correct in the oversight we used? We think it was for the early years. We had a cost proposal requirement that we placed on SERI so that you had to give a cost proposal and plan as to how you'd use funds for each year. We had a resident DCAA auditor living with us. It was overkill, but it forced us to bring a sense of discipline, back-up, justification and planning as to how SERI was going to use the resources. Did it serve a purpose? Yes. But, it wasn't fun. We had lots of arguments about elements of overhead pool. Hayes, Hub, Charlie they all thought we were nuts. But it worked.
"Now, today, fiscally, in DOE's 2001 Report to Congress, NREL is the most cost-effective national lab. The percentage of total dollars as to how much goes to direct program is 75%. How much money goes to program support? - 25%. You, NREL, are the lowest of the national labs. It's something to be proud of."