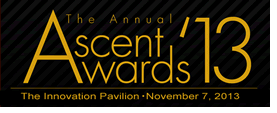 Please join CTP, TiE Rockies & The Innovation Pavilion in recognizing Larry and Pat Nelson as our 2013 CTP Tech Icon Award recipients!
Sherry Law, Evergreen Communications - 1452_ 10/14/2013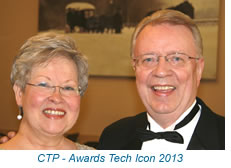 If you attend business events in Colorado, you've undoubtedly seen Larry and Pat Nelson, Larry with camera in hand. As founders of w3w3® Media Network, they have attended more than 1,000 events, taken more than 40,000 photos, and interviewed 2,000-plus tech leaders since 1998. Communications Technology Professionals (CTP) is turning the lens on Larry and Pat on November 7th to present them with the Tech Icon Award as part of the Annual Ascent Awards. It is the very first award of its kind. The Annual Ascent Awards celebrate Colorado entrepreneurial technology companies, recognizing excellence in a variety of categories. The event is presented by CTP and TiE® Rockies and held each year at the Innovation Pavilion. CTP holds two other keynote events each year, The Future of Technology (FOT), and the Technology Executive of the Year. "Larry and Pat are ever-present and constant supporters of Colorado tech companies," says Debora Langer, CTP president. "The board wanted a way to express how much Larry and Pat have meant to us over the past 15 years—and the Tech Icon Award was born in an immediate and unanimous decision. We are thrilled to be making the inaugural award to Larry and Pat, who are Colorado's true tech icons. We invite everyone who knows Larry and Pat to join us in celebrating them on November 7th." The Nelson's have supported technology companies and companies in diverse industries since co-founding w3w3®Media Network in 1998. The w3w3 all-business radio show website consists of blogs, podcasts, articles, recorded and archived audio and video interviews, business photos and a business calendar of events. Larry also conducts in-house seminars and offers keynote addresses on various business topics, including "Mastering Change in the Midst of Chaos," also the title of his latest book. Larry and Pat have been entrepreneurs in other realms as well, having lived in and owned businesses in five foreign countries that ranged from retail stores to high tech; warehouses to direct mail; and manufacturing to consulting and training. Register for the Annual Ascent Awards: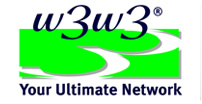 Links that will make a difference
914_ 10/25/10- w3w3® Media Network is all about supporting business and technology in Colorado.  We specialize in creating valuable links and relationships to help you grow your company, build your team, get insights to various industries, keep you up-to-date, raise money, increase your income and profits, and so much more...Venture Capital; Tech Transfer; Communications Technology Professionals; Mergers and Acquisitions; It's the Law; Training Trends; Colorado Companies to Watch; Mastering Change; Looking for Money; In the News; and more...Just click on the topic of your interest and you'll find treasure trove of information...
Related Links: Venture Capital || Podcasting Directory || Tech Transfer || Communications Technology Professionals || Mergers and Acquisitions || It's the Law || Training Trends || Colorado Companies to Watch || Mastering Change Blog || Looking for Money || In the News || Keywords: Venture Capital, Tech Transfer, Communications Technology Professionals, Mergers and Acquisitions, It's the Law, Training Trends, Colorado Companies to Watch, Mastering Change, Looking for Money, In the News 10/25/10
Purpose of w3w3® Talk Radio w3w3® Talk Radio is a blend of Internet talk radio, an online business magazine and an aggregator of business development strategies. Although it has a worldwide reach, w3w3® is community focused, in Colorado.
Three-part Mission of w3w3® Talk Radio (Customers, Sponsors & Community)
w3w3® supports the right that the average person's experience of the World Wide Web is enjoyable, informative and safe by providing an on-demand menu of programs, materials and resources, 24/7.
w3w3® is committed to support the efforts of our sponsors to be profitable and serve as a vehicle to help get their message out as well as keep their prospects informed about the sponsor's latest developments.
w3w3® actively supports a full range of associations, public events and public sector organizations by offering access to a Web Community Calendar, portal pages and announcements about their activities.
Target Audience (Listeners, Readers & Attendees)
w3w3® offers online interviews and speeches 24/7 with 15 different topic Channels. The interviews range from short 2 to 5 minutes to longer in-depth interviews. While the various Channels appeal to a broad and expanding audience, the interviews have a high-tech bent and are quite topic targeted and deliver a learning experience to the listeners. Even those with a 28K modem connection can enjoy their favorite program.
w3w3® offers an expanding variety of short articles as well as extensive white papers. Currently all of the articles and white papers maybe downloaded and printed for personal use. w3w3® also has a relationship with the Colorado BIZ Magazine. The editor participates in a w3w3® interview and publishes an article about the joint interview. Monthly w3w3® receives a full color ad in the magazine.
Co-founders & Producer

Larry and Pat Nelson
, the co-founders of w3w3® have more than three decades of experience as entrepreneurs in six countries. Larry is the producer of w3w3®, a published author, trainer and most notably a business development architect. He has been a consultant to both public and private sector organizations including AT&T, Children's Hospital, First National Bank, General Electric, IRS, Microsoft, 3M, US Forest Service, US West, IBM, United Way, Toyota, Toledo Edison, University of Wisconsin, Mobil Oil, Time Insurance and many, many more.

Larry is available for keynote speeches and special inhouse training programs. More Information