Find a way to align yourself to the current circumstances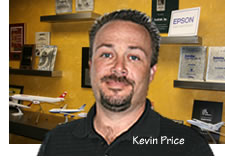 1091_ 10/10/11 - We first interviewed Kevin Price, CEO and President of AccuCode, back in the early 2000s. He's built a winning team and a great organization, gone through all sorts of challenges and has really done super well. Their catch phrase is 'Technology at the speed of business' and they have won the prestigious honor of Colorado Companies to Watch award for 2011. Kevin said, "We're pretty diversified" with seven different business units, three SaaS products and two different managed service business units. And they are [still] one of the largest value added resellers and integrators of industrial mobile computing and automated data collection technology in North America. Larry recalled Kevin was a leader in the early RFID development environment. Kevin said when he got started, "Bar code scanners were $2,000 a piece and now, they go for about $50 to $75. And/but now we ship them by the pallet full instead of two at a time." AccuCode supports small and really huge organizations, Larry asked Kevin, "What do you see today as some of the biggest challenges organizations are facing today?" Kevin's reply, "At the moment, I think, the misconduct of our government and the associated fiscal irresponsibility that goes along with it, that represents the biggest risk to every business in the U.S. right now. I don't know how quickly that will get resolved, but it is what it is.We actually love recessions. During recessions, resources get cheap; as I like to tell our employees, it's really easy to ignore inefficiency when you're growing and profitable. But when you're shrinking - losing money, efficiency becomes paramount and people become receptive to change. We at AccuCode are change agents. Our job is to go in and drive efficiency through application of technology and so these are fairly favorable times for us. Cloud computing and mobility are going to impact every industry, every vertical on the planet over the next decade." Kevin goes onto offering more timely advice...listen for more...
Related Links: AccuCode || Colorado Companies to Watch || Colorado Companies to Watch Channel || PodCast Directory || Gala Event || Keywords: Kevin Price, AccuCode, Edward Lowe Foundation, Colorado Companies to Watch, Gala Event, COCTW, Second Stage Companies, Colorado Office of Economic Development and International Trade, RFID, Bar Code Scanners, SaaS, Cloud - bytes=6061560
Listen to: Kevin Price, CEO/President, AccuCode

Powered by Podbean.com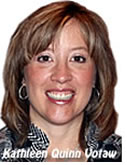 We have to respect both ends of the spectrum


1093_ 10/10/11 - She is well known to the w3w3® Colorado audience as past president of ACG Denver, but Kathleen Quinn Votaw is also the CEO of TalenTrust, a unique, local recruitment firm - Kathleen has 25 years in this space. At TalenTrust, they help small and mid sized companies attract the very best people so they can grow their companies to the next level, using a very unique methodology that is not out there in the recruitment universe. At w3w3.com, we regularly receive the TalenTrust Newsletter and the last issue was a great reminder for those firms looking to hire new employees, as well as the rest of us. The Newsletter talked about 'respect'. Kathleen said, "Sometimes, not intentionally, there is a lack of respect in the candidate process. Candidates are also looking for the right culture to join, so respect during the candidate process is key. Then once you actually hire someone, treating your team with dignity and respect is of the utmost importance." Kathleen points out that they're fortunate to deal with the clients, the firms needing to acquire talent, and then they have another whole group - business people that we serve and those are our candidates. We asked Kathleen what prompted her to write about this subject. She offered an example of a company that approached the recruiting process in an arrogant manner. You know, 'who are you and what value will you add to the company?' and didn't provide any opportunity for the candidate to understand what value the company would bring to them. Kathleen said, "As we continue to change as a culture, we have to respect both ends of the spectrum, the employer and the potential employee. When you're building those relationships you must know that all relationships begin and end with respect." You can find more articles on the TalenTrust web site that focus on hiring for character first and competency second. Check this out...
Related Links: TalenTrust || ACG Denver || ACG Denver Channel || Mastering Change || Keywords: Kathleen Quinn Votaw, TalenTrust, Respect, ACG Denver, Recruitment Firm, Candidate, Character, Competency - bytes=3661639
Listen to: Kathleen Quinn Votaw, TalenTrust

Powered by Podbean.com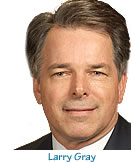 Evaluating catastrophic medical claims is a very complex process


1087_ 10/3/11 - We're talking with another winner today, that's a Colorado Companies to Watch winner, Larry Gray, CEO of the Assist Group. Larry has a fascinating background - he's been the CEO of three successful startups, COO of a $500 million publicly traded company, president and CEO of a $2 Billion traded company and the list goes on. The Assist Group reviews and resolves catastrophic medical claims for a number of markets in the reinsurance area. So, reinsurance companies, health plans, managing general underwriters and large self insured employers. These claims get over $200,000 to $300,000, they go into the reinsurance layer and that's where the Assist Group takes over, above that layer. Evaluating catastrophic medical claims is a much more complex process than just running them through a technological coding audit. They actually have nurses, clinical specialists and coding experts take the claim apart, look at it from all the angles and then they report back to the clients on what they've found. the goal is to find trends, educate the market and then provide this good data coming back. One thing to note is catastrophic claims have tripled since 2005! Claims around the million dollar mark are growing and growing rapidly. Most of that is due to implants, drugs and technological invention and the aging of the population. Larry said as employers get larger and larger, they think of themselves as entities that can take some risk and have some clout in terms of dealing with physician groups and hospitals, and writing their own contracts. Many of them are trying to establish a good direction before we either become or get away from more federal intervention in terms of the healthcare world. Larry offers observations, important opinions and great advice as well as dealing effectively in our current economic environment going forward. You will want to hear the entire interview, so listen now!
Related Links: The Assist Group || Colorado Companies to Watch || || Colorado Companies to Watch Channel || Top 50 Companies to Watch || Keywords:Larry Gray, Assist Group, Edward Lowe Foundation, Colorado Companies to Watch, Gala Event, COCTW, Second Stage Companies, Colorado Office of Economic Development and International Trade, Insurance, Catastrophic Medical Claims, Reinsurance - bytes=7649805
Listen to: Larry Gray, CEO, Assist Group

Powered by Podbean.com
Activity picks up in September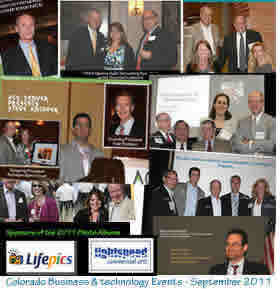 1089_ 10/3/11 - PHOTOS galore! Oktoberfest on September 1st? That's what the Colorado BioScience Association and Colorado Cleantech Industry Association did to grab the proverbial reins and jump start an invigorated fall season. We celebrated Phil Weiser's return with "Reflections on Serving in the White House" and Silicon Flatirons has a very ambitious slate of events coming up. ACG Denver welcomes their new president, Todd Roebken and their keynote speaker Steve Knopper (Rolling Stones mag) reminds us of lessons learned and still applicable - keep your eyes wide open. While the Rockies Venture Club colludes with Communication Technology Professionals, to look into the future and the power of Telecommunications. Kudos to the Colorado Bio Science Association for the Rocky Mountain Life Science Investor and Partnering Conference and Networking Events. You can listen to Keynote speaker, Roy Davis, President, Johnson & Johnson Development Corp. Rounding out the month we have Holme Robert & Owens hosting the September M&A group [with a look at large employers and a trend toward self insurance]. ACG and Howard Potter wrap the month up with their extremely popular, 6th Annual - Investment & Finance Cross Networking event at The University of Denver Daniels College of Business, School of Hotel, Restaurant & Tourism Management, a fabulous venue. Go see who is actively promoting the future at w3w3.com Event Photos for September 2011. These albums show 100s of photos...these are the events we were able to attend...if you have a photo link to some local business/tech events you have taken, please send us a link and we'll link them and give you credit of course...
Related Links: ACG Denver || CBSA || CCIA || CTA || HRO || RVC || Silicon Flatirons CU || Keywords: Oktoberfest, Colorado BioScience Association, Colorado Cleantech Industry Association, Silicon Flatirons, Investment & Finance Cross Networking, Holme Robert & Owens

Get your copy of Larry Nelson's popular book...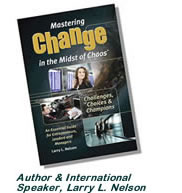 Change Is Not an Event,
It Is an Ongoing Process
as it is with Chaos
Check out the Mastering Change Blog
Get your Copy at Amazon
Supercharge Your Business!
Seminars / Keynotes
w3w3.com can help you...
Support the Community - Grow Your Business and
Increase Your Profits! CHECK OUT this link
Middle market M&A dealmakers and business leaders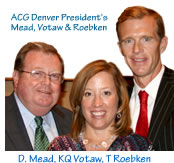 1090_ 10/10/11 - The Association for Corporate Growth (ACG) Denver, the premier community for middle market M&A dealmakers and business leaders, is proud to announce that Todd Roebken, Managing Director with Jones Lang LaSalle, has been selected as President of the Denver chapter. Mr. Roebken's two-year term began September 1, 2011. At the October ACG Denver meeting, we cornered Todd, Dave Mead [past president], and [immediate past president] Kathleen Quinn Votaw. We asked for an overview of their companies and what they do. Dave Mead is president of the Mead Consulting Group a lower/middle market consulting and advisory services firm helping companies with strategic execution, profitability and cash flow and adding value for exit. They are celebrating their 30th year in business this year. They have 42 senior consultants focused on Colorado headquartered companies. Kathleen Quinn Votaw is the CEO of TalenTrust, a unique recruitment firm that helps companies get to their next level of growth by attracting the right people. For the past eight years, Todd has been an active member of ACG Denver. He said, "ACG Denver is the region's foremost organization for companies seeking to grow organically or through M&A. Even during the downturn, ACG Denver grew in membership, which is a testament to the people in this organization who are dedicated to helping area businesses grow. I look forward to the next two years, which is when I believe we will see some aggressive growth in this region." . Founded in 1954, the Association for Corporate Growth (ACG) is a global association for professionals involved in corporate growth, corporate development, and mergers and acquisitions. Today ACG stands at more than 12,000 members from corporations, private equity, finance, and professional service firms representing Fortune 500, Fortune 1000, FTSE 100, and mid-market companies in 53 chapters in North America and Europe. ACG-Denver was awarded Chapter of the Year in 2007...Hear them in their own words......
Related Links: ACG Denver || Mead Consulting Group || TalenTrust || Jones Lang LaSalle US || M&A Channel || Keywords: Keywords: Todd Roebken, Kathleen Quinn Votaw, Dave Mead, ACG Denver, Mead Consulting Group, Talentrust, Jones Lang LaSalle, M&A, Denver, Association for Corporate Growth - bytes=6076607
Listen to: Todd Roebken, Kathleen Q Votaw, Dave Mead

Powered by Podbean.com
Whatever you give out you get back 10 fold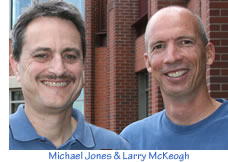 1092_ 10/10/11 - The Second Annual un-conference - Product Camp is coming up on October 29th. Wondering what a non-conference is? It is your opportunity to develop the agenda and create the value of the program to coincide directly with your own needs, extend your network, and get as much out of the conference as you put into it! We spoke with Larry McKeogh and Michael Jones the creators of this unusual, no fee, interesting event that draws a few hundred folks from up and down the front range. Larry McKeogh is a product manager, which means he takes products and creates the best possibilities for them in the market place. Michael Jones says he's sort of a product manager and the vice president of a startup in Boulder - they make manufacturing equipment. And Michael added, "Because we are small, I clean bathrooms and do everything else at the same time." Larry asked one of his favorite questions for business leaders, "What are the biggest challenges people, leaders and organizations are facing in this economic environment?" From Larry McKeogh's point of view it is 'innovation'. Many companies are asking their employees to do more with less. They need to break into new markets and they're asking them to be very innovative. Michael Jones has a different view as a startup at a unique juncture where they have a new product, they have acceptance and a down market. Without capital it's difficult to fund the ramp up [probably will happen next year]. "It is difficult to innovate because they're developing at a slower rate than if we had investment." So for an overview of the un-conference. Larry says, "It's a complete meritocracy - it's driven by the people, for the people and ultimately what you get out of it is what you put into it." This particular un-conference is centered around product management, product marketing and innovation type themes. Registration begins at 8:00am, a keynote speaker at 9:00am and three sessions in the morning and two sessions in the afternoon. It's completely free and lunch is provided. Michael points out that this [un]conference is free money wise - but it's not free on your time - you are supposed to come, present, learn, network - but there's no entrance fee...listen for more...
Related Links: Rocky Mountain Product Camp || Proclivis Product Development || Communication Technologies Channel || Blog || Keywords: Larry McKeogh, Mike Jones, Rocky Mountain, Product Camp, Business Leaders, Conference, Un-Conference, Innovation, Meritocracy, bytes=7220143
Listen to: Larry McKeough & Mike Jones, Product Camp

Powered by Podbean.com
The intersection of design and technology


1086_ 10/3/11 - Shanna Tellerman is passionate about the intersection of design and technology as it relates to interactive media. Lucy Sanders, the CEO for the National Center for Women and Information Technology (NCWIT) and Larry Nelson, president of w3w3.com interviewed Shanna. She founded Wild Pockets out of graduate school at Carnegie Mellon University's Entertainment Technology Center. The company focused on democratizing access to game development by providing a cloud hosted game engine. Shanna is currently the Product Line Manager for Autodesk Cloud Services and Applications, this is post-acquisition of her first technology company, Wild Pockets by Autodesk. She is responsible for driving the product line that includes the new cloud platform that is powering web and mobile initiatives across the company. w3w3® Media Network is proud and honored to bring another NCWIT interview to our audience. We've long since recognized the need for education and support for our youth and particularly for young women, in math and science, engineering and technology. The women we interview are bright guiding lights for the future of our youth, generously sharing their experiences - challenges and all. They are inspiring, often humorous and motivating. This series is a real jewel and a valuable set of tools for the future of young women and everyone who has the good fortune to listen. Shanna has been a frequent speaker in the game industry and a thought leader on the topic of women in technology. She has been active in organizations including Astia, Women 2.0, Girl Geeks, Dell Women's Entrepreneur Network. In 2009 she was named one of Business Week's best young entrepreneurs. Shanna offers some great advice for leaders and entrepreneurs...listen for more...
Related Links: Autodesk || NCWIT Home || NCWIT Practice || NCWIT Blog || Heroes Channel || Keywords: Shanna Tellerman, Autodesk, National Center for Women in Technology, Lucy Sanders, NCWIT, Designers, Cloud, Carnegie Mellon University, Mobile Initiatives - bytes=19883470
Listen to: Shanna Tellerman, Founder/CEO Wild Pockets

Powered by Podbean.com
Raising capital in this challenging environment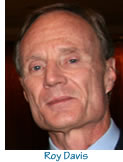 1088_ 10/3/11 - The Colorado BioScience Association (CBSA), hosted its first "Rocky Mountain Life Science Investor and Partnering Conference". With the majestic Rockies always on the horizon, our region continues to lure, nurture and inspire incredible talent in all fields related to life science. The second Rocky Mountain Life Science Investor & Partnering Conference is nothing less than a preview of our industry's future. Presenting companies spanned a range of sectors within this industry including, biologics, medical devices, drug delivery and diagnostics. The luncheon keynote speaker was Roy Davis, President, Johnson & Johnson Development Corporation (JJDC) and Vice President, Corporate Development, Johnson & Johnson, was named to these positions in January of 2008. He is responsible for the management and efforts of both JJDC and the internal Johnson & Johnson ventures group. Mr. Davis also serves as a member of the Industrial Advisory Board of the Cleveland Clinic. He is based in New Brunswick, New Jersey. From 2003 until 2007, Mr. Davis held the positions of Company Group Chairman, Johnson & Johnson and Worldwide Franchise Chairman, Ortho Clinical Diagnostics with responsibilities for Ortho Clinical Diagnostics, Inc., Veridex LLC, and Therakos, Inc. He was also a member of the Medical Devices & Diagnostics Group Operating Committee during this time. In June 2003, Mr. Davis was named Group President, Therakos, Inc., Virco BVBA, Veridex, LLC, and Ortho Clinical Diagnostics, Inc., Advanced Research, New Technology, and New Market Development. We recorded his entire presentation and we are publishing it because it contains helpful and valuable information about raising money fro different sources...Listen now...
Related Links: Colorado BioScience Association Home || Roy Davis, J&J Dev Corp || CBSA Conference || BioSciences Channel || Keywords: Roy Davis, Johnson & Johnson Development Corporation, Colorado BioScience Association, CBSA, Rocky Mountain Life Science Investor & Partnering Conference - bytes=27380404
Listen to: Ray Davis, Johnson & Johnson Development

Powered by Podbean.com
Achieving Your Personal and Professional Goals

933_ 11/29/10- Don't Let Another Year Go By - The Ultimate Win is Yours - Larry Nelson has taught this material in seminars in over a dozen countries, from China to Canada, from Norway to Australia, from Germany to Japan as well as throughout the USA. He shares the results of his international research about the Characteristics of an Achiever and then goes on to help you lay out your "personalized blueprint" to personal and professional success. Larry is an internationally published author, has been a consultant to many Fortune 1000 companies and is best known for his train-the-trainer programs. ...listen now a complete step-by-step program including a downloadable manual and resource guide...this is an in-depth strategic planning and goal setting system for achievers...Read More about how to Supercharge Your Business... The links below are valuable and extremely helpful to setting your course for the next year! And they're free. Related Links: Ultimate Win Resources || Training Trends || 3-Filters Technology™ || Podcasting Directory || Your Goal || Keywords: Ultimate Win, Your Goal, Training Trends, 3-Filters TechnologyTM, Setting Goals, Larry Nelson; 11/29/10 Chnl: Entrepreneurs
Supercharge Your Business!

Seminars / Keynotes
Go to the MC Blog




>





LIBRARY_______
Associations
Beyond the Trends
Cyber Security
Entrepreneurs
Ethics
Homeland Security
In the News
Leader Profiles
Mastering Change
Renewable Energy
Resources
Software
Success Stories
Training Trends
Venture Capital
Video Blogs

w3w3®

Archives


Google, Bing and Yahoo rank Colorado's w3w3.com in the top 10 for the "Business Internet Talk Radio" show
They have millions of listings in our category. We are ranked in the top ten. The same is true for the category "Entrepreneurs Internet Talk Radio" show