Expanding opportunities presented in the cleantech arena


1242_ 7/16/12 - Formed back in 2009, the Colorado Cleantech Industry Association has been extremely busy. Last week we told you about the CCIA Fellows Institute focused on bringing in seasoned executives to be trained in the expanding opportunities presented in the cleantech arena. Completing this 17 week program, it is hoped that these seasoned executives will come out running a new company spun out of the university systems here in Colorado. But, Chris Shapard, executive director for the CCIA tells us there is much more going on. The last time we spoke with Chris is when CCIA introduced the CCIA Action Plan to the state and they've been furiously working to attain the goals and objectives from that plan. They've worked on getting the Fellows Institute up and running and worked on legislation that supports the industry. In addition to the Fellows Institute, the second initiative for the year is to raise funds for commercialization activities within the universities. CCIA in conjunction with CU, CSU and Mines are out and approaching foundations and they're going after an I-6 federal grant to bring money into that commercialization side. To grow the industry we really need resources put to creating companies and giving them a leg-up. CCIA had a very successful legislative session. They were one of the only organizations that got cleantech legislation passed. The CCIA piece, signed by the governor, is making it easier for third parties to put charging infrastructure for electric vehicles in Colorado, so they're not treated like utilities and not regulated. CCIA works with all kinds of businesses, there are about eight different sectors that are considered clean technology. Chris gets into more detail ...listen now...
Related Links: CCIA Cleantech Fellows || Cleantech Fellow Application – Due 7/27/12 || Colorado Cleantech Industry Association || CU Technology Transfer Office || CU TTO Channel || NREL || Keywords: Chris Shapard, Wayne Greenberg, CCIA, Fellows Institute, Colorado Cleantech Industry Association, NREL, CU TTO, Commercialization, Renewable Energy, Wind, Solar, Bio Fuel Technology - bytes=4260574
LISTEN TO: Chris Shapard, Executive Director, Colorado Cleantech Industry Association

Powered by Podbean.com
Challenges and solutions for the Bio and Life Sciences industry


1244_ [Orig. Pub: 1076_ 9/12/11] - The Bio and Life Sciences industry faces huge challenges raising venture capital in a difficult economy. Investing in an industry that takes ten to twelve years and over $1.3 Billion to bring a drug to market just might shift the action to some widget or a software program that can be flipped to realize a return in just six months. That's the challenge facing the Colorado BioScience Association (CBSA) and president/CEO, Holli Riebel. "Also", she said, "venture capitalists reside more on the coasts, and so we're always having a more difficult time attracting venture capital out here in the middle of the country." Coming up this month September 21st and 22nd we will witness the first "Rocky Mountain Life Science Investor and Partnering Conference" with the Opening Night Reception at the Governor's Mansion. It's really a venue to bring some of our top technologies and companies from Colorado and some of our surrounding states, to present their technologies to VC's and strategic partners. This is very different this year. Strategic partners are the pharmaceutical companies that are divesting themselves from their R&D departments. Now instead, looking at investing in many small biotech and device companies at earlier stages, in addition to research institutions. So we're seeing closer partnerships with companies at an earlier stage. Relevant right now, "The flu season is coming up" Holli said, "and there is a company that has actually developed a universal flu vaccine, making the annual, sometimes failed flu shot unnecessary. Another company has developed the first FDA Approved lymphoma drug for dogs. There's also a really interesting device company and they've developed a new heart valve for younger people." Listen for more...
Related Links: CBSA Home || RM Life Science Investor & Partnering Conference || CBSA Annual Awards Dinner || BioSciences Channel || Keywords: Holli Riebel, CBSA, Colorado BioScience Association, Life Sciences, Medical Device, Diagnostic, Pharmaceutical, Health Care Providers, Research Institutions - bytes=5144558
LISTN To: Holli Riebel, President/CEO, CBSA

Powered by Podbean.com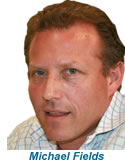 Here is some good news for Colorado


1238_ 7/9/12 - Here is some good news for Colorado. We are talking with Michael Fields, managing partner at MSF Enterprises, a multinational strategic financing company and recent emigrant from New York. A quick overview of MSF, Michael said, "At the end of the day what we really do is connect opportunities with money and money with opportunities."The four major areas of their practice are, investment banking, merchant banking, capital raising for alternative investment trends and advisory services for family offices, working with a broad range of people and organizations, globally. Michael moved to Colorado about 18 months ago from New York after doing his research and recognizing a number of Colorado assets. We have a strong higher education network, multiple infrastructures from downtown, DTC, commercial buildings, a national / international airport as a hub and Colorado has a growing population of people that have been moving here, that choose the lifestyle and choose the assets that only Colorado has. What attracted MSF to Colorado is the fact that there really is a backbone to the asset management industry here and a lot of good talented people. All of these were critical factors in the decision to move the firm here. Now, Michael and MSF Enterprises based in Denver and New York has launched what it's dubbed "Galt's Gulch Initiative" aimed at attracting more asset managers and capital to the state. It's really a pet project and they're trying to get the local community involved, including government, universities and the private sector, working together to build the community here. Galt's Gulch mission statement is to build a consortium of business leaders that set the goal to attract, build & grow the asset management Industry in Colorado to manage $5 TRILLION by 2016. The increase of AUM to Colorado, will create a long term industry growth cycle that could contribute to as much as 20% of revenue to the annual budget. Listen for much more... .
Related Links: MSF Enterprises || DBJ Article || In the News || PodCast Directory || Venture Capital || Keywords: Michael Fields, MSF Enterprises, Multinational Strategic Financing, Investment Banking, Merchant Banking, Capital Raising, Galt's Gulch Initiative > Channels: VC - bytes= 4933256
LISTEN TO Michael Fields, Managing Partner, MSF Enterprises

Powered by Podbean.com
Keep at it, eventually there will be a turn around


1240_ 7/9/12 - Story: Originally published 01/31/11...check out their progress now... ARCA Biopharma, Inc. is a Colorado-based biopharmaceutical company developing genetically-targeted therapies for heart failure and other cardiovascular diseases. Larry interviewed Michael R. Bristow, MD, Ph.D. CEO & Chief Science and Medical Officer of ARCA at the CU Technology Transfer Office Awards banquet. Dr. Bristow has been a favorite interview for w3w3® for years. Larry asked him, "Michael what are the biggest changes you've seen in this last year in your industry?" He re[lied, "It's been a couple of tough years, but I think things are starting to turn around and basically the atmospherics have gotten a lot better. Just coming off a JP Morgan meeting, it was, I thought, a completely different tone this year." Dr. Bristow had some interesting insights about funding. "Well, it's sort of like financing of real estate was back in the early 80s when interest rates were 20% - you've got to do creative financing. So, all kinds of vehicles have been used through this period. ARCA biopharma, for instance did a reverse merger, bought a company that was NASDAQ listed, that had a bunch of cash - that proved to be a good move. So people have gotten through this one way or another, but we need to get back to traditional sources of funding." Larry asked, "Is there any particular advice to people in your arena?" Spoken like a true leader he replied, "Yes, don't give up. I mean, tenacity, keep at it, eventually there will be a turn around. Now when things aren't going too well may be the best opportunity there is in terms of acquiring assets. Think ahead. Think positive." Dr. Bristow joined ARCA as one of ARCA's founders in September 2004, and has served as Chairman and Chief Science and Medical Officer of ARCA until he was appointed to his current position of Chief Executive Officer in July 2009. Dr. Bristow is a Professor of Medicine and the former Head of Cardiology at the University of Colorado Health Sciences Center, where he has been since October 1991. Dr. Bristow was one of the founders of Myogen, Inc. He is also a guy who lives his talk…listen for more…
ARCA biopharma || CU Technology Transfer Office || CU TTO Channel || TTO Blog || CU TTO Awards || Award Photos || Keywords: Michael Bristow, ARCA biopharma, CU Technology Transfer Office, Biotech, Cardiology at the University of Colorado Health Sciences Center, University of Colorado Cardiovascular Institute, bytes=2927702
LISTEN TO Michael Bristow, MD at TTO Awards

Powered by Podbean.com
Get your copy of Larry Nelson's popular book...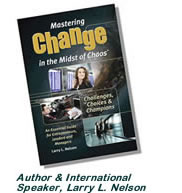 Change Is Not an Event,
It Is an Ongoing Process
as it is with Chaos
Check out the Mastering Change Blog
Get your Copy at Amazon
Supercharge Your Business!
Seminars / Keynotes
Phishing. Will you be a victim?


1241_ 7/16/12 - A stunning statistic, "Last year, the cost to the global economy of cyber crime exceeded that of the global cost of the illegal drug trade" said John Bennett, Ph.D., P.E., the Institute Director of the Alliance for Technology, Learning and Society (ATLAS) Institute at the University of Colorado at Boulder, and Archuleta Professor of Computer Science. The number, including lost time, is $334 Billion, so it's not an insignificant figure. You know we all receive the spam which is just irritating by virtue of the volume. Some of what we get is phishing, trying to get your personal information... your name, social security number, your birth date, credit card numbers - those kinds of things. That kind of information is used to steal your identity, your digital identity. When that's done someone can go get credit cards in your name, loans, basically spend money they don't have." John has actually had his identity stolen by some person in Florida. He got a call from a credit card company asking why he'd made all these charges in Florida. John hadn't been there and it turned out that someone had obtained John's credit card number and used that to obtain other information. These people are pretty good at this. The odds of this happening, of having your identity stolen in your lifetime, in the U.S. are about 1 in 100, and about 1 in 10,000 this year. Larry asked, "Logging in, is that a dangerous thing?" John says it can be. "I think we've all learned not to enter your user name and password on the internet if you don't see that URL beginning with https, which indicates it is a secure link between the browser [the software running on your machine and the server that is serving up this page ." Listen for much more...
Related Links: ATLAS Institute, CU || Software Channel || NCWIT Heroes || PodCast Directory || National Cyber Security Partnership || FBI Cyber Crime || Keywords: John Bennett, ATLAS Institute, University of Colorado, Boulder, Cyber Crime, Phishing, Credit Cards, Social Security Number, User Name, Password, > bytes=5176741
LISTEN TO: John K. Bennett, Institute Director, ATLAS Institute

Powered by Podbean.com

Feld and Mendelson - How venture capital deals work


1243_ [Orig.Pub: 1069_ 8/29/11] 7/16/2012- At GlueCon this past May 2012, Jason Mendelson told us about a sequel to "VENTURE DEALS". When Brad Feld and Jason Mendelson sat down to write their book the goal was to aim it at every entrepreneur, to really help them understand how venture capital deals work. Brad Feld in Tuscany, Italy talks with Larry Nelson via Skype to tell us about his newest book,
"Venture Deals...Be smarter than your lawyer and venture capitalist". The inspiration for the book came from the Term Sheet Series that Jason and Brad wrote about five-six years ago. This is a particularly valuable book for entrepreneurs looking for money... You'll get an insider's view of the venture deal process, the different players involved on the deal side including how venture firms are setup. And, they talk about how an entrepreneur should think about the fund raising process. The term sheet is a very complicated document and there are a lot of things that people negotiate. But there are essentially only two things that matter which are economics and control. Here they've spent a lot of time helping the reader understand which terms related to economics and which terms were related to control and how and what that meant. It's meant to be a guide not a text book with material that can be very dry and boring. They've made fun of lawyers, venture capitalists and themselves along the way, but there goal was to write something significant and enduring. Comments from readers include..."For a first time entrepreneur, it's a completely enlightening book." Dick Costolo, Twitter CEO wrote a very nice forward to the book where he talks about how useful it would have been to have this book at the beginning of his career, and throughout his career, to look back and reflect on all the deals he's been involved in. Brad tells us how his blog, Ask the VC works with this book. Number one piece of advice for a new entrepreneur from Brad is, "Pick something that you're incredibly passionate about. The thing you want to create, the business you want to start should be something that you're in love with. It's going to be hard. You're going to have lots of ups and downs, there will be lots of things that don't work. If the thing you're working on 18-20 hours a day isn't something you're incredibly passionate about, what's the point?" Second is surround yourself with mentors." ...don't miss the rest of Brad's advice, listen now!
Related Links: Venture Deals - Amazon || Ask the VC || Feld Thoughts || Mendelson's Musings || Foundry Group || Feld-Weiser One-on-One || VC Channel || Keywords: Brad Feld, Jason Mendelson, Venture Deals, Venture Capitalist, Foundry Group, Entrepreneur, Mentors, Dick Costolo, Twitter, Tuscany, Italy, Foundry Group's Series A Documents - Bytes: 13588587
LISTEN to Brad Feld, Author, Venture Deals

Powered by Podbean.com
There are many industries under the banner of cleantech


1237_ 7/9/12 - The Colorado Cleantech Industry Association is creating some big waves. We're talking with Christine Shapard the executive director of CCIA and she's brought a guest today, Wayne Greenberg,
Director of the CCIA Fellows Institute. CCIA is developing this institute to help train executives from other industries on what the opportunities are in cleantech. Chris said, "We felt it was so important, to bring in executives to run our companies - there are so many technologies coming out of the universities and NREL. And we have a good contingent of executives, but we need more." Cleantech is an amalgamation of industries - there's not a cleantech industry out there - there are many industries under the banner of cleantech. Most of them are difficult industries. They have high barriers to entry, they have high capital costs, the products and services you have to build have to last in the field for many, many years. And so the difficulties in taking those technologies and creating companies is significant. The CCIA Fellows Institute mission is to attract executives who have already done those things who now want to turn their skills to a clean technology or renewable energy company. There are strong opportunities within the cleantech industry. The Fellows Institute is a unique program in that it identifies one of the true missing pieces, executive leadership. We will focus on the differences in this industry and the industries from which they've come and we're going to introduce them to the key players in this industry. We will introduce to the fellows and entrepreneurs in the program and they will do a capstone project around one of those selected technologies. Our hope is at graduation in early January we will have some companies formed at that time. The institute is selecting between 12 and 15 individuals, from a national pool, to come to the institute and spend 17 weeks in this program. The program begins July 27th 2012 - graduate in January with, potentially a company at that time ...listen for more details...
Related Links: Cleantech Fellows || Cleantech Fellow Application – Due 7/27/12 || Colorado Cleantech Industry Association || CU Technology Transfer Office || CU TTO Channel || NREL || Keywords: Chris Shapard, Wayne Greenberg, CCIA, Fellows Institute, Colorado Cleantech Industry Association, NREL, CU TTO, Commercialization, Cleantech - bytes= 7661326
LISTEN to Chris Shapard & Wayne Greenberg, CCIA

Powered by Podbean.com
You don't have to be a geek to use the cloud. But...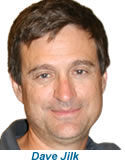 1239_ 7/9/12 - It's been two years since we last interviewed David Jiilk, Founder and CEO of Standing Cloud a Boulder based company. Standing Cloud offers a service that helps people manage applications on top of this new thing called Infrastructure-as-a-Service (IaaS). Amazon didn't invent the idea but they were the first to successfully promote the idea of renting computer servers on the Internet by the hour. This is at least one definition of 'cloud computing'. And, this is one of the things that created this idea of cloud where you can actually rent servers. The thing is if you do rent servers from Amazon or one of the many other providers out there, all you get is a computer server and most people don't really know what to do with that. What most people want is an application, a piece of software running on that server that they can actually use for some business or personal purposes. So, anything from storing photos to a Customer Relation Management system to a blog, to a web site. Those kinds of things are what you want to put on computer servers and use them for. What Standing Cloud does is make it really easy for anyone, including end users to manage their infrastructure as a service... cloud servers, but with an application on top of it. Standing Cloud initially tried to be a consumer web site where they would sell this online service to everyone - and they have a fair number of customers using it that way. But, they found that they didn't understand their various markets that well and were not particularly skilled at selling that way. So, Standing Cloud changed their business model to be one of selling through resellers. These resellers understand their individual markets very well. Now Standing Cloud's service is used by people in a wide range of company sizes and types - but Standing Cloud interacts with the companies selling services to them. You won't see Standing Cloud's name on these web sites but that's what is driving it behind the scenes. Standing Cloud has grown since the last time we spoke when Dave had 8 to 10 people, about 50/50 gender ratio. There's more here from Boulder...
Related Links: Standing Cloud || Foundry Group || TechStars || Feld Thoughts || Entrepreneur Channel || Keywords: Dave Jilk, Standing Cloud, Infrastructure-as-a-Service, IaaS, Amazon, Customer Relation Management, Cloud, Software Providers, Independent Software Vendors - bytes= 5741403
LISTEN to Dave Jilk, Founder/CEO, Standing Cloud

Powered by Podbean.com
w3w3.com can help you...
Support the Community - Grow Your Business &
Increase Your Profits! CHECK OUT this link
Achieving Your Personal and Professional Goals
933_ Don't Let Another Year Go By - The Ultimate Win is Yours
- Larry
Nelson has taught this material in seminars in over a dozen countries, from China to Canada, from Norway to Australia, from Germany to Japan as well as throughout the USA. He shares the results of his international research about the Characteristics of an Achiever and then goes on to help you lay out your "personalized blueprint" to personal and professional success. Larry is an internationally published author, has been a consultant to many Fortune 1000 companies and is best known for his train-the-trainer programs. ...listen now a complete step-by-step program including a downloadable manual and resource guide...this is an in-depth strategic planning and goal setting system for achievers...Read More about how to Supercharge Your Business... The links below are valuable and extremely helpful to setting your course for the next year! And they're free.
Related Links: Ultimate Win Resources || Training Trends || 3-Filters Technology™ || Podcasting Directory || Your Goal || Keywords: Ultimate Win, Your Goal, Training Trends, 3-Filters TechnologyTM, Setting Goals, Larry Nelson; 11/29/10 Chnl: Entrepreneurs

LIBRARY_______
Associations
Beyond the Trends
Cyber Security
Entrepreneurs
Ethics
Homeland Security
In the News
Leader Profiles
Mastering Change
Renewable Energy
Resources
Software
Success Stories
Training Trends
Venture Capital
Video Blogs

w3w3®

Archives


Google, Ask, Bing and Yahoo rank Colorado's w3w3.com in the top 10 for the "Business Internet Talk Radio" show
They have millions of listings in our category. We are ranked in the top ten. The same is true for the category "Entrepreneurs Internet Talk Radio" show