DENVER STARTUP WEEK! Starts Monday 9/28th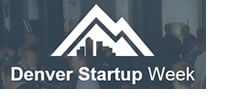 17643_ 9/21/15 - Innovation is everywhere. Bringing it to life takes the skills and drive of an entire team; founders, developers, product managers, designers, marketers, sales teams, and makers. Denver Startup Week is where every member of that team can come to learn, grow, and be ready to take on the next challenge. It's a Full Week of dozens of programs… here are a few out of the dozens and dozens…… Events will be taking place throughout each day, starting Monday morning and continuing through Friday evening. Each slot is scheduled for 90 minutes, with 30 minute breaks between sessions for venue changeover and attendee transit.
RELATED LINKS: Startup Week Kick-off Breakfast || SEO, PPC, Social Media || Building a Winning Client Success Team || Venture Capital for Breakfast || Colorado's Hidden Funding Source || REAL World of Entrepreneurship || Full Week Schedule ||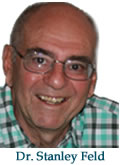 Doc Stanley's prescription


17663_ 9/21/15 - Stanley Feld M.D., FACP,MACE has some very fascinating insights on the challenging U.S. healthcare system. Larry asked Stan about that issue. Dr. Feld had a lot to tell us. The insurance industry announced that insurance premiums in both the federal and state health insurance exchanges are going up 50% in 2016. The group private markets will increase by the same percentages. Insurance rates for 2015 were unaffordable for small businesses, and large corporations. One church that buys insurance in the private healthcare insurance market had its rates increased 37%. Instead of dropping insurance for their employees and paying the penalty, the church agreed to the pay the increased premiums. The church compensated for this increase in expenses by increasing church membership dues. Some members had to quit the church. Eighty-five percent of members in Obamacare are receiving a government subsidy. A high percentage of that 85% are receiving higher subsidies than they are entitled to receive because of government lack of verification. Eventually, when healthcare.gov website connects with the IRS, the government will find out that people received higher subsidies than they are entitled to. The recipients will get a bill they cannot afford. Obamacare's reinsurance subsidies for the health insurance industries are expiring in 2016. The insurance industry is raising insurance premiums to cover the revenue lost by not receiving the Obamacare insurance company subsidies in 2016. Listen for more details…
RELATED LINKS: Dr. Stanley Feld Blog || 2005 History || Foundry Group || Entrepreneurs || The New York Times... || KEYWORDS: Stanley Feld M.D., FACP,MACE, Healthcare System, Health Insurance Exchanges, Obamacare, IRS, Insurance Industry, The New York Times
LISTEN TO: Stanley Feld, M.D., FACP, MACE

Powered by Podbean.com
Crash Course: How to Pitch to Angel Investors
with David Cohen and Natty Zola 1758_ 9/8/15 -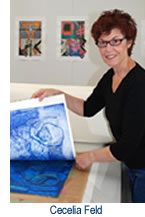 It's kind of like jazz, a riff on jazz...


1759_ 9/8/15 - "It is an additive process, more like a riff on jazz. You improvise... you change-up something - then you take-away, you add and then you have something that says something". She is a colorist and will tell you, "My work is about exploring relationships. Bits and pieces from my visual experiences bump against each other. There are references in my work to the textures, colors, lines and shapes of things in the real world. The layering or unfolding of shapes, punctuations or expanses of color or character of a line order the picture plane. The resulting abstract images allude to natural forms." Cecelia grew up in New York City and received a B.A. from Hunter College. She has lived and worked in Dallas, Texas since 1969. In 1976 she received a Master of Fine Arts degree from the University of North Texas. Cecelia has shown her work in many juried and solo exhibits. Her artwork is in private and corporate collections including Frito-Lay, I.B.M. and Delta Airlines.
RELATED LINKS: Studio 7310 || Cecelia Feld Blog || Boulder Museum of Contemporary Art (BMoCA) || KEYWORDS: Cecelia Feld, BMoCA, Mackey Gallery, Mackey Auditorium, Collage, CU – Boulder Campus
LISTEN TO: Cecelia Feld, Founder, Studio 7310

Powered by Podbean.com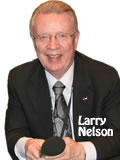 Your Ultimate Win

The Ultimate Win™ - Achieving Personal & Professional Satisfaction An in-depth strategic planning and goal setting system for achievers. Here's a win/win! You can enjoy the full benefits of this online program, including the entire audio and downloadable resource guide... totally free. All we ask in return is some honest feedback. Tens of thousands people around the world have heard the program either in a live seminar or on cassette tapes. We are launching this as a "for sale" program on the Web very soon. Any thoughts and ideas would be appreciated. If you have a friend or colleague that you think would enjoy and participate in our "beta" test, please feel free to pass along this link and invitation. There is no cost to them. All your information and input will be confidential.
Congratulations!