Coming Events - Look for w3w3....
Web Community Calendar CHECK / POST Events

The Best of the Best in 2003

w3w3® is committed to continue to deliver the "Best of the Best" in High-Tech & Business stories directly to your desktop in 2004, 24/7.
Winners of the TOP 3 in the following eleven categories are linked.

Top 3 - INTERVIEWS for the Year, 2003

Listen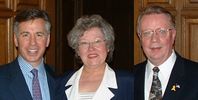 Appointed May 1st, this year to the office of president of Denver University,

Marc Holtzman is listening, learning and making great strides. Chalk up a huge scholarship for honor students who are unfortunately undocumented aliens. Dan Ritchie knows how to pick a winner!

Used technology is not what

Jared Polis was thinking about when he was building a successful Internet business. On his way to being the Chairman of the State Board of Education he saw a need to help under-served individuals & organizations with "refurbished" computers. Jared's Foundation has a plan, but C 3 needs your help.

We caught up with

Robert Dutkowsky, of J.D. Edwards fame, along with Victor Chayet at the Denver Press Club. It was a riveting - straight talk - ask any thing on your mind - session with the past president and CEO of Colorado's largest tech company. Hear ideas about his future interests...

w3w3® TOP 3: Channels Visited in 2003

Looking for Money
Life Sciences
Ethics


w3w3® TOP 3: Association Events in 2003

BioWest Annual BioTech Conference
CIK Kickoff Event – Jared Polis
CSIA - Prosperity & Growth

w3w3® TOP 3:Social Events in 2003

eBall - CTEK Year-End Gala Event
CBAC - Community Holiday Bash
CTCF - Boys & Girls Club Winner


w3w3® TOP 3: Awards Events in 2003

CSIA – Annual Apex Awards
CTEK – Annual Spring Awards
CU Tech Transfer - Annual Awards

w3w3® TOP 3:Vendor Events in 2003

AccuCode – Using Mobile Technology
CONDIT Exhibits – Trade Show Survival Guide
TippingPoint Tech– Richard Clark & Cyber Security


w3w3® TOP 3: Money Events in 2003

RVC – Fall Finance Expo
TiE Rockies – Next Great Idea
PBC – SBIR/STTR Federal Grants



w3w3® TOP 3: Public Events in 2003

Cyber Security Super Bowl
Future of Money Conference
Startup BaseCamp Conference


w3w3® TOP 3: Invitation-Only Events in 2003

Governor Owens Planning Retreat
CITI – Tech-Smart High-Profile Panel
Northern Ireland Ribbon Cutting


w3w3® TOP 3: Monthly Events in 2003

Denver Telecom Professionals
Internet Chamber of Commerce
Association of IT Professionals Denver


w3w3® TOP 3: Holiday Parties in 2003

British Consulate EOY Celebration
Hogan & Hartson Holiday Party
CTEK EOY Appreciation Party

You can find all

RECENT Stories HERE and check out the


ARCHIVES with Photos or

ARCHIVES alphabetized by Name - Research and know the people in your community - Step one in the Art of Networking!
CONTACT US with Questions, Suggestions
or Comments


Larry Nelson
Larry@w3w3.com


Pat Nelson
pat@w3w3.com

General
radio@w3w3.com


Advertising
info@w3w3.com


*BBV - VIDEO*
You Don't Need Broadband
Play Video with a 28K Modem




Customer Paradigm






CRITICAL Download Patch for the Newest Attack


FlyingBeds.com



"The Ultimate WIN"
By Larry Nelson

Thank You !
Our Sponsors' Support
Makes w3w3® Possible!