Web Community Calendar - CHECK/POST Events

Check out the LifePics Photo Albums…
you could be there!

FCC Chairman Powell Lets it All Hang Out
2/21/2005
Leroy Williams
, former OIT secretary and now department of Labor in CO, introduces FCC Chairman,
Michael Powell
and then
Phil Weiser
, executive director of the Silicon Flatirons TeleCom program, quizzes Powell. He went head on about the past & future of telecom…the good, bad and uncomfortable.
LISTEN
Part 2 Next - 2/28/05

Chuck Wessner Says the Money is There
2/21/2005
- LISTEN
Russ Farmer
, executive director of SBIR Colorado is joined by
Charles (Chuck) Wessner
, a director at National Academy of Sciences,
Brian Vogt
, director of OEDIT (wearing 3 hats) and
Larry Nelson
. Chuck talks about what is needed for the CO tech cluster to work financially and Brian talks about strengths & needs.
READ - DENVER POST 2/16 Bus
Rob Reuteman Reveals the Real Hard Facts
2/21/2005
Rob Reuteman
, business editor for the Rocky Mountain News talks about the current economy and what happened leading up to it over the past number of years. He reveals the signs of the past that were ignored as well as hard facts and details of where Colorado is headed…positive, but with cautious optimism. . 2/21/2005
LISTEN


Barry Stein & Bob Rea Unveil Nano Strategy

Robert Rea and
Barry Stein
, both of the ANGLE Technology Group in Virginia were in Colorado to address the Nanotech Business Group at their breakfast meeting at CSU. They are very successful in NanoTech commercialization and suggest that Colorado has a potentially viable cluster and collaboration is vital. 2/21/2005
LISTEN
Denver Post & Ross Wehner Report on w3w3.com
2/14/2005
Ross Wehner
, business writer for the
Denver Post
says, "Instead of breaking news, w3w3.com contains thousands of pictures and hundreds of interviews, which Internet surfers can listen to at a click of the mouse. It has a feel-good, Oprah-esque quality." Ross said, w3w3.com offers "Quirky views of the local who's who."
READ NOW

Jon Nordmark, has Experienced Many Hockey Sticks
CEO of eBags.com,
Jon Nordmark
believes in building a company to last, not one to flip. Playing hockey in college Jon learned the fundamental principles of teamwork and what it takes to climb out of the pits in this
Profile of a Leader
interview. The early team members at eBags invested money in the company. 2/14/2005

Brad Feld Goes With His Gut, but Uses His Brain
You might be surprised to hear what was the turning point in
Brad Feld's
life, managing partner of Mobius VC,. He went to MIT, and at pre-orientation they were told that 50% of the students would be at the bottom half of the class. In this
Profile of a Leader
interview Brad offers personal advice to entrepreneurs. 2/14/2005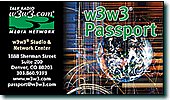 You'll Enjoy Immediate Benefits as a Passport Member
The 2005 launch of the w3w3® Passport program gives its members the leading edge in meeting important people, exposing products & services to buyers and be part of a team that will help ensure economic development, stability & vitality in Colorado.
Join Now
. 2/14/2005

Barbara Drazga Puts on the Bunny Slipper Bootcamp
Serial entrepreneur,
Barbara Drazga
, identifies the key drivers to becoming an entrepreneur. They want freedom, self-determination and quality of life. One of the biggest difficulties Barbara points out is, "Cabin fever." She has many suggestions for entrepreneurs and offers, webinars, teleclasses & seminars. 2/14/2005

Here's What it Will Take to Make it in Telecom
- LISTEN
If you are wondering, "Does focusing on the fundamentals work," wonder no more . Larissa Herda , CEO of Time Warner Telecom since 1998, has experienced the telecom roller coaster, and has stayed the coarse. She shares thoughts on the fundamentals, disruptive technology and listening to your customers.
2/7/2005
PHOTOS:
TiEcon Opening VIP Reception Feb 2 2005
Here's What it Will Take to Make it in High-Tech -

LISTEN


People always underestimate how long it takes people to change. So states Desh Deshpande , who was recently ranked as the most successful VC in the world. People and companies (especially companies with a big market share) often resist change. Building a business means pain and it takes perseverance . 2/7/2005